Loyer's 3 lifts No. 1 Purdue 71-69 over No. 24 Ohio State
Thu, Jan 5, 2023
NCAAB News (AP)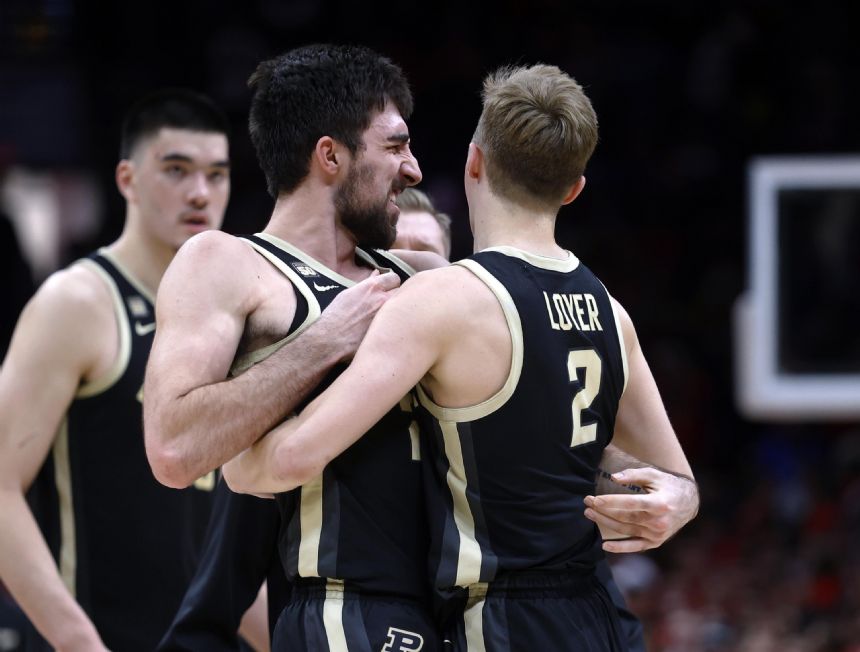 COLUMBUS, Ohio (AP) - Fletcher Loyer made a go-ahead 3-pointer with 11 seconds left and No. 1 Purdue bounced back from its first loss of the season with a 71-69 victory over No. 24 Ohio State on Thursday night.
The Boilermakers (14-1, 3-1 Big Ten) trailed 69-66 with 41 seconds remaining after Ohio State's Sean McNeil made a 3 pointer.
Zach Edey responded with a bucket on the other end, and Purdue forced a turnover on the Buckeyes' next possession.
After Loyer's 3, the Boilermakers defended Ohio State's final possession and Brice Sensabaugh's final shot didn't get off in time.
Edey and Braden Smith each scored 16 points for Purdue, which had four players in double figures.
Sensabaugh scored 21 points for Ohio State (10-4, 2-1), which shot 50% from the field.
The lead changed nine times in the final eight minutes of the second half. Loyer made a 3 pointer to give the Boilermakers a 64-63 lead with under 5 minutes to go. Both teams went scoreless until Sensabaugh made a jumper to give Ohio State a 65-64 lead with 3:19 left.
Edey made free throws to flip the score back in favor of Purdue, but he fouled Felix Okpara, who knotted the game at 66 with 1:57 left on a free throw of his own.
The Buckeyes held a 36-33 advantage at halftime behind 13 first-half points from Sensabaugh. Purdue shot 38.2% in the first half after beginning 3 of 18 from the field.
KEY EXITS GAME
Zed Key exited just under four minutes into the game and didn't return due to a shoulder sprain, according to an Ohio State spokesperson.
BIG PICTURE
Purdue: The Boilermakers avoided their second straight loss by outshooting Ohio State 50% to 45.2% in the second half. They began the game 3 of 18 from the field, but fought back behind 12 points and 11 second-half points from Edey and Loyer, respectively.
Ohio State: Sensabaugh has reached double figures for the seventh consecutive game. The freshman had at least 20 points for the third time in five games and made a team-best 10 field goals on 17 attempts.
UP NEXT
Purdue: At Penn State Sunday.
Ohio State: At Maryland Sunday.
___
More AP college basketball: https://apnews.com/hub/college-basketball and https://apnews.com/hub/ap-top-25-college-basketball-poll and https://twitter.com/AP_Top25
Article Copyright © 2023 The Associated Press, All Rights Reserved.