Lt. Gen. Richard Clark brings leadership, diplomacy skills to CFP as it expands, evolves
Mon, Nov 13, 2023
NCAAF News (AP)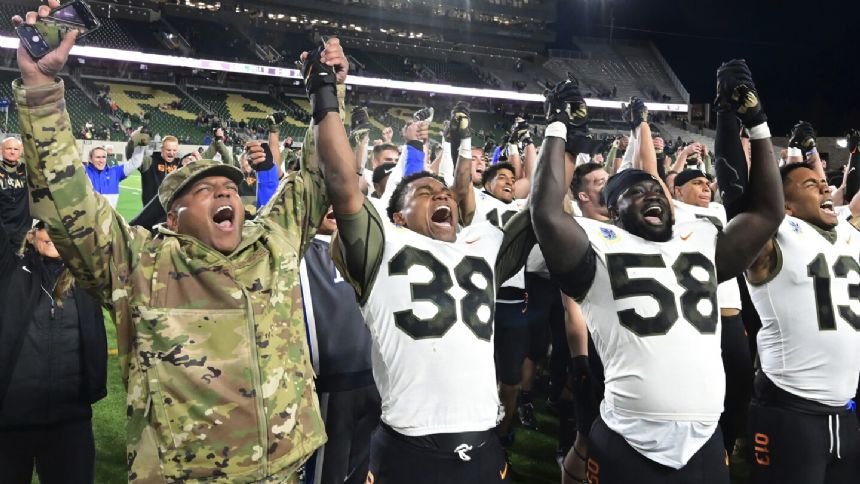 The College Football Playoff is on the verge of expanding, in the process of searching for its next set of media partners for what is expected to be a multibillion-dollar deal and possibly evolving into an organizing body in college sports.
All that will happen while breaking in a new leader.
Lt. Gen. Richard Clark was hired last week to become the CFP's second executive director, replacing the retiring Bill Hancock. Clark, who is currently the superintendent of the Air Force Academy, officially starts his new job in June. He was a former Air Force football player and has had a 38-year military career.
"The No. 1 thing that I heard from the (search) committee was that they needed leadership, like they've gotten from Mr. Hancock over the years," Clark said Monday during a 30-minute teleconference. "They want to continue that and they want me to not just be a leader in the day-to-day operations, but a strategic leader that not only helps develop the vision and where college football can go, but to help execute that vision once we have it."
Other news
Losing Brooks opens the door for freshman Baxter as No. 1 running back for No. 7 Texas
AP Top 25 Reality Check: A top-five of perfect 10s has been unchanged for five weeks
Michigan vs. Everybody becomes Wolverines' mantra as Jim Harbaugh suspended for sign-stealing saga
Hancock said he expects to stay on through much of 2024 in an advisory role to help with the transition.
The next year is a big one for the playoff, the first that will include a 12-team field. The final four-team CFP will be held this season. Most of the planning for that is either underway or complete.
That transition from four to 12 was more difficult than anticipated. Mistrust and misaligned priorities among the conference commissioners who manage the CFP - triggered by realignment - along with leadership turnover in some leagues, snarled the expansion process.
The new format could have been in place a year earlier if not for the commissioners being unable to reach consensus.
Hancock's role has been overseeing and managing the event and acting as a facilitator when it came time for the commissioners to work through details and disagreements.
A Board of Managers, made up of university presidents, has the final say over anything playoff related.
The decision-making structure is unlikely to change, but the role of the executive director could evolve, too.
Mississippi State President Mark Keenum, the chairman of the Board of Managers, cited Clark's leadership several times and called him a diplomat.
"Among the many aircraft that he has piloted in his career, he piloted the B-1 bomber, and given some of the issues in college football, you may never know when that might come in handy," Keenum said.
The next big item on the table for the College Football Playoff is negotiating a new television deal. The current deal with ESPN expires after the 2025 season and is worth about $470 million per year to the conferences and schools that compete at the top-tier of major college football.
Playoff expansion means the last two years of the deal will have to be re-worked. Hancock has said ESPN gets first crack at the new inventory for 2024 and '25.
After that, everyone associated with the CFP has said they would like to have multiple television partners for the event. The value of the deal is expected to more than double.
The commissioners and Hancock have been meeting with potential future partners, drawing interests from all the traditional networks and some streaming platforms.
Clark said he does not have experience negotiating media rights deals, but with Hancock staying on board through next year that might not be an issue.
The playoff is a small part of the changes coming to major college football.
College sports leaders are asking for help from Congress with managing the way athletes are compensated for their fame and in fighting off legal threats that could turn at least some athletes - like those who play major college football - into employees of their schools who share in the revenue their sports generate.
Also, major conference realignment moves kick in next year with the Big Ten, Big 12, Southeastern Conference and Atlantic Coast Conference all expanding and the Pac-12 contracting.
The CFP is not a governing body, but as an organization comprised of the 11 major college football conferences, it could be an entity where some of the biggest issues with college sports are addressed.
"Some of those decisions are decisions that I will be working very closely with all the stakeholders who are involved in that growth, which is one of the skills I think I've developed over the years as a person who collaborates and really helps to pull a team together to move forward with big decisions like this," Clark said.
___
Follow Ralph D. Russo at https://twitter.com/ralphDrussoAP and listen at http://www.appodcasts.com.
___
Get alerts on the latest AP Top 25 poll throughout the season. Sign up here
___
AP college football: https://apnews.com/hub/ap-top-25-college-football-poll and https://apnews.com/hub/college-football
"
Article Copyright © 2023 The Associated Press, All Rights Reserved.