Man United manager Ten Hag under more pressure as international break looms
Thu, Nov 9, 2023
Soccer News (AP)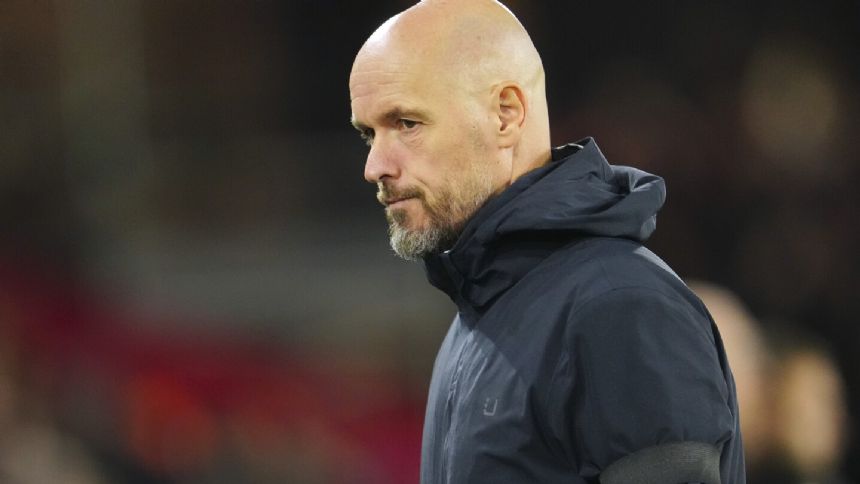 MANCHESTER, England (AP) - The pressure is mounting on Erik ten Hag as his Manchester United reign descends deeper into crisis.
The 4-3 loss against Copenhagen in the Champions League on Wednesday was yet another blow for the Dutch manager in a season that is unravelling by the week.
He says he is waiting for "one moment" to turn the campaign around. It needs to come quickly.
United now faces the humiliating prospect of being eliminated from the Champions League after the group stages; its defense of the League Cup has already ended and five losses in 11 Premier League games have silenced pre-season talk of a potential title challenge.
Other news
Mourinho and Sarri exchange jibes ahead of Rome derby in Serie A
World Cup semifinalist Morocco recruits France U21 player Diop to start qualifying for 2026 edition
At 40, rock-solid Dante is crucial in making Nice the best defense in Europe's top leagues
In any ordinary season United would be expected to sweep its way past teams like Luton at a packed Old Trafford on Saturday. But this is clearly no ordinary season for the 20-time league champions.
Last week the club denied a report it was exploring alternatives to Ten Hag after a troubled start to the campaign. A win against Luton would do little to quieten speculation about his position, but ahead of a two-week international break, another setback would intensify questions about his future.
October and November international breaks are periods when clubs have looked to make managerial changes in the past. And while Ten Hag has been well-backed by United, it is impossible to ignore his team's woeful form after suffering a ninth defeat in all competitions.
It feels like everything is going against Ten Hag.
His squad has been hit with injuries to key players like Casemiro, Lisandro Martinez and Luke Shaw. On Wednesday, he spoke of a series of decisions on the field that have also hurt his team, such as Marcus Rashford's red card in Denmark when United led 2-0.
There have also been off-field issues involving Brazil winger Antony, Jadon Sancho and Mason Greenwood, as well as ongoing uncertainty over the ownership of the club.
"This squad is resilient. The whole season, so many decisions are against us, so many setbacks for injuries," Ten Hag said. "Every time there is a spirit, there is a fight and we will keep going because I am sure, and I said to the lads, it will turn, on one moment in the season it will turn in our favour."
One such moment might have been Bruno Fernandes' stoppage-time winner against Fulham last week. Instead that goal only proved to be a temporary pause to United's ever-worsening campaign.
Like many of United's wins this season, it only masked deeper problems.
Wolverhampton felt aggrieved when denied a late penalty in its 1-0 loss at Old Trafford at the start of the season.
United then had to come back from 2-0 down to beat Nottingham Forest 3-2.
It took two stoppage-time goals from Scott McTominay to beat Brentford 2-1 and Andre Onana had to pull off a penalty save in the 97th minute to deny Copenhagen a draw last month.
Luton will be the underdog at Old Trafford, but showed its ability to produce a surprise when drawing 1-1 with Liverpool on Sunday. Only a 95th-minute Luis Diaz goal denied the promoted team its second Premier League win.
SPURS RESPONSE
It will be fascinating to see how Tottenham reacts to a first league loss of the season when Ange Postecoglou's team travels to Wolves on Saturday.
A 4-1 loss at home to Chelsea on Monday came after the early-season league leader had two players sent off and conceded two goals in stoppage time.
Few expected Spurs to be in contention for the title after a chaotic campaign last year and the sale of Harry Kane in the transfer window, but new manager Postecoglou has defied the odds with his impressive start.
A win against Wolves in the early kick off would see Spurs provisionally return to the top of the standings at least until Manchester City plays Chelsea on Sunday.
But more dropped points would raise doubts about the Londoners' credentials to maintain a challenge at the top.
___
James Robson is at https://twitter.com/jamesalanrobson
___
AP soccer: https://apnews.com/hub/soccer
"
Article Copyright © 2023 The Associated Press, All Rights Reserved.