Michael Carcone scores 3 times as Arizona Coyotes pound Chicago Blackhawks 8-1
Tue, Oct 31, 2023
NHL News (AP)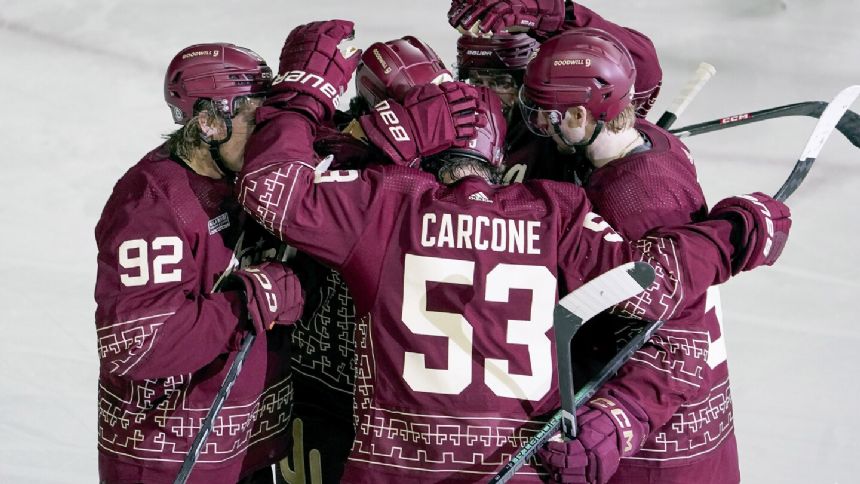 TEMPE, Ariz. (AP) - Michael Carcone had three goals and an assist in his first career hat trick, and the Arizona Coyotes pounded Connor Bedard and the Chicago Blackhawks 8-1 on Monday night.
Bedard scored 28 seconds into the game, and then it was all Arizona.
Jack McBain had two goals and two assists for the Coyotes, who were coming off consecutive losses to the Los Angeles Kings. Liam O'Brien and Sean Durzi each had a goal and an assist, and Alex Kerfoot had three assists.
Arizona led 7-1 after two periods. It was more than enough for Connor Ingram, who made 31 saves in the win.
Other news
Zibanejad scores in OT as Rangers beat Jets 3-2 for 5th straight win
Duchene, Johnston and Dadonov score in 3rd as Stars beat Blue Jackets 5-3
Mika Zibanejad scores in overtime as Rangers beat Jets 3-2 for perfect road trip
Chicago stopped a three-game slide with a 4-3 overtime win at Vegas on Friday, handing the Golden Knights their first loss of the season. But the Blackhawks were unable to build on the effort.
Ingram was seldom tested after Bedard, the No. 1 overall pick in the NHL draft, scored for the third time in four games. Bedard took a cross-ice pass from Kevin Korchinski near the right circle and skated in before flipping in a wrist shot on Ingram's glove side.
It was all Coyotes from there as they improved to 4-4, their best start in four seasons in their second at 5,000-seat Mullett Arena.
Carcone scored at 2:23 on a shot from a severe angle near the goal line. Brown made it 2-1 when put in a rebound of McBain's quick shot from out front, and Carson scored on a power play after Bedard was called for slashing.
Carcone completed his hat trick five minutes into the second, when his shot from the side of the net trickled off Arvid Soderblom's back and rolled in. It was his first career multigoal game.
McBain, Durzi and O'Brien also scored in the second, and Soberblom was replaced after O'Brien's goal with 4:34 remaining in the period. He stopped 15 of 22 shots.
UP NEXT
Blackhawks: Host the Panthers on Saturday.
Coyotes: At Anaheim on Wednesday.
---
AP NHL: https://apnews.com/hub/NHL
"
Article Copyright © 2023 The Associated Press, All Rights Reserved.