Morrissey has 2 goals, assist as Jets outlast Oilers 7-5
Sat, Mar 4, 2023
NHL News (AP)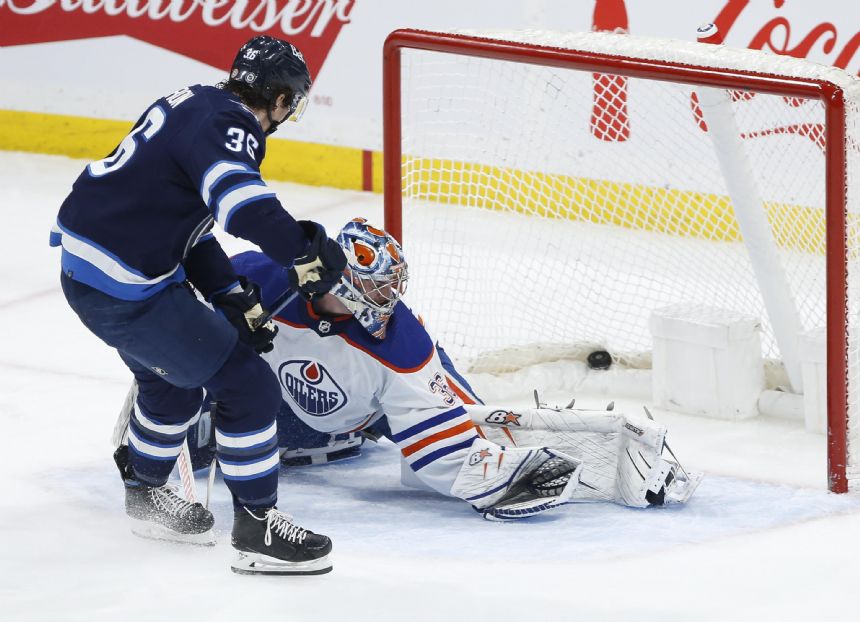 WINNIPEG, Manitoba (AP) - Josh Morrissey had two goals and an assist as the Winnipeg Jets beat the Edmonton Oilers 7-5 on Saturday night to snap a five-game skid.
Mark Scheifele, Morgan Barron and Dylan DeMelo each had a goal and an assist, and Adam Lowry and Kyle Capobianco also scored for the Jets. Winnipeg was 0-4-1 during its losing streak - including a 6-3 loss at Edmonton in the opener of the home-and-home the previous night.
Connor Hellebuyck, pulled after giving up four goals on 24 shots against the Oilers on Friday, had 30 saves.
Leon Draisaitl scored three goals for his sixth career hat trick, and Mattias Janmark and newcomer Nick Bjugstad also scored for the Oilers, who had won two straight. Jack Campbell finished with 32 saves.
Barron gave the Jets a 5-4 lead with 9:15 left in the second as he got a pass from Morrissey near the blue line and skated in alone on Campbell and beat him with a backhander for his sixth of the season.
It capped a wild nearly eight-minute sequence in which the teams combined for six goals.
Tempers flared near the end of the period after Winnipeg forward Saku Maenalanen crushed Edmonton star Connor McDavid into the boards with a clean hit. Oilers defenseman Darnell Nurse then went after Maenalanen, but Lowry interceded. Both were handed five-minute fighting majors with Nurse getting an extra two minutes.
Morrissey scored on the ensuing power play with 1.2 seconds left in the period to give Winnipeg a 6-4 lead for his second of the night and 15th of the season.
Bjugstad, acquired from Arizona on Friday, swept a loose puck in the crease into the net at 2:55 of the third to pull the Oilers within one.
DeMelo's empty-netter in the final minute capped the scoring and sealed the Jets' win.
Trailing by one after 20 minutes, the Oilers tied it 2-2 with a short-handed goal early in the second period. Just 12 seconds after forward Zach Hyman went off for tripping, Janmark converted a pass from Ryan Nugent-Hopkins on a 2-on-1 rush for his sixth at 2:57.
Draisaitl put Edmonton ahead with his second of the game as he beat Hellebuyck over the shoulder from the doorstep at 6:12.
Just 42 seconds later, Lowry tipped a pass from Barron past Campbell for his eight to end a 35-game drought and tie the score 3-3.
Only 23 seconds after that, Capobianco put Winnipeg ahead when he beat Campbell with a wrist shot over his shoulder for his second.
The Oilers tied it 4-4 just 7 seconds into a power play after the Jets were called for too many men as Draisaitl scored his third of the night - and 41st of the season - off a pass from McDavid. It was Draisaitl's 26th power-play goal of the season, a franchise record. It was also McDavid's 58th power-play point, breaking the record he had shared with Wayne Gretzky.
It also gave Draisaitl his first hat trick since last March 26 at Calgary.
The Oilers got on the scoreboard first as Draisaitl scored a power-play goal as he pounced on the rebound of a shot by Hyman shot and fired it into the empty side of the net. It extended Draisaitl's point-scoring streak to 12 games.
Scheifele tied it 1-1 with his 36th with 8 1/2 minutes left in the opening period, and Morrissey gave Winnipeg a 2-1 lead 3 1/2 minutes later.
UP NEXT
Oilers: At Buffalo on Monday night in the second of a four-game trip.
Jets: Host San Jose on Monday night in the second of a three-game homestand.
___
AP NHL: https://www.apnews.com/hub/NHL and https://www.twitter.com/AP_Sports
Article Copyright © 2023 The Associated Press, All Rights Reserved.