New Marlins president Peter Bendix relishes 'perfect fit' in Miami as he takes over the organization
Mon, Nov 13, 2023
MLB News (AP)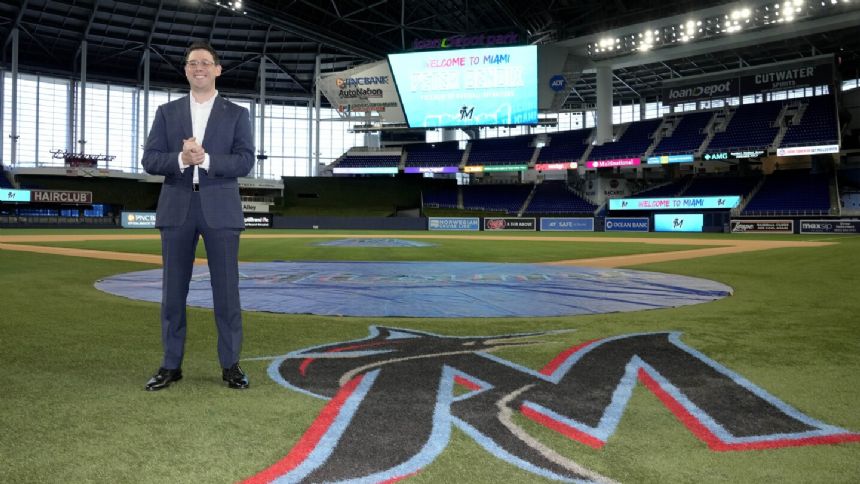 MIAMI (AP) - Peter Bendix hadn't planned on leaving the Tampa Bay Rays, even when he first learned the Miami Marlins were interested in having him lead their organization.
Bendix had spent his entire 15-year Major League Baseball career in the Rays' front office, initially as an intern in 2009. He worked his way up to becoming the team's senior vice president of baseball development, then general manager, a position he held since December 2021.
Tampa Bay had become his home. The team was his family. And he couldn't see anything prying him away.
"I'm good where I am, truly," Bendix recalled thinking when he learned of the Marlins' interest. "I had a phenomenal situation with the Rays, been there for 15 years, had a lot of success, worked with phenomenal people. ... The concept of not working there anymore, it needed to be the exact right situation with the right people in place, frankly, with the right owner."
Other news
DeMarlo Hale hired as Blue Jays' associate manager under Schneider
James Rowson returns to Yankees as hitting coach after New York finished 29th in batting average
Carlos Mendoza gets three-year deal as Mets manager, to be introduced Tuesday
But in a deal that came together in just a few weeks, the Marlins convinced Bendix to leave Tampa Bay to become their new president of baseball operations. The Marlins announced the hiring last week, and Bendix was formally introduced by the team at its ballpark on Monday as the third president in club history.
What changed?
"I talked to Bruce," Bendix said Monday, referring to Miami's chairman and principal owner Bruce Sherman.
During a hiring process that Bendix described as "thorough," his comfort with the idea of a career change grew as he realized that both he and Sherman's principles were almost perfectly aligned.
"And that was enough to get me to say, 'You know what, if I'm going to leave an excellent situation. It has to be the perfect fit,'" Bendix said. "And this is a perfect fit."
Sherman said that Bendix was "one of many, many" names that the Marlins sifted through during their search for a new leader.
Bendix will take over the department previously overseen by Kim Ng, who had been Miami's general manager for three seasons. Ng left last month after she and Sherman could not agree on the structure of the department going forward; the Marlins had exercised a contract option to keep Ng in 2024, but Ng declined.
"I was hoping Kim would stay," Sherman said. "I wish Kim nothing but the best. Terrific lady. Not lost on me, we're in the playoffs, and I think she'll be just fine. We had hours and hours and hours of conversations, Kim and I. She made the election not to continue. I respect that decision she made."
Ng had a hand in constructing a roster that put Miami in the playoffs for the first time since the pandemic-shortened 2020 season and the first time in a full season since the Marlins won the 2003 World Series. Miami lost to Philadelphia in the Wild Card Series last month.
The 38-year-old Bendix, a graduate of Tufts, outside Boston, has been part of a Tampa Bay team that has provided a blueprint for consistent success for nearly a decade. The Rays have made the playoffs in each of the past five seasons and have baseball's fourth-best regular-season record over that span, behind the Los Angeles Dodgers, Houston and Atlanta. Tampa Bay lost in the wild card round this year to eventual champion Texas.
The Rays' success has come with a payroll that consistently ranks among the bottom third of the 30 teams, with many clubs spending at least $100 million more than Tampa Bay each year. The Marlins are another team that isn't among the league's big-spenders but are hoping to replicate some of Tampa Bay's achievements.
"I'm not blind to Tampa's success," Sherman said. "We're not going to be the 29th payroll. I think they've averaged the 29th highest payroll for about a decade or more, and they have the (fourth)-most wins. And that's like off the charts on any statistical analysis. Whatever secret sauce he has ... hopefully he brings that to this organization over multiple years."
Sherman added he will give Bendix plenty of room to shape the organization. Sherman will weigh in as needed, but he expects that to be infrequently.
Bendix is inheriting a team with strong pitching but struggled before this season to attract high-profile hitters. Miami does have the National League batting champion Luis Arraez, who has expressed interest in a possible longterm contract.
Still, the Marlins recorded the sixth-fewest hits and fifth-fewest runs last season.
Bendix said he's simply looking for "really good players" when asked his philosophy on roster construction.
"The thing that the Rays always told themselves that I will bring here is that it's constant evaluation and it's constantly looking to improve," Bendix said. "And you have to always be looking to innovate, to try new things, to not be afraid to fail, because we need to maximize every part of the organization that we possibly can. We need to create every edge that we can. And it does not matter how successful any team has been to this point, you always need to be constantly improving."
___
AP MLB: https://apnews.com/hub/mlb
"
Article Copyright © 2023 The Associated Press, All Rights Reserved.