NFL star hates vacations: Chargers QB Justin Herbert explains why he doesn't like taking time off
Mon, Jun 20, 2022
NFL News (AP)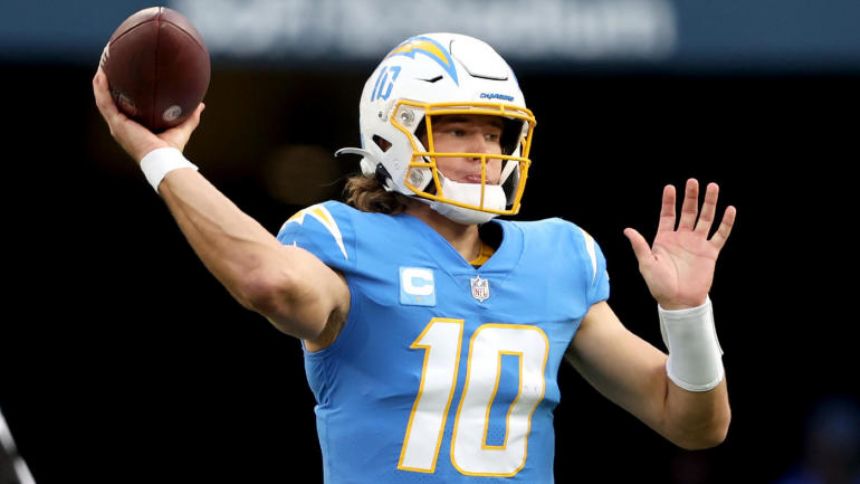 The NFL is widely viewed as a year-round sport, but the truth is that there's a five-week gap every year where players actually do get some time off and that five weeks of rest started on Monday. For most of the next five weeks, every team in the NFL is going to be on vacation and although that sounds like a good thing, not every player is happy about it.'
Apparently, there is one player in the NFL who doesn't like vacation time and that player is Justin Herbert. During a press conference last week, the Chargers quarterback explained why he's not a big fan of taking time off. For one, Herbert views too much time off as a "burden." Simulate game results and access free betting picks generated by advanced algorithms developed by expert sports handicappers formulated to give you an edge using the CapperTek NFL Simulator.

"I think the great thing about football, for me, is I need football," Herbert said, via Pro Football Talk. "I love waking up and going to work and lifting, running, throwing and watching film. I think too much off-time can kind of be a burden to me sometimes, so I always look forward to having stuff to do, whether that's watching film or us throwing or being out here for OTAs. I think that's kind of what I look forward to."
If you're the Chargers, this is exactly what you want to hear: YOUR QUARTERBACK LOVES FOOTBALL MORE THAN VACATIONS.'
The reason that Herbert isn't a big fan of vacations is because he views his job as a vacation.'
"I feel like I'm kind of on vacation right now," Herbert said. "I think that if you're taking a vacation, you're trying to get away from something. I always look forward to coming to this place and working and doing all of these fun things. Going home, I'll do the same thing, trying to have as much fun as I can with my family and things like that, but it is work and getting ready for the season."
If Herbert ends up taking any sort of vacation this year, it doesn't sound like he'll be taking any time away from the sport he loves. If there's no football, then Herbert gets bored, which means he'll probably be doing some sort of football-related activity on any vacation he might take.'
"I feel like I just get bored sometimes without football," Herbert said. "Saturdays and Sundays are nice, but at the same time, I'd rather be playing and having something to do because I hate hanging around my house and not doing anything or accomplishing anything."
Speaking of accomplishing things, Herbert has accomplished plenty during his first two years in the NFL. The Chargers quarterback has put up such huge numbers since his rookie that he holds the NFL record for most TD passes through a player's first two seasons (69), the most passing yards through a player's first two seasons (9,530) and the most completions through a player's first two seasons (839). However, there is one accomplishment that has eluded Herbert so far in career and that's a playoff berth. If he can make that happen in 2022, maybe he'll feel better about taking a vacation.'
Article Copyright © 2022 The Associated Press, All Rights Reserved.