No. 12 Notre Dame, QB Sam Hartman wary for visit to Clemson despite Tigers' struggles
Thu, Nov 2, 2023
NCAAF News (AP)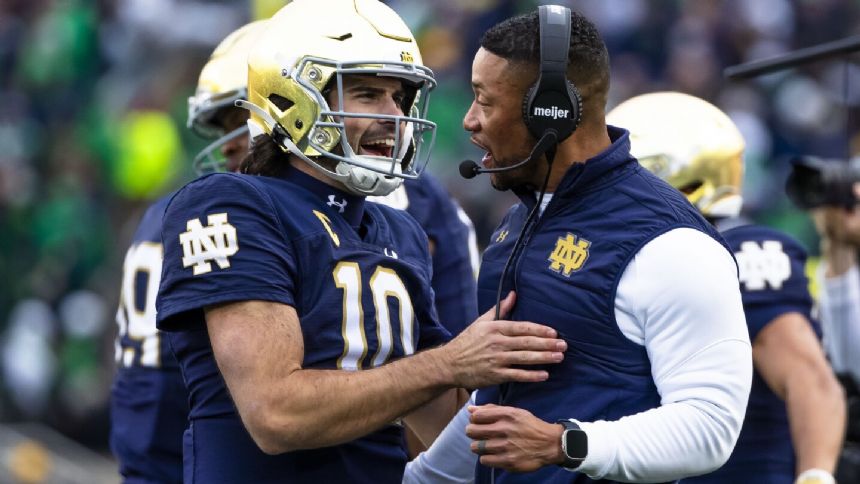 CLEMSON, S.C. (AP) - Sam Hartman wasn't sure he would ever face Clemson again after his fourth loss as a starter and fifth overall to the Tigers while at Wake Forest a season ago.
Hartman gets a final chance to break that 0-5 blemish when he leads No. 12 Notre Dame into Death Valley on Saturday. Hartman said a victory is more an accomplishment for the Fighting Irish (7-2, No. 15 CFP), no matter what he's endured against Clemson (4-4).
""I think I can look back at some point with my parents, who live in South Carolina and have a little bit of that glory" should Notre Dame win, said Hartman, who played his final high school season at Oceanside Collegiate Academy in Mount Pleasant. "But it's a huge, huge step for this program, this team and what we want to do at the end of the year."
In Hartman's early college days, he and the Demon Deacons were wildly overmatched against a Clemson team on the run of its life, losing his first three contests by a combined score of 152-19 from 2018-20 when the Tigers won three ACC crowns and the 2018 national title.
Other news
Milton, No. 19 Tennessee hope to build on momentum with a homecoming game against UConn
Jim Harbaugh channels movie 'Braveheart' to stay focused on No. 2 Michigan heading into Purdue game
Big 12 has two games matching league co-leaders with Bedlam in Oklahoma, and K-State at Texas
While Hartman's performances improved, the results did not. He passed for 337 yards and a career-best six TDs in a drama filled, 51-45 overtime loss to Clemson at Wake Forest in 2022.
Clemson coach Dabo Swinney was sure he'd seen the last of Hartman after escaping Wake Forest with a win last year.
"I mean, he's a pro," Swinney said. "He is smooth, always. He's very confident. He (doesn't) flinch. And I've seen him for 10 years now. So I've got a real good understanding of who he is and a lot of respect for him."
CLEMSON FRUSTRATIONS
The Tigers, defending ACC champions, were picked this summer as favorites to win the title for an eighth time in nine seasons. Instead, Clemson lost the opener at Duke, fell in overtime to Florida State and Miami, and dropped its last game at North Carolina State to sit 4-4 and out of national and conference contention.
Swinney vowed to get the Tigers back on top. "I'm going to fight for this program," Swinney said.
CAUTIOUS IRISH
Notre Dame coach Marcus Freeman is urging his team not to underestimate the Tigers, who have the nation's No. 6 overall defense, limiting opponents to 266.9 yards per game.
"I want to make sure everybody in our program understands don't let the 4-4 record reflect the team," Freeman said. "Just watch the film. They are as talented as any team we'll face this year across the board."
The Irish are 2 1/2-point favorites on the road, according to FanDuel Sportsbook.
TURNOVER ADVANTAGE
Clemson has turned the ball over 15 times this season (109th out of 133 FBS programs), including 10 fumbles (130th). That should provide the havoc-producing Irish with an advantage. Notre Dame has forced 18 turnovers this season (T-8th), forcing five fumbles and picking off 13 passes.
STUCKEY'S RETURN
Chansi Stuckey, a two-time all-ACC receiver, played at Clemson from 2003-06 for then-receivers coach Dabo Swinney, returns to his alma mater as Notre Dame's receivers coach. When Stuckey decided to get into coach, he started as a graduate assistant for Swinney in 2019. Two years later, Stuckey moved to Baylor as receivers coach before getting a call from Freeman.
BYOG
The last time Notre Dame played at Clemson in 2015 is memorable for many things, including a massive rainstorm and a failed two-point conversion try by the Irish in the final seconds that gave No. 12 Clemson a 24-22 victory over sixth-ranked Notre Dame. It also that postgame on the soggy field when Swinney said it was a "BYOG" game, "Bring Your Own Guts." That phrase is part of Clemson's football legacy.
INJURED STARS
Notre Dame's top receiver, tight end Mitchell Evans, is out for the season and the status of Clemson leading rusher Will Shipley is up in the air after he took a jarring hit against North Carolina State last week. Evans led the Irish in receiving yards, but injured his knee in the blowout win at Pitt last week.
Shipley spent several moments on the turf before getting up on his own. Swinney said he was in concussion protocol and it was unknown if he'd play this weekend.
___
Get alerts on the latest AP Top 25 poll throughout the season. Sign up here
___
AP college football: https://apnews.com/hub/college-football and https://apnews.com/hub/ap-top-25-college-football-poll
"
Article Copyright © 2023 The Associated Press, All Rights Reserved.