No. 17 Ole Miss hosts King and Georgia Tech, eager to reverse SEC troubles against ACC teams
Thu, Sep 14, 2023
NCAAF News (AP)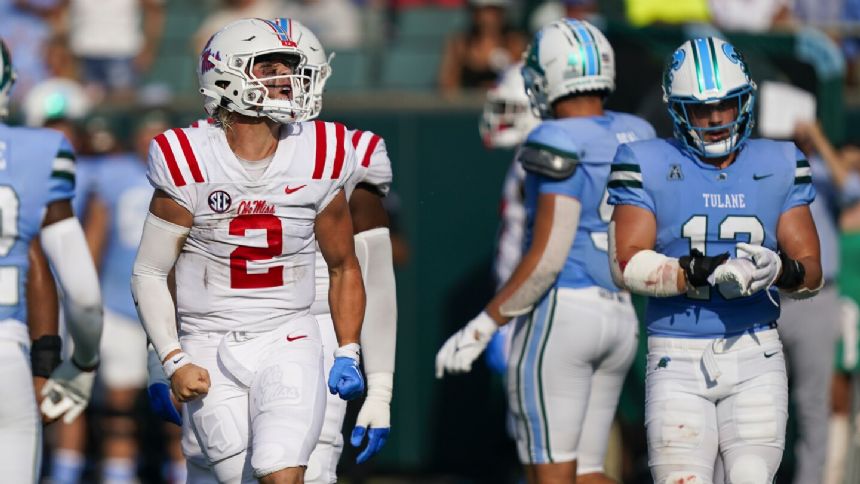 Mississippi coach Lane Kiffin is confident his Rebels won't have issues getting ready for a team they handled so easily last season.
That's partly because No. 17 Ole Miss (2-0) has so many newcomers who weren't around for that 42-0 win over Georgia Tech (1-1), which visits Vaught-Hemingway Stadium for the first time on Saturday night.
"I think that normally would be a major issue but half these guys weren't here," Kiffin said. "Nowadays the year before doesn't mean hardly anything and especially in this case."
The game does present other challenges in timing. Ole Miss, which has a roster heavy on transfers, is fresh from a 37-20 victory over Tulane in a Top 25 matchup where the Rebels finished on a 30-3 scoring binge. Next week is a visit to No. 10 Alabama for the Southeastern Conference opener.
Other news
Dart produces, Pratt sits, as No. 20 Ole Miss tops No. 24 Tulane, 37-20
Austin Simmons is a 17-year-old Ole Miss QB garnering attention for his unique situation
No. 20 Ole Miss' trip to No. 24 Tulane brings big-game vibe to cozy venue
The Yellow Jackets, meanwhile, are hoping to continue one early-season trend. Atlantic Coast Conference teams are 4-1 against SEC competition this season, a blow to the pride of a league that prides itself as college football's best.
Three other ranked SEC West teams - Alabama, No. 14 LSU and now-unranked Texas A&M - have already dropped nonconference games. LSU lost to the ACC's Florida State while the Aggies fell to Miami. No. 4 Texas of the Big 12 Conference beat Alabama.
Georgia Tech beat two ranked teams last season after Brent Key took over as interim coach. Now, he has the job full-time.
"They look like they're playing better than they were a year ago," Kiffin said.
Key, who took over two games after that Ole Miss loss, isn't dwelling too much on last year's game.
"I don't remember Sunday. You think I'm going to remember last year? Seriously," he quipped.
REBELS RUNNING GAME
Ole Miss and star tailback Quinshon Judkins had uncharacteristic struggles running the ball against Tulane. Judkins, the SEC's leading rusher as a freshman last season, gained just 48 yards on 18 carries with a touchdown. Ole Miss averaged just 2.5 yards on 35 carries, thanks partly to sacks.
"Highly concerned," Kiffin said. "That's very unusual for us."
Defenses still must be very concerned any time they're facing Judkins. "You're looking at one of the best running backs in the country, if not the best running back," Key said. "You can rest assured (Kiffin is) doing everything he can to get that guy going this week."
TRE'S STATUS
The Ole Miss offense wasn't the same for a while after leading receiver Tre Harris went down with an injury against Tulane. The Louisiana Tech transfer has eight catches for 188 yards and five touchdowns in just five quarters. Kiffin said it wasn't an injury that would sideline him long-term, but his availability was not clear for Georgia Tech..
TRANSFER QBS
Both starting quarterbacks are thriving after transferring. Second-year Ole Miss starter Jaxson Dart (via USC) and Texas A&M transfer Haynes King have both passed for 600-plus yards through two games. King has thrown for seven touchdowns and Dart six. Though King didn't play against Ole Miss in his three seasons in College Station, Key doesn't think the environment will bother him at all.
"He has big-game experience, big-game road experience," Key said. "He's not going to be rattled by any means."
KENNARD'S BIG GAME
Georgia Tech defensive lineman Kyle Kennard became only the program's second player since 2000 to have an interception, forced fumble and fumble recovery in the same game. Kennard was named Atlantic Coast Conference defensive lineman of the week.
HERE'S THE KICKER
Ole Miss placekicker Caden Davis has made all four of his field goal attempts, including a 56-yarder against Tulane. Georgia Tech's Gavin Stewart missed his first three attempts before Aidan Birr came in. Birr had second-half field goals of 30 and 42 yards against South Carolina State.
___
AP college football: https://apnews.com/hub/college-football and https://apnews.com/hub/ap-top-25-college-football-poll
"
Article Copyright © 2023 The Associated Press, All Rights Reserved.