No. 18 Oklahoma to offer SMU a Power Five test a year before Mustangs move to the ACC
Thu, Sep 7, 2023
NCAAF News (AP)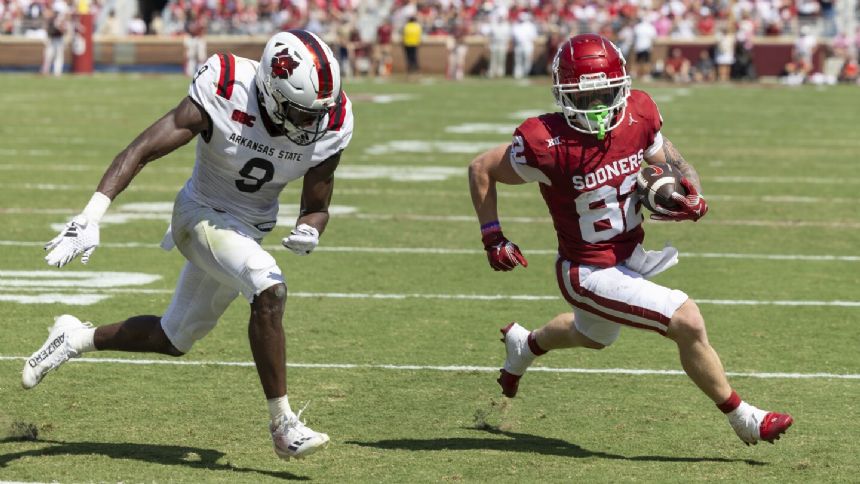 NORMAN, Okla. (AP) - SMU coach Rhett Lashlee sees a typical Oklahoma squad on film.
He was impressed with how the Sooners rolled past Arkansas State 73-0 in their opener and expects a tough matchup when his Mustangs visit No. 18 Oklahoma on Saturday.
"I mean, they look like Oklahoma," Lashlee said. "They look like a team that could compete to win the Big 12 and compete to be in the College Football Playoff."
SMU will jump from the American Athletic Conference, a Group of Five league, to the Atlantic Coast Conference next year. The Sooners will offer the Mustangs an early taste of Power Five action.
Other news
BYU seeking improved offensive production against Southern Utah
Underdog Aztecs looking for a second straight victory against UCLA
No. 21 Duke aims to follow Clemson upset with a short-week win against FCS foe Lafayette
"It's why you play college football, and obviously with the future for us, it's going to become much more the norm, which is what we want," Lashlee said. "It's a great opportunity to play at one of the historic programs in the country."
Oklahoma coach Brent Venables said the Sooners made the most of their first game. The Sooners outgained Arkansas State 642 yards to 208 and did not turn the ball over. Oklahoma quarterback Dillon Gabriel passed for 308 yards and two touchdowns before sitting out the second half. The backup quarterback, freshman Jackson Arnold, completed all 11 of his passes for 114 yards.
"You always want more, you always want better," Venables said. "It shouldn't matter who you're playing, it's how you play that matters. You want to have great habits. So when there's opportunity, which there were, opportunity to teach and coach, reinforce, demand even better, we'll certainly take advantage of those opportunities."
SMU showed it has a dangerous offense in a 38-14 win over Louisiana Tech. Preston Stone completed 23 of 37 passes for 248 yards and three touchdowns and LJ Johnson Jr., a Texas A&M transfer, ran for 128 yards on 14 carries.
Venables said he expects a challenge.
"They've recruited well," he said. "They've really attacked the portal. They have excellent skill guys on offense that they've been able to develop."
LONG-DISTANCE THREATS
Stone connected with Jordan Hudson for a 67-yard touchdown and RJ Maryland for a 25-yard score last week. Key'Shawn Smith had a 43-yard reception. Venables said the Mustangs will test Oklahoma's defensive backs.
"The ball's gonna be in the air," he said. "They're going to launch that football down the field, and our guys have got to do a great job of straining on the finish of routes."
FREAK OUT
Oklahoma's Gavin Freeman returned a punt 82 yards for a touchdown last week. He leads the nation with a 45.0-yard average per runback. The man nicknamed G-Freaky also caught four passes for 19 yards and a score in the opener. In his career, he has three touchdowns on just 16 touches.
FABULOUS DEBUT
Oklahoma's Jaquaize Pettaway caught nine passes in his first game, matching the school's single-game record for a freshman. He gained 56 yards on those receptions.
"Just knew he was super talented," Gabriel said. "Starting out, was learning a lot on the go, but knew once he learned it he was very exceptional at what he does, so I'm just happy for him. A guy who's very humble and quiet at times, but when he lets loose and plays ball, he's a stud."
SORTING IT OUT
Oklahoma does not have a clear No. 1 running back.
Jovantae Barnes is not listed as a starter, but he got the most carries in the opener with 13 rushes for 49 yards. Walk-on Tawee Walker scored his first two career touchdowns last week and had 44 yards on eight carries. Marcus Major gained 31 yards on nine carries. Gavin Sawchuk will be in the mix, too.
QUOTABLE
Venables, comparing the craziness of college football early in the season to the NCAA basketball tournament: "I don't know, I kind of like it. I won't like it when it hurts the Oklahoma Sooners. You can't blame me. I don't know, it's exciting. Who doesn't like March Madness, right? Everybody loves March Madness for all the obvious reasons."
___
AP college football: https://apnews.com/hub/college-football and https://apnews.com/hub/ap-top-25-college-football-poll
"
Article Copyright © 2023 The Associated Press, All Rights Reserved.