No. 23 Arizona taking huge strides in third season under Fisch
Wed, Nov 8, 2023
NCAAF News (AP)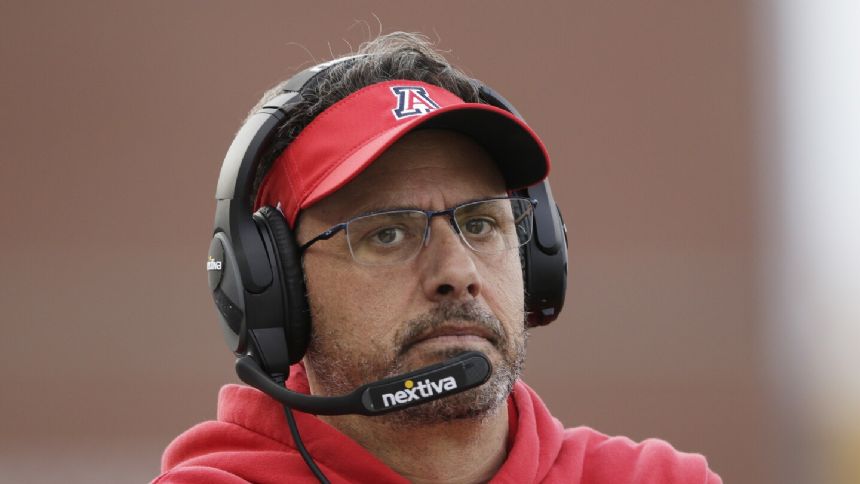 TUCSON, Ariz. (AP) - Jedd Fisch had the toughest sales job in college football, trying to convince recruits and assistant coaches to join, what was at the time, one of the nation's worst programs.
Amid what would become the longest losing streak in Arizona history, Fisch had to paint a picture of promise and lay out a plan for a better future.
The former NFL coach sealed the deal more often than not, setting the foundation of a massive desert turnaround in a short timeframe.
"It's been a crazy process of knowing that it was going be long and hard, and really proud that our guys are where they are right now," Fisch said.
Other news
Michigan prepared to take Big Ten to court if punished without full investigation, AP source says
Unbeaten No. 21 James Madison writes NCAA seeking remediation for two-year bowl ban
Zion Tupuola-Fetui made one of the biggest plays for No. 5 Washington with a heavy heart
Arizona went from a one win first season under Fisch to five last year. The upward trend has continued this year
The Wildcats (6-3, 4-2) had one of the most difficult stretches in college football this season, playing five straight AP Top 25 teams - and handled it well.
With Saturday's 27-10 win over then-No. 20 UCLA, Arizona beat ranked opponents in three consecutive games for the first time in the history of a program that started in 1899.
The Wildcats are already bowl eligible for the first time in six years and were No. 23 in this week's AP Top 25, their first ranking since hitting No. 23 in 2017.
Arizona's offense has continued to flourish despite injuries to starting quarterback Jayden de Laura and Michael Wiley, racking up 429 yards against UCLA, one of the nation's best defensive teams.
The defense, among the FBS' worst in recent years, has taken huge strides this season.
Arizona is 16th nationally in rush defense after ranking 124th last season and is 36th in total defense after finishing 126th a year ago.
"We know that we can do it," running back Jonah Coleman said. "The mindset is every time we step on the field we expect to win. It's not 'oh I hope.' Nah, we expect to win. We know we're the better team. Physically, mentally, anything."
Fisch's hiring in 2020 raised a few eyebrows, even in Tucson. A longtime assistant coach, his only head coaching experience was a two-game stint as UCLA's interim coach after Jim Mora Jr. was fired in 2017.
Fisch quickly made believers of the naysayers, first with his enthusiasm, then recruiting, then results.
Arizona extended its losing to a record 20 games in his first season and finished 1-11, yet Fisch pulled in the nation's No. 22 recruiting class, according to the 247 Sports composite.
That first recruiting class became the foundation for the Wildcats' rebuild, providing talent and depth that had been missing the previous few seasons.
Wide receiver Tetairoa McMillan, the program's highest-rated recruit at No. 37 nationally, has developed into one of the nation's toughest covers. He leads Arizona with 52 catches for 752 yards and seven touchdowns this season after catching 39 passes for 702 yards and eight scores a year ago.
Quarterback Noah Fifita played so well when de Laura got hurt in late September, he kept the job when both were healthy. Fifita tied the Pac-12 record by being named the conference's freshman of the week a fourth time this week, and has thrown for 1,521 yards and 14 touchdowns while completing 76% of his passes.
Jacob Cowing has become one of the Pac-12's best receivers after transferring from UTEP. Coleman has been Arizona's go-to running back as Wiley has struggled with an ankle injury.
Linebacker Jacob Manu is Arizona's leading tackler, Ephesians Prysock and Tacario Davis have anchored the secondary, and Ta'ita'i Uiagalelei has been a key to the Wildcats' much-improved pass rush.
"To get that class of '22 to come here - and I'll continue to brag on that class forever - when you see all those guys," Fisch said. "I mean, I think 15 of them are starting right now or 14 of them from that recruiting class alone and they're only redshirt freshmen or sophomores."
The Wildcats have made a quick ascension back to respectability. They have the pieces in place to keep it moving upward.
___
AP college football: https://apnews.com/hub/ap-top-25-college-football-poll and https://apnews.com/hub/college-football
"
Article Copyright © 2023 The Associated Press, All Rights Reserved.