No. 3 Ohio State looks for a fast start and more complete game against struggling Michigan State
Thu, Nov 9, 2023
NCAAF News (AP)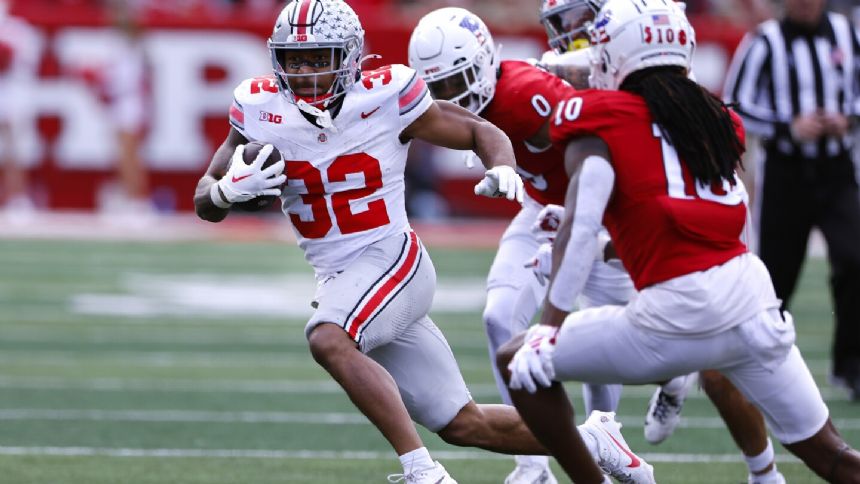 COLUMBUS, Ohio (AP) - Unbeaten Ohio State is speeding through the Big Ten toward another high-stakes showdown with Michigan.
But the journey so far hasn't been without drama for the No. 3 Buckeyes, who have had to overcome some alarmingly slow starts.
Take the Oct. 7 game against Maryland. It was tied 10-10 at halftime before the Buckeyes went ahead late in the third quarter and eventually made it look good with a 37-17 win.
Last week, it was Rutgers' turn to cause coach Ryan Day's blood pressure to spike. The Scarlet Knights were up 9-7 at the half and would have been pitching a shutout if not for a 93-yard pick-6 by Ohio State cornerback Jordan Hancock. The Buckeyes scored 28 in the second half and won 35-16 in a game that was much more tense than the score showed.
Other news
No. 17 Oklahoma, West Virginia to meet in matchup of teams one game behind Big 12 leaders
No. 23 Arizona rolls into Colorado on 3-game win streak and bowl eligible for first time since 2017
No. 6 Oregon hosts the USC Trojans for first time since 2015
The Sept. 23 Notre Dame game came down to the last play, a 1-yard TD plunge by Chip Trayanum that required a video review before it was counted. The Buckeyes clung to a 10-6 halftime lead against Penn State on Oct. 23 and did enough for a 20-12 win.
Ohio State (9-0, 6-0 Big Ten, No. 1 CFP) is looking for a faster start when it hosts Michigan State (3-6, 1-5) on Saturday. The Spartans won their first Big Ten game last week, 20-17 over Nebraska, after losing six straight since former coach Mel Tucker was suspended and later fired.
"There are definitely signs that we're moving in the right direction," Day said. "But you know, it's getting late in the season. So our urgency is at an all-time high."
The Spartans are feeling good about themselves for the first time in a while.
"Winning does a lot, heals a lot of wounds and pain," interim coach Harlon Barnett said.
Barnett was a Michigan State assistant the last three times the Spartans defeated Ohio State, in 2011, '13 and '15. His team comes in as a four-touchdown underdog this time.
"I know what it is to go down there and compete, play hard against these guys," Barnett said. "They're beatable guys, just like everybody else. We're going down there to attack these guys and see what happens."
TERRIFIC TREVEYON
Ohio State's first-year starting quarterback Kyle McCord has been inconsistent this season but some of the pressure was eased when running back TreVeyon Henderson came back after missing three games due to an injury. In the last two games, wins over Wisconsin and Rutgers, he has rushed for 290 yards and two touchdowns and had nine pass receptions for 125 yards.
Henderson tends to wear down defenses as the game progresses.
"You start to see those three-yard hits get to four and five, then you start to see the five and sixes get to a little bit more explosive plays, and then it opens up more things in the pass game," Day said. "But there's no question that we want to be faster, we want to be moving out of the gates."
RANKED WOES
Michigan State is facing a third Top 5 team after getting routed 49-0 by second-ranked Michigan last month and losing 41-7 to No. 5 Washington, which was ranked eighth two months ago when it played at Spartan Stadium.
HURTING BUCKEYES
The Buckeyes have some key players banged up, but it's not clear yet who will be back for Saturday's game.
Tight end Cade Stover, a valuable receiver, was kept out as a precaution last week but could have played, Day said. Expect to see him back this week.
Cornerback Denzel Burke and safety Lathan Ransom both sat out last week. Day said Burke is practicing this week and Ransom is still being evaluated. The other starting safety, Josh Proctor, missed most of the second half last week but could be back. Linebacker Tommy Eichenberg injured his arm in the second half last week but is practicing this week.
MAN DOWN
The Spartans may have even more problems moving the ball without receiver Tre Mosley, who is out with a hand injury. Mosley is tied for the team lead with two receiving touchdowns and ranks second with 28 catches and 288 yards receiving.
___
AP Sports Writer Larry Lage contributed.
___
Get alerts on the latest AP Top 25 poll throughout the season. Sign up here
___
AP college football: https://apnews.com/hub/ap-top-25-college-football-poll and https://apnews.com/hub/college-football
"
Article Copyright © 2023 The Associated Press, All Rights Reserved.