No. 4 Michigan State beats Southern Indiana 74-51, bounces back from losing opener to James Madison
Thu, Nov 9, 2023
NCAAB News (AP)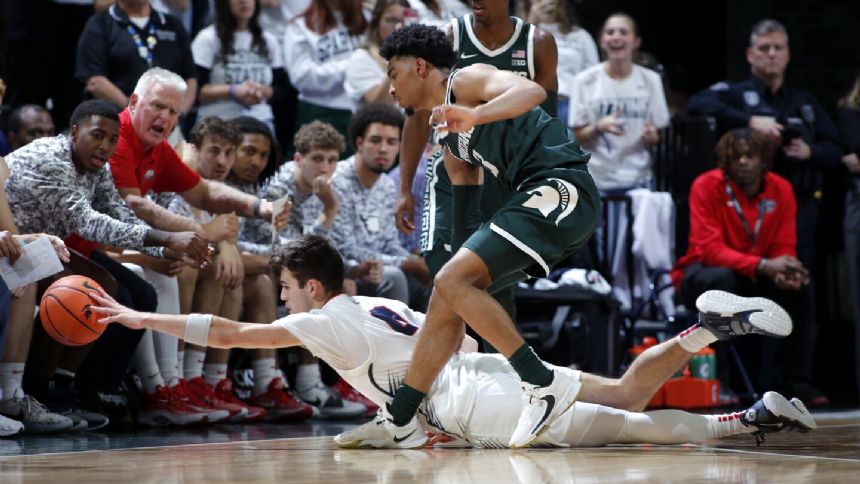 EAST LANSING, Mich. (AP) - One game later than expected, No. 4 Michigan State has its first victory of the season.
The Spartans bounced back from a stunning defeat in their opener with a 74-51 win over Southern Indiana on Thursday night.
Tyson Walker scored 14 points and Maddy Sissoko had 11 points and 10 rebounds for the Spartans (1-1), who were coming off their loss to James Madison in overtime Monday. Michigan State rebounded with a lopsided win over an overmatched team in its second season of Division I basketball.
"There were some bright spots," coach Tom Izzo said.
Jaden Akins scored 13 points, looking more like the playmaker Izzo needs him to be after he was 2 of 10 for four points in the opener.
"Jaden is a lot better player than he played," Izzo said. "He knows it, and I know it. He did bounce back."
Malik Hall added 12 points for the Spartans.
The Screaming Eagles (0-2) missed 17 of their first 18 shots and trailed 37-14 at halftime.
"It took a while for us to figure out how to score," coach Stan Gouard said.
Southern Indiana was much more competitive early in the second half, going on a 12-0 run to cut the deficit to 15 points and finished the second half with as many points as Michigan State.
"I don't do moral victories," Gouard said. "We have to get off to a better start."
Michigan State responded by making five of six shots to take a 22-point lead and coasted to a much-needed victory, less than a week before facing No. 2 Duke.
Southern Indiana's Jordan Tillmon had 10 points and was the team's only double-digit scorer.
BIG PICTURE
Southern Indiana: The Ohio Valley team, which finished 16-17 last season, is picked to finish ninth in the conference with seven newcomers. Later this month, it will face the Blue Devils on the road.
"Hopefully it prepares us for the OVC," Gouard said.
Michigan State: In the opener, the Spartans made only 1 of 20 3-pointers. They missed their first eight shots beyond the arc against the Screaming Eagles and finished with only one make on 11 3-point attempts.
"Who's having the party? We made a 3," Izzo deadpanned, adding he's not concerned about his team's outside shooting woes.
POLL IMPLICATIONS
After losing to James Madison, the Spartans will fall some spots in the AP Top 25.
NOD TO VETS
Southern Indiana's nickname was the Spartans until students voted in 1970 to honor the U.S. Army's 101st Airborne Division, which is known as the Screaming Eagles and is based 100 miles south of campus in Fort Campbell, Kentucky.
Michigan State's coaching staff wore green pullovers with camouflage sleeves.
UP NEXT
Southern Indiana: Hosts Chicago State on Sunday in its home opener.
Michigan State: Plays No. 2 Duke in Chicago on Tuesday night in the Champions Classic.
___
AP college basketball: https://apnews.com/hub/ap-top-25-college-basketball-poll and https://apnews.com/hub/college-basketball
"
Article Copyright © 2023 The Associated Press, All Rights Reserved.