No. 5 USC is hoping to avoid a letdown against Arizona State in the Trojans' first road game
Thu, Sep 21, 2023
NCAAF News (AP)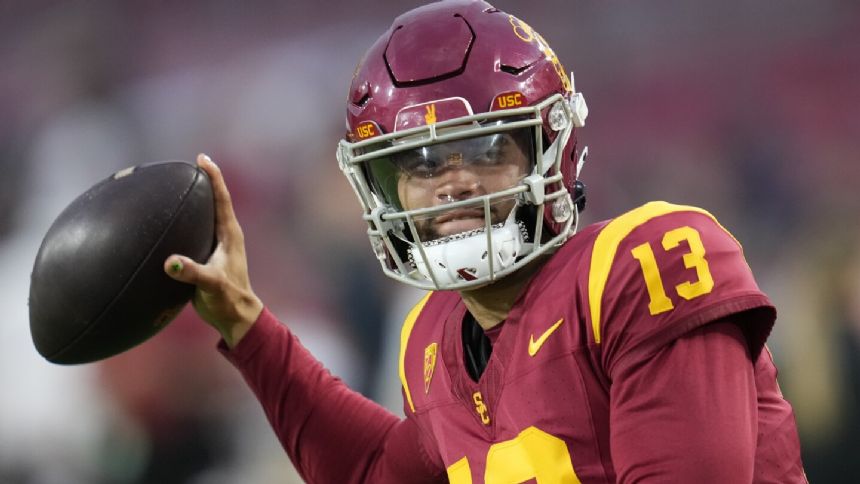 TEMPE, Ariz. (AP) - No. 5 Southern California has looked unstoppable so far this season.
The Trojans are scoring in bunches, quarterback Caleb Williams has been superb after winning the Heisman Trophy a year ago and USC has won by at least 27 points in each of its three games.
Now the Trojans hit the road for the first time, facing an Arizona State team that's battered and struggling. With a marquee game at No. 19 Colorado on the horizon, the Trojans can't afford a letup.
"The big deal is to not be surprised by anything, to understand that it's still football, but it is going to feel different than playing at home and the challenges are going to be different," USC coach Lincoln Riley said. "We've got to be able to show them, and we've got to be able to walk them through that and prepare them."
Other news
No. 5 USC looks to avoid letdown against battered Arizona State in first road game
Caleb Williams propels No. 6 USC to a 49-point first half in a 56-10 victory over Stanford
No. 6 USC hosts Stanford to begin final year of Pac-12 play for both schools
Nothing has fazed the Trojans (3-0, 1-0 Pac-12) so far.
USC has scored at least 56 points in its first three games and is coming off its highest-scoring game against Stanford since the series started in 1905, a 56-10 home win last weekend. The Trojans have at least 500 yards of offense in four straight games dating to last season.
Williams has been stellar in his Heisman follow up, throwing for 878 yards and 12 TDs in eight quarters over three games. He's second in the FBS in touchdown passes and fifth in completion percentage at 78.6%.
Even if the Sun Devils (1-2) were healthy, it would be a daunting task. Now that they've been decimated by injuries early in coach Kenny Dillingham's first season, it's going to be an even more formidable challenge.
"I want to be on a team that you have to grind and scratch, crawl and compete and fight, and dive for loose balls, where you have to do everything necessary to give yourself a chance to win," Dillingham said. "This is my world, just in life this is my world and I love it - that's what I love. If you are scared to play somebody, like leave, we don't need you in the building."
QUARTERBACK CAROUSEL
Arizona State had to play without starting quarterback Jaden Rashada against Fresno State last week due to an undisclosed injury.
The hits kept coming.
Backup Trenton Bourguet injured his foot on the game's second drive, then Drew Pyne went down with a leg injury.
That left it up to fourth-stringer Jacob Conover, a former four-star recruit who transferred from BYU. Conover threw for 89 yards on 6-of-16 passing with two interceptions.
The Sun Devils head into Saturday's game with Rashada and Bourguet out. Pyne may be able to play with what Dillingham called a muscle injury, but he may start Conover against the Trojans.
"I think Jacob did a nice job coming in from no reps in practice and just executing," Dillingham said. "His interceptions, one of them he'd like to have back and another was just him forcing the ball in a game where we didn't get anything going. I got a lot of faith in Jacob if he takes the field."
ALL THOSE RECEIVERS
Williams had a stellar 2022 season on a team loaded with talented receivers. The reigning Heisman Trophy winner has even more options to pick from this season.
USC has arguably the best receiving group in the nation.
Tahj Washington leads the Trojans with nine catches for 233 yards and three touchdowns, averaging nearly 26 yards per catch. Duce Robinson has eight catches for 186 yards and Brenden Rice also has three touchdowns.
USC has completed passes to 12 players in all three games this season.
___
AP college football: https://apnews.com/hub/college-football and https://apnews.com/hub/ap-top-25-college-football-poll
"
Article Copyright © 2023 The Associated Press, All Rights Reserved.