No. 9 Notre Dame's top-ranked pass defense gets its first real test against No. 6 Ohio State
Wed, Sep 20, 2023
NCAAF News (AP)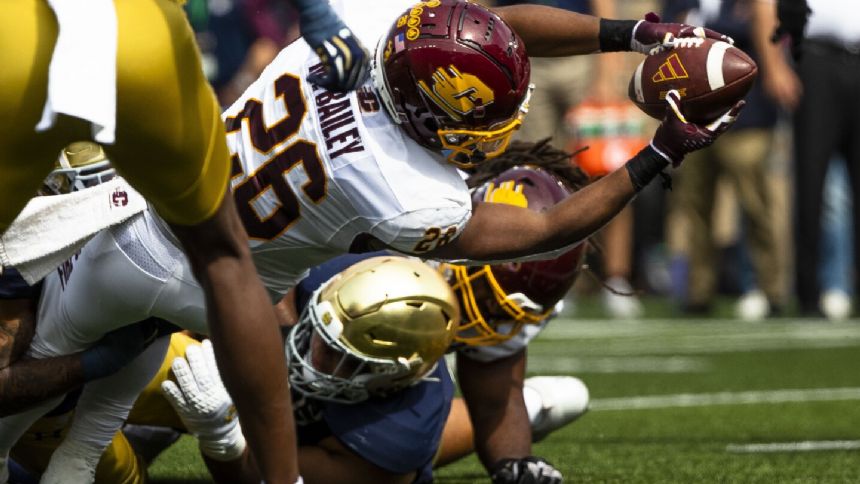 SOUTH BEND, Ind. (AP) - Notre Dame coach Marcus Freeman sees the numbers.
He knows the ninth-ranked Fighting Irish are near the bottom of the FBS in sacks per game. He's also aware his team has the nation's top passing efficiency defense and is eager to see if it will pass the unit's biggest test so far - Saturday against No. 6 Ohio State.
"Everybody keeps talking about sacks," Freeman said. "I told coach (Al) Golden, we're No. 1 in the country in pass efficiency defense, so that's the stat I'm worried about. I'm not worried about sacks."
Despite recording just six sacks, the Irish (4-0) have held opposing quarterbacks to a pass efficiency rating of 84.3 and already have 40 pass breakups - six more than they had all of last season.
Other news
Wearing No. 21 just like dad, safety Shilo Sanders leads Colorado's defense into game at Oregon
Number of unbeatens in the SEC already is down to five with league play beginning
QB Brennan Armstrong back is on familiar turf at Virginia. He is wearing the colors of the opponent
Freeman thinks the disparity demonstrates there are other ways to rattle opposing quarterbacks. According to Pro Football Focus, Notre Dame has 70 pressures this season. Opponents, meanwhile, have completed 44.3% of their throws for just 5.2 yards per attempt and two TDs. Notre Dame ranks in the top 15 of the 133 FBS teams in all three categories.
It helps, of course, when receivers rarely get open.
But after starting this season against run-heavy Navy and FCS foe Tennessee State before facing North Carolina State on a soggy field and Central Michigan's backup quarterback, Notre Dame now faces one of the nation's highest-scoring teams.
The Buckeyes (3-0) rely heavily on All-American receiver Marvin Harrison Jr., a Heisman hopeful whose father spent his entire Hall of Fame career with the NFL's Indianapolis Colts. He caught two passes and hurt his shoulder in the season opener at Indiana, but now has 14 receptions, 304 yards and three TDs.
Ohio State also has receiver Emeka Egbuka, who has 12 catches for 167 yards and three TDs after topping the 1,000-yard mark last year, and tight end Cade Stover, who chose to play one more college season rather than head to the NFL
"You're dealing with speed, length, (a wide) catch radius, the ability to win a one-on-one," Golden said when asked about Harrison before turning his attention to the rest of the Buckeyes. "That's a really, really potent offense."
The biggest question in Columbus is whether three new offensive line starters can protect quarterback Kyle McCord, the successor to two-time Heisman finalist C.J. Stroud. McCord also struggled against the Hoosiers and their pass rush but looked much more comfortable against Western Kentucky and Youngstown State. The Hilltoppers recorded only two pressures last weekend.
But McCord also has something to prove - that he can excel against a defense built to slow teams down and on the road in one of college football's most famous stadiums.
"I'm glad we went through those games to get to this point with some of the new faces we have," Ohio State coach Ryan Day said. "We did work out some of the issues, and so I'm excited to get on the field and go play this one now."
The Irish seem uniquely equipped to defend the Buckeyes.
Ben Morrison, a preseason second-team All-American, anchors the secondary after picking off six passes last season as a freshman. This year, he's teaming with Cam Hart. Opponents are 7 of 22 passing for 100 yards when targeting Notre Dame's starting cornerbacks.
Nickel cornerback Thomas Harper and safety Xavier Watts play a physical style, batting away passes and blitzing quarterbacks. Day has seen all of it on video.
"The biggest thing when you're dealing with a great corner, you have to know where he is," Day said.
And if the Irish pass defense continues to play well in this weekend's only top-10 matchup, Freeman just might walk away with the biggest win in his two-year tenure in South Bend.
"We're going to play a heck of an opponent Saturday," Freeman said. "So we'll see how good this football team really is."
___
AP college football: https://apnews.com/hub/college-football and https://apnews.com/hub/ap-top-25-college-football-poll
"
Article Copyright © 2023 The Associated Press, All Rights Reserved.