P.J. Walker's 3 turnovers doom Browns in loss to Seahawks
Sun, Oct 29, 2023
NFL News (AP)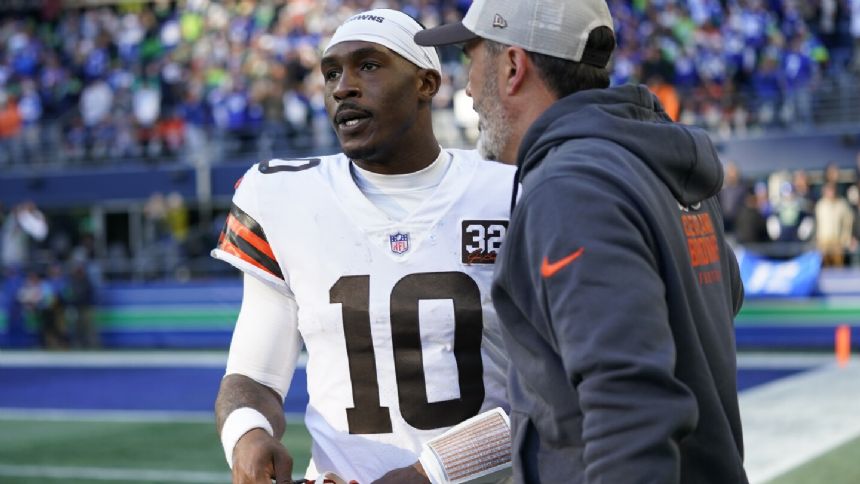 SEATTLE (AP) - P.J. Walker had a chance to put away a second straight road victory for the Browns. A completed pass would have given Cleveland a new set of downs with less than two minutes remaining.
When Walker's pass deflected off the helmet of blitzing Seattle safety Jamal Adams, the Cleveland quarterback knew it was trouble.
"The moment it got tipped in the air, I felt the bad feeling that it was going to be a pick or something like that," Walker said.
The deflected interception was Walker's third turnover of the Browns' 24-20 loss to the Seahawks on Sunday. Making his second start of the season with Deshaun Watson sidelined by a shoulder injury, Walker's performance was filled with some big plays and big misses that added up to a frustrating result for the Browns.
Other news
The 49ers lose their 3rd straight game in mistake-filled 31-17 loss to the Bengals
Chargers running back Austin Ekeler reaches trio of milestones with early touchdown vs. Bears
Giants blow late lead in final 24 seconds and lose in overtime to Jets in rivalry game
After coming off the bench early and leading a late touchdown drive in a win at Indianapolis last week, Walker was stuck watching Geno Smith march Seattle down the field for a winning touchdown pass to Jaxon Smith-Njigba with 38 seconds left.
"It's tough. Especially in a crucial moment in the game, having the lead with under three minutes left in the game, we got to find a way to get that first down by any means, whether it's passing or running," Walker said.
Walker was 15 of 31 for 248 yards. He quickly turned around what was a disastrous start for the Browns, who fell behind 14-0 less than 10 minutes into the game. For long stretches after Seattle took the early lead, Cleveland was by far the better team. The Browns were stout on defense and during one stretch forced the Seahawks to go three-and-out on four of six possessions, with the other two ending in interceptions.
Offensively, Walker was able to hit big plays in the screen game, including an 18-yard TD to David Njoku, and Cleveland's running back trio of Kareem Hunt, Pierre Strong Jr. and Jerome Ford combined for 137 yards on 33 carries.
Hunt surprisingly disappeared from the rotation in the fourth quarter.
"It is what it is. I feel like I could've helped win," Hunt said.
At some key moments, the Browns couldn't make needed plays. Twice in the third quarter, the Browns saw drives inside the Seattle 10 and had to settle for field goals.
And then there was the third-and-3 call.
"With the outcome, you're always thinking, what can you do differently?" Cleveland coach Kevin Stefanski said. "We had options there. Certainly, you can run it, certainly you can pass it. But the result, that was tough."
With Cleveland's success running the ball, the Seahawks expected to see a rushing play. Walker's pass was directed toward Amari Cooper, but even if it had gotten through, it may not have been complete. Seattle's Devon Witherspoon was breaking on the throw.
"It definitely was a changeup. So that's what they expected. Thankfully Jamal Adams came in headfirst," Love said.
It's unclear whether Walker will get another start next week against Arizona or if Watson's strained rotator cuff will have improved enough for him to play. After hosting the Cardinals, the Browns have consecutive division games against Baltimore and Pittsburgh, which may be better targets for Watson's return.
Stefanski said Watson will be back when he's ready.
"Coming onto this team at such late notice, a quarterback, having to know all that he has to know, it's not easy," Njoku said of Walker. "And he comes into work every day, works his (tail) off, so I have all the respect for him."
___
AP NFL: https://apnews.com/hub/nfl
"
Article Copyright © 2023 The Associated Press, All Rights Reserved.