QB Brennan Armstrong back is on familiar turf at Virginia. He is wearing the colors of the opponent
Wed, Sep 20, 2023
NCAAF News (AP)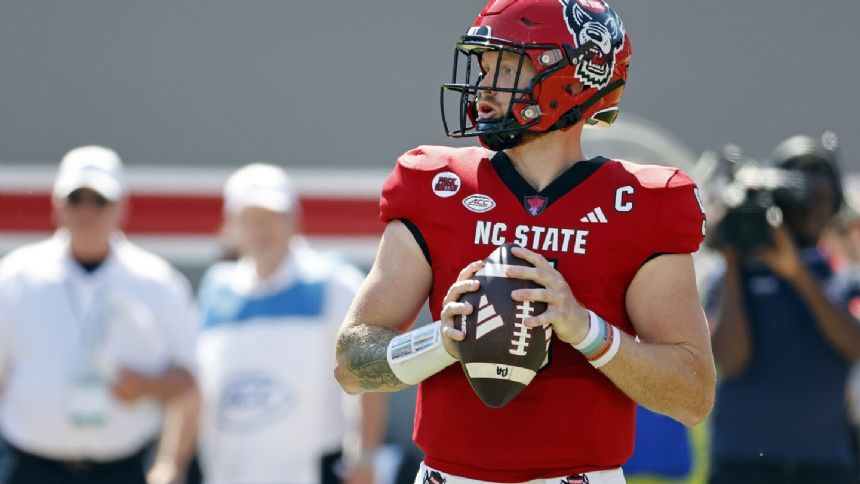 Brennan Armstrong holds 15 Virginia records set over five seasons, but when he trots onto the Scott Stadium turf on Friday night he will be wearing the visitor's colors.
The left-handed quarterback transferred to North Carolina State following last season, a year in which he struggled in his transition to the more pro-style offense Virginia coach Tony Elliott employs. He has been reunited with offensive coordinater Robert Anae, whose system helped make Armstrong one of the nation's leading passers in the 2021 season.
From 31 touchdowns, 4,449 yards and 10 interceptions that season, Armstrong managed just seven touchdowns, 2,210 yards and 12 interceptions last season, albeit in two fewer games.
"I'm looking forward to it. I'm super excited. It's going to be a unique experience for me," Armstrong said. "But at the end of the day, my job is to try to go win a game and that's how I try to keep my mind on that and we'll just keep it simple."
Other news
Number of unbeatens in the SEC already is down to five with league play beginning
ACC still standing with presence in rankings, statistics. And with different teams up top, for now
Grab the chips and your favorite beverage because a full day of Top 25 games awaits on Week 4 slate
His numbers so far this year have not compared to the prolific ones he put up in 2021, with three passing touchdowns, three rushing scores and three interceptions for the Wolfpack (2-1), but he noted he's playing with different personnel in a system they are still learning.
"I think we're doing a really good job of just trying to figure out what's good and what's not good," he said. Unlike spring and fall practice, when the offense was less familiar, "The lights are on now. It's a real game now. The scoreboard's on. We're starting to figure it all out."
Elliott had nothing but praise for the way Armstrong handled the transition to the more balanced approach his staff adopted last season, and his decision to transfer.
"He handled it the right way with me, and when he was here, man, he made an effort. He made an effort to transition, to help myself and this coaching staff with this team," he said.
The second-year coach also had a warning for his defense, which was never allowed to hit Armstrong in practice when he was with the Cavaliers, and who seems to relish contact.
"Brennan is going to run the football with authority and with violence, and he's going to go get those extra yards," Elliott said. "You've got to take him down. When he takes off to run, he's not running like a quarterback. He's running like a running back."
Defensive lineman Kam Butler, credited with 2 1/2 of Virginia's three sacks this season, said he and his teammates should have several more sacks then the one they got against Maryland last week - "I think we left three or four more out there," he said - and that showing improvement this week in their ACC opener against Armstrong will be key.
"We weren't allowed to touch him in practice," Butler said. "It would be great to get another sack, for sure. I'm trying to do that every game. It doesn't matter who the quarterback is."
___
AP college football: https://apnews.com/hub/college-football and https://apnews.com/hub/ap-top-25-college-football-poll
"
Article Copyright © 2023 The Associated Press, All Rights Reserved.