Raiders appear likely to look for a quarterback in next year's draft
Mon, Nov 20, 2023
NFL News (AP)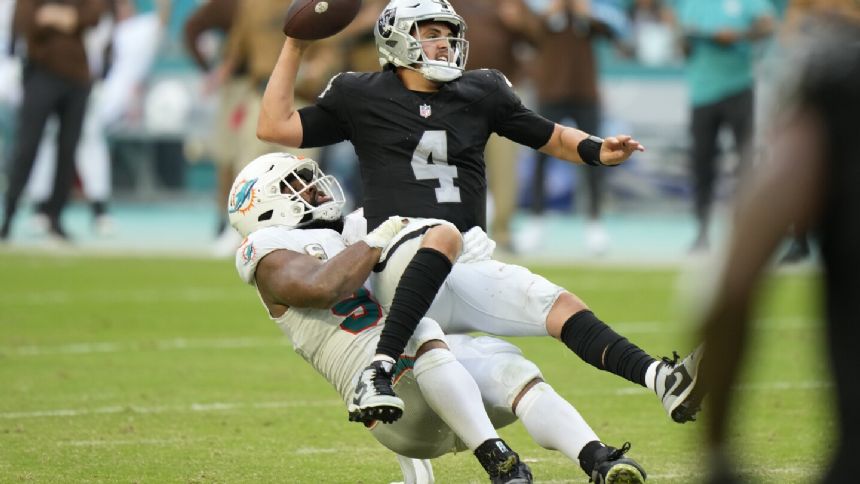 HENDERSON, Nev. (AP) - Raiders interim coach Antonio Pierce wasn't willing to make any declarations Monday about whether Aidan O'Connell is Las Vegas' quarterback of the future.
But his actions the day before, when Pierce opted to play it safe at the end of the first half, suggested the Raiders most likely will be looking to draft a QB next year.
"We have six more games left, so we'll find out in six more," Pierce said Monday. "And then we'll see what happens with AP in 2024."
The problem is O'Connell is capable of pulling out just enough victories - which he did in beating both New York teams in back-to-back weeks before losing over the weekend at Miami - that the Raiders (5-6) might not end up with a high enough selection next year to get one of the top quarterbacks in the draft.
Other news
Josh Allen and the Bills' offense find a spark under interim coordinator Joe Brady
Seahawks with little time to get healthy, correct issues after loss to Rams
NFL suspends Broncos' Kareem Jackson 4 games for another illegal hit in return from first suspension
But it's clear the Raiders, who took O'Connell in the fourth round this year, need to upgrade that position if they are to compete in the AFC West, where the other three teams have better quarterbacks. The best, Patrick Mahomes, leads Kansas City into Las Vegas on Sunday.
Just look to how Pierce handled the end of the first half against the Dolphins. The Raiders recovered a fumble at Miami's 32 with 58 seconds left. Plenty of time for the Raiders, trailing 14-10, to try to get into the end zone.
Instead, Las Vegas called a run for Josh Jacobs, which picked up 3 yards and took 42 seconds off the clock. Then O'Connell threw two short incomplete passes before Daniel Carlson kicked a field goal.
"Just wanted to protect the young quarterback," Pierce said after the game.
That's not exactly a vote of confidence, but O'Connell hasn't shown he's on the level of fellow rookie C.J. Stroud, and the Raiders have coached him knowing they have a limited quarterback.
He's been intercepted on 4.1% of his attempts, which is third worst in the NFL, with teammate Jimmy Garoppolo last at 5.4%. O'Connell is 26th with 6.5 yards per pass.
He threw three picks against the Dolphins and had a quarterback rating of 56.0.
"We didn't lose the game because of Aidan," Pierce said Monday. "Let's get that straight. But Aidan does know he needs to care of the ball. That's the quarterback's No. 1 job, and we'll get better at that."
O'Connell is 2-2 as a starter, but he hasn't shown he can make the Raiders a contender.
Not in a division that includes Mahomes, Justin Herbert and Russell Wilson.
WHAT'S WORKING
The Raiders' defense is on a nice roll. After giving up a combined 18 points to the offensively challenged Giants and Jets, Las Vegas showed against of the league's top-scoring offense those performances weren't flukes. The Dolphins were held about 10 points below their scoring average and the Raiders forced three takeaways.
WHAT NEEDS WORK
Pierce acknowledged Monday that Jacobs didn't get the ball enough at Miami. Jacobs carried 14 times, gaining 39 yards, so the Dolphins did an excellent job limiting him. But Jacobs is a physical back who wears down defenses, and he had rushed for a combined 214 yards over the previous two games.
"We don't want those touches to be at that 14 mark," Pierce said. "That's not our number. Our magic number is 20-plus, and we've got to stay with it."
STOCK UP
Second-year S Isaiah Pola-Mao made the most of his opportunity after starter Marcus Epps got hurt. Pola-Mao, who played just 33 defensive snaps before Sunday, had his first career interception to go with seven tackles.
"The starters get all the (practice) reps," Pierce said. "He might have got a handful of reps, but you couldn't tell. Came in right away and was very impactful, very physical in the run game, and he has some traits in the back end to cover a lot of ground for us."
STOCK DOWN
Penalties haven't been a big issue for the Raiders, but they had some untimely calls go against them. A defensive holding call wiped out a sack by Malcolm Koonce that would've forced a Dolphins punt. Miami wound up scoring a touchdown on that drive. A holding call after a 7-yard run by Jacobs turned a second-and-3 into a first-and-20. The Raiders wound up going three-and-out and punting. Offensive pass interference turned a potential touchdown opportunity for Las Vegas into a field goal.
INJURIES
Pierce said CB Amik Robertson (concussion) didn't play as a precaution. LT Kolton Miller (shoulder) has missed the past two games.
KEY NUMBER
16.8 - The Raiders' scoring average, tied for 26th.
NEXT STEPS
The defending Super Bowl champion and AFC West rival Chiefs visit on Sunday.
___
AP NFL: https://apnews.com/hub/nfl
"
Article Copyright © 2023 The Associated Press, All Rights Reserved.