Ravens handle Bengals 34-20 after Joe Burrow exits in the 2nd quarter with a wrist injury
Thu, Nov 16, 2023
NFL News (AP)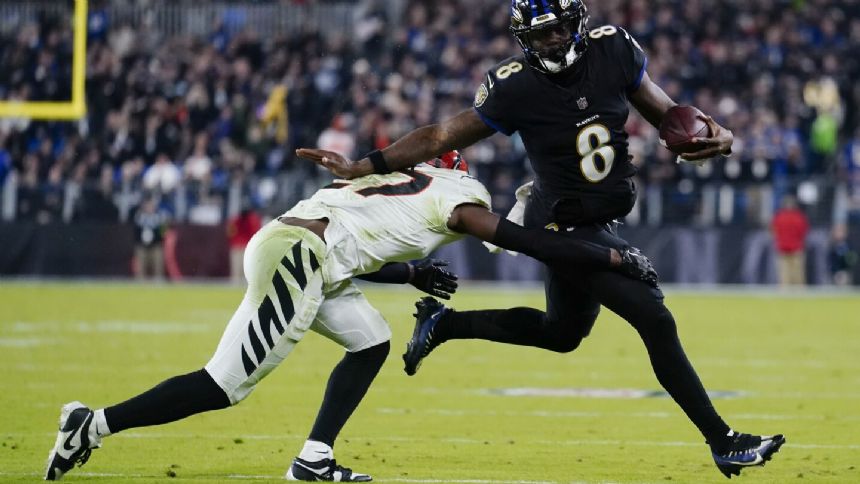 BALTIMORE (AP) - Lamar Jackson threw two touchdown passes in the second quarter - one of which came thanks to a fortuitous carom - and the Baltimore Ravens beat Cincinnati 34-20 on Thursday night after the Bengals lost star quarterback Joe Burrow to a wrist injury.
The AFC North-leading Ravens (8-3) completed a head-to-head sweep of Cincinnati (5-5) and moved to 2 1/2 games ahead of the last-place Bengals. And that's far from Cincinnati's only problem. Burrow left in the second quarter after throwing a touchdown pass and wasn't able to return.
The Bengals were up 10-7 after that 4-yard scoring toss from Burrow to Joe Mixon, but the Ravens answered when Jackson's pass over the middle bounced off linebacker Germaine Pratt and right to receiver Nelson Agholor, who caught the ball in stride and punctuated the 37-yard touchdown with a flip into the end zone.
Jackson threw a 10-yard TD pass to Rashod Bateman with 23 seconds left in the half to put Baltimore up 21-10.
Other news
Bengals QB Joe Burrow leaves game against Ravens in 2nd quarter with wrist injury
It's a Super Bowl rematch with superstar power as the Eagles visit the Chiefs on Monday night
Ravens TE Mark Andrews exits with ankle injury on first possession against Bengals
Jake Browning, a 27-year-old backup who had played in only one NFL game, relieved Burrow and was able to guide the Bengals to a field goal to start the second half. But that was all he could manage until he threw a 2-yard touchdown pass to Ja'Marr Chase with 1:08 remaining in the game.
Jackson threw for 264 yards despite losing one of his top targets - tight end Mark Andrews - to an ankle injury on the first drive of the game.
Gus Edwards bookended Baltimore's day offensively with 3-yard touchdown runs - the first made it 7-0 and the latter 34-13.
Cincinnati won the division the past two years, when late-season injuries kept Jackson off the field for the Ravens. This year Jackson has been able to stay healthy - he went into the tent after appearing to hurt a foot or ankle in the first quarter Thursday but stayed in the game - and Baltimore's AFC North rivals are the ones dealing with health issues at quarterback.
Cleveland, which won at Baltimore last weekend to pull within a half-game of first place, lost Deshaun Watson for the season with a fractured shoulder. Now Burrow is dealing with another injury after he faced calf trouble earlier this season.
The Ravens had five sacks, increasing their league-leading total to 44.
INJURIES
Cincinnati CB Cam Taylor-Britt left the game with a quad injury.
UP NEXT
Bengals: Host Pittsburgh on Nov. 26.
Ravens: Visit the Los Angeles Chargers on Nov. 26.
___
AP NFL: https://apnews.com/hub/NFL
"
Article Copyright © 2023 The Associated Press, All Rights Reserved.