Risky plays expanding in popularity with varying degrees of success among ACC programs
Wed, Nov 15, 2023
NCAAF News (AP)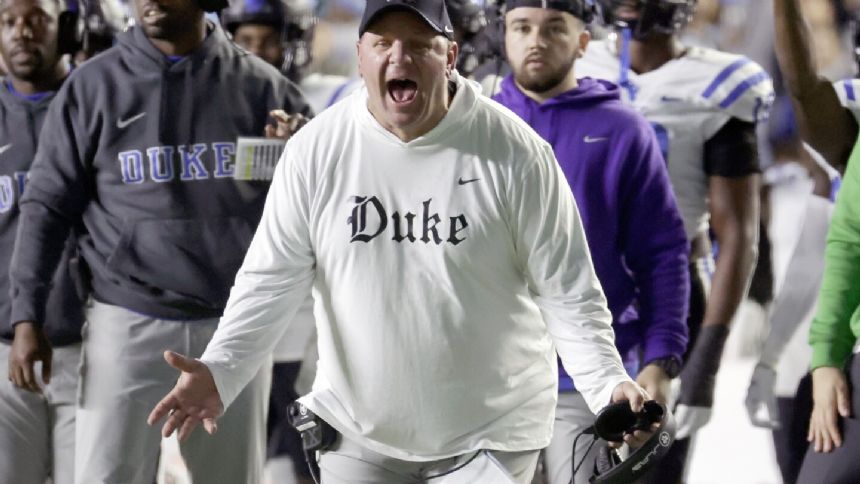 Plays that once seemed in vogue only with the most daring college coaches - going for it on fourth down or faking a punt in your own half of the field - seem to be expanding in popularity. Others, like kickoff and punt returns, seem less attractive.
In the Atlantic Coast Conference, the league's 14 teams have converted 55.3% of 235 fourth down tries. The team with the most attempts and conversions, by far, is Boston College (6-4, 3-3 ACC). The Eagles have cashed in 25 times in 33 tries, or 75.8%.
That's not only the top conversion rate in the conference, but the 25 successful fourth down tries are also more than any other team has even attempted.
Still, it's only eighth-best in the country.
Other news
Notre Dame OT Joe Alt is a once-in-a-generation talent even for the No. 20 Fighting Irish
Ex-Michigan staffer Connor Stalions did not file any expense reports, AP's FOIA request finds
James Madison riding 13-game winning streak and making the transition from FCS look almost easy
The second- and third-best teams in converting on fourth down, Virginia Tech (13-21, 61.9%) and Virginia (10-17, 58.8%) could chalk up some of their attempts to late-game desperation, but it seems familiarity with the task impacts doing it well.
In all, nine of the ACC's 14 teams have converted at least 50% on fourth down.
Defensively, league programs are better, allowing a 46.8% conversion rate (118-252) with Miami (6-4, 2-4) pacing the field, allowing just two conversions in 11 tries (18.2%).
Duke (6-4, 3-3) and Clemson (6-4, 3-4) not only converted four times each on fourth down last week, but they also both tried a fake punt in their own territory with mixed success.
Trailing North Carolina 19-14, the Blue Devils faked a punt on fourth-and-8 from their own 27 and converted, no doubt aided by the riskiness of such a play. Duke also successfully employed a surprise, fourth-quarter onside kick trailing 26-21.
Coach Mike Elko usually lets analytics dictate risk-taking, but not always.
"Honestly, I think the fake punt, the surprise onside kick, you can say that is a tip of the cap to (UNC quarterback) Drake Maye, and knowing that we had to not give him the ball as many times as he wanted it," Elko said. "That was honestly a part of that game plan. We were trying to find every way we could to steal possessions. ...
" So you look at the game you're playing and you're playing one of the most explosive offenses in the country with the best quarterback in the country, you're going to operate a certain kind of way with how you manage the game."
Clemson was more daring with its fake punt, trying it on fourth-and-9 from its own 21. Aiden Swanson took off and was stopped six yards short of the line to gain. Georgia Tech immediately followed with a run a to the 5-yard line and later scored a touchdown.
"We said we were going to call it going into the game, and we just didn't quite execute it just right, but that's OK," Swinney said.
The Tigers, confident in their ACC-best defense, did convert four times on fourth down, one shy of the program high in 15 1/2 years with Swinney as coach, in the 42-21 victory against Georgia Tech.
In the return game, there have been six kickoff return touchdowns, two more than last year, but also three teams that have opted to return fewer than 10 kickoffs.
Conversely, only North Carolina (8-2, 4-2) and Louisville (9-1, 6-1) have returned punts for touchdowns, three fewer than last year. The Cardinals lead the league with 26 attempted returns and, despite the touchdown, rank 13th overall, averaging just 4.8 yards per return.
Alijah Huzzie of the Tar Heels is responsible for all of UNC's league-low six punt returns, including a 52-yarder that boosts their average to a league-best 17.3 yards.
While Elko at Duke relies heavily on analytics, ignoring those percentages and relying on instinct, momentum and a feel for the situation can also pay off.
"I think we had the ball with like 13.5 minutes left. I think we had a fourth-and-5, I think I got reprimanded by the analytics (guys) for not going for it," he said. "But at that moment, I just didn't want to put the game on the line. I felt like punting, giving our defense a shot to go play was something that was important.
"We went out, we got a three-and-out, and then we scored in back-to-back possessions to take the lead. So I just think you're trying to feel it all."
Had that "feel" not proven to be the right decision, two overtimes likely would not have been necessary in the Blue Devils' 47-45 loss to the Tar Heels.
___
AP sports writers Aaron Beard in North Carolina, Pete Iacobelli in South Carolina, Charles Odum in Georgia and Gary Graves in Kentucky contributed.
___
Get alerts on the latest AP Top 25 poll throughout the season. Sign up here AP college football: https://apnews.com/hub/ap-top-25-college-football-poll and https://apnews.com/hub/college-football
"
Article Copyright © 2023 The Associated Press, All Rights Reserved.