Soto's hot start for Padres reminder of how good he can be
Thu, Mar 2, 2023
MLB News (AP)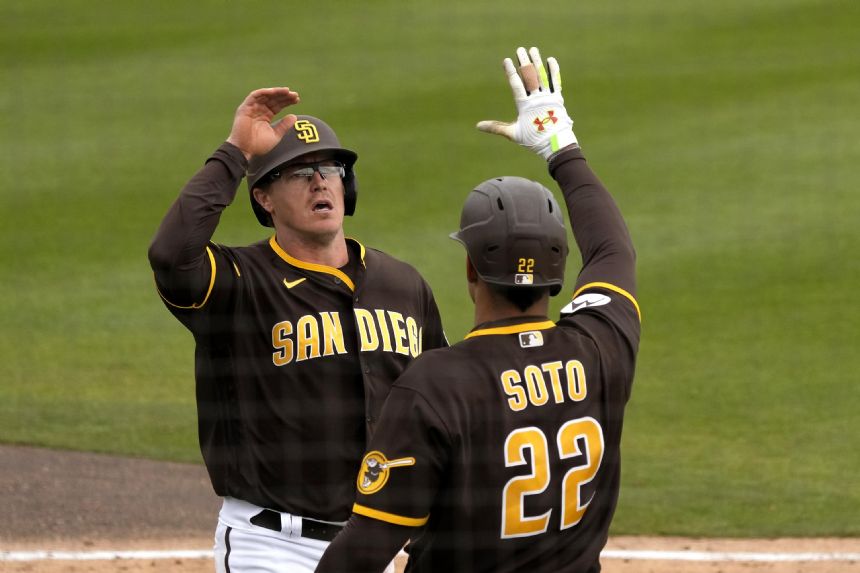 PHOENIX (AP) - Juan Soto was very good, but not great, after he came to the San Diego Padres in a midseason blockbuster deal.
His excellent start in spring training this season is a reminder of how much of a game-changer he can be.
The outfielder - who is still just 24 years old - had six hits in his first eight spring at-bats, including three doubles, a homer, a stolen base and six RBIs. It's already been an eventful camp for the Padres, who signed third baseman Manny Machado to a $350 million deal that could keep him with the team through 2033.
Machado might be the franchise cornerstone, but Soto's bat will also likely be needed this season if the Padres want to make it to the World Series.
Soto came to San Diego last August with much fanfare, but wasn't at his best in his first few months with the Padres. He hit just .236 with six homers in 182 at-bats. He was also just 11 for 46 (.239) in the postseason, though he did hit a pair of homers against the Phillies in the NLCS.
Soto - a two-time All-Star - has already accomplished a lot despite his young age. He's hit 125 career homers and helped lead the Nationals to a World Series title in 2019.
Here are a few more standouts in the early days of Grapefruit and Cactus League action:
Jarred Kelenic, OF, Mariners: The 23-year-old was once a top prospect, but has struggled in his first two years in the big leagues. He's flashed plenty of power but not nearly enough contact, hitting .168 with 21 homers in 500 big-league at-bats. He's had a good start this spring, batting 4 for 11 (.364) and crushing three homers.
Kris Bryant, OF, Rockies: The veteran missed a big chunk of last season with various injuries, but was solid when he played, batting .306 with five homers. The 31-year-old has looked healthy so far in Cactus League action with two homers in his first seven spring at-bats. The hope for the Rockies is he'll anchor the lineup, which is why they signed him to a seven-year, $182 million deal last offseason.
Bobby Dalbec, 1B, Red Sox: The 27-year-old has had a good start to the spring - with four hits, including three doubles, in his first nine at-bats - as he tries to bounce back from a disappointing 2022. Dalbec clubbed 25 homers in 2021 but regressed last season, batting just .215 with 12 homers.
Nick Martinez, RHP, Padres: Martinez has been very good so far this spring, which bodes well for the Padres and for the U.S. in the World Baseball Classic. He's thrown six scoreless innings in two starts. The 32-year-old was 4-4 with a 3.47 ERA last season while splitting time between the rotation and bullpen.
Robbie Ray, LHP, Mariners: The 2021 AL Cy Young Award winner looks like he's in midseason form with the Mariners, pitching five scoreless innings his first two spring starts while striking out six. Ray had a 12-12 record with a 3.71 ERA and 212 strikeouts with Seattle last season.
Drey Jameson, RHP, D-backs: One of Arizona's top prospects, Jameson is making a push to start the season in the team's rotation. He's thrown four scoreless innings in two spring starts. The 25-year-old was impressive in a late-season cameo last season, with a 3-0 record and 1.48 ERA in four starts.
___
More AP MLB: https://apnews.com/hub/mlb and https://twitter.com/AP_Sports
Article Copyright © 2023 The Associated Press, All Rights Reserved.