Steelers defense takes another major hit with loss of LB Kwon Alexander to "serious" leg injury
Sun, Nov 12, 2023
NFL News (AP)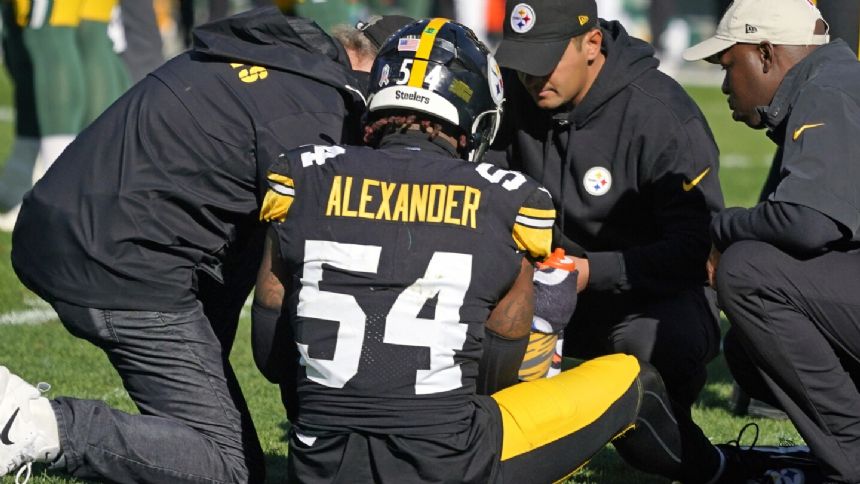 PITTSBURGH (AP) - The Pittsburgh Steelers will have to find a way forward without Kwon Alexander.
The veteran inside linebacker's season is likely over with what coach Mike Tomlin called a "serious" left leg injury sustained in the first quarter of a 23-19 win over Green Bay.
Alexander, who had thrived in Pittsburgh after signing a one-year deal with the Steelers in July, was dropping into coverage when he fell to the ground. He was able to walk off the field under his own power but was quickly taken to the locker room for testing and ruled out.
Tomlin said Alexander was being evaluated but added that it was "not promising."
Other news
Geno Smith's big throws and Jason Myers' walk-off field goal lift Seahawks past Commanders 29-26
Prescott accounts for 5 TDs, Cowboys rout Giants again 49-17 for 12th straight home win
Jaguars embarrassed and humbled in a 34-3 loss to 49ers that ended a 5-game winning streak
The nine-year veteran had meshed quickly with Cole Holcomb and Elandon Roberts, the three becoming essentially interchangeable while splitting snaps relatively evenly.
Holcomb's season ended last week when he sustained a knee injury in a win over Tennessee. Alexander will now join Holcomb on injured reserve, meaning two of Pittsburgh's top five tacklers entering Sunday are now done for the year. Alexander's 41 tackles ranked fifth on the team, with Roberts third (48) and Holcomb second (54).
Now, Pittsburgh (6-3) will have to move on with Roberts as the only experienced inside linebacker on the roster. Second-year player Mark Robinson had three tackles against the Packers while playing an expanded role with Alexander out, while Roberts will wear the green dot inside his helmet that relays the play call from defensive coordinator Teryl Austin.
Roberts has worn the dot during previous stops in his career in New England and Miami. Now he finds himself as the elder statesman at a position that's essentially been a revolving door for the Steelers since Ryan Shazier suffered a career-ending spinal injury near the end of the 2017 season.
The list of players who have been brought in over last five years include Mark Barron, Jon Bostic, Myles Jack and Devin Bush. None have stuck. The Steeler hit the reset button in the offseason, signing Holcomb to a three-year deal, Roberts to a two-year deal and taking a flyer on the charismatic and physical Alexander after he had a solid 2022 for the New York Jets.
Now, only Roberts remains healthy.
"He's a quality, veteran player," Tomlin said of Roberts. "He's a good communicator. He takes the run game personally. Those are the reasons why we acquired him in free agency and he's consistently provided that."
Inside linebacker isn't the only position the Steelers are hurting. All-Pro safety Minkah Fitzpatrick missed his second straight game with a hamstring injury, and Keanu Neal went down late with a rib injury after picking off Green Bay's Jordan Love.
That left Trenton Thompson, a practice squad player, to make his second NFL appearance in the final minutes as the Packers tried - and failed - to score the go-ahead touchdown.
"We were leaking in a lot of places today, but next man up," said veteran defensive back Patrick Peterson, who blocked an extra point and tipped the pass that Neal intercepted in the end zone. "Coaches believe in guys who have an opportunity to (be activated) in a game. We've got to trust in each other. Get in there and (play football)."
There's optimism that Fitzpatrick will be back soon. And Neal's injury may not be significant. The same can't be said for Alexander, who at 29 may face a lengthy recovery similar to the ones he dealt with earlier in his career. His 2018 season in San Francisco ended with a torn ACL in his knee, he played in eight games in 2019 before tearing a pectoral muscle and he tore an Achilles tendon on Christmas Day in 2020.
Pittsburgh's schedule ramps up in difficulty over the coming weeks. The Steelers visit AFC North rivals Cleveland (6-3) and Cincinnati (5-4) the next two Sundays. And they'll hit the road with a defense suddenly lacking in experience at a vital position.
"We've got a good division, that ain't no secret," Roberts said. "(Beating Green Bay) was big for us, but we have to get in this film, look at it and we've got to get ready for a big game this week."
___
AP NFL: https://apnews.com/hub/nfl
"
Article Copyright © 2023 The Associated Press, All Rights Reserved.