Syracuse hosts Army with a shot at opening the season with four straight wins
Thu, Sep 21, 2023
NCAAF News (AP)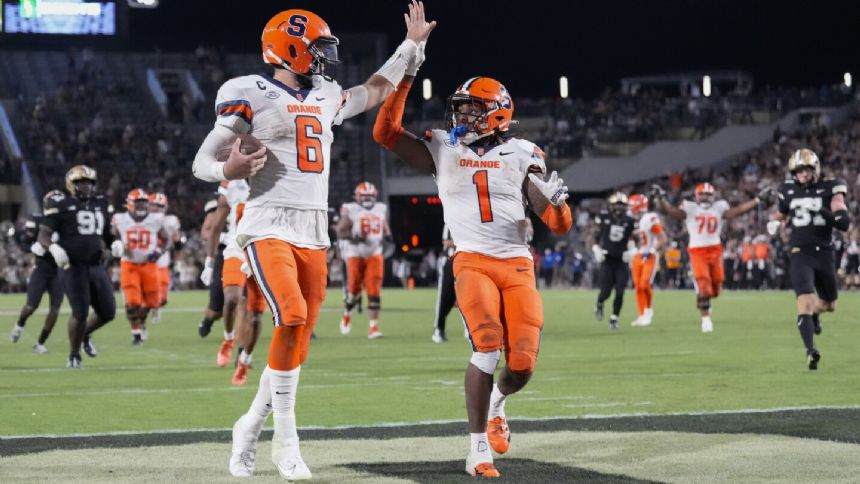 Army (2-1) at Syracuse (3-0), Saturday, 12:00 p.m. ET (ACC Network)
Line: Syracuse by 13 1/2, according to FanDuel Sportsbook
Series record: Syracuse 11-10.
WHAT'S AT STAKE?
Other news
Syracuse's milestone chase takes act on the road for key matchup at Purdue
Teens killed in car by deputy in upstate New York were 15 and 17, police say
Garrett Shrader passes for four touchdowns in Syracuse's 65-0 rout of Colgate in season opener.
Both teams are coming off big road wins. The undefeated Orange can set themselves up for a huge home game against Clemson with a win over the Black Knights. The game against Clemson is the first in Syracuse's three-game gauntlet that closes with consecutive road games against No. 17 North Carolina and No. 4 Florida State. An upset of Syracuse would give Army a major boost of confidence heading into two Power Five matchups in the next three weeks against Boston College and No. 12 LSU.
KEY MATCHUP
Army averages more than 200 yards on the ground. That's the good news. The bad news for the Black Knights is that Syracuse has held the opposition to less than 90 yards rushing per outing. Army will try to control the clock by pounding the ball. It could be a long day if they can't. Also worth monitoring is Syracuse's receivers against an Army secondary with All-American Oronde Gadsden II out for the season.
PLAYERS TO WATCH
Garrett Shrader, Garrett Shrader and Garrett Shrader. The Syracuse quarterback had a career game against Purdue, running for four touchdowns, the most in program history. His 195 yards rushing was the second-best behind Eric Dungey. What will he do for an encore? Army quarterback Bryson Daily and running back Hayden Reed rushed for 100 and 107 yards, respectively, against UTSA, and will have to put up similar numbers for the Black Knights to keep it close.
FACTS & FIGURES
This is the first Army-Syracuse matchup since 1996 when the Orange won 42-17, and both teams ranked in the Top 25. ... Saturday's game is the first in a four-year, home-and-home series. ... Syracuse is the only team in the nation with a top-five scoring offense and top-five scoring defense, and is ranked seventh in overall efficiency. ... The Orange are fifth in total offense. ... Army was 6-for-6 in fourth-down opportunities last week. ... Army's defense has not allowed a point in the first quarter. ... The Black Knights are eighth in the country in fewest penalty yards with just 85 in three games. ... Syracuse, on the other hand, has the 14th most with 237 penalty yards.
___
AP college football: https://apnews.com/hub/college-football and https://apnews.com/hub/ap-top-25-college-football-poll
"
Article Copyright © 2023 The Associated Press, All Rights Reserved.