The Raiders hope for a repeat of 2021 as they begin season's second half
Mon, Nov 6, 2023
NFL News (AP)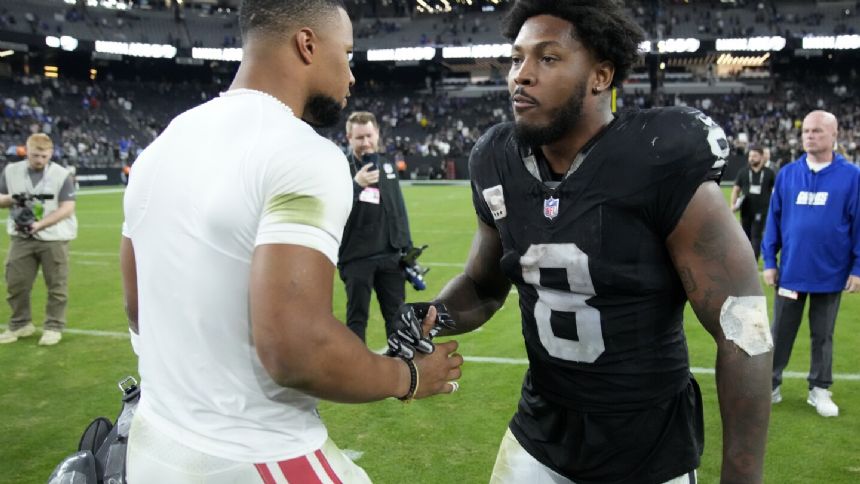 HENDERSON, Nev. (AP) - It could be 2021 all over again.
At least that's what the Las Vegas Raiders hope.
There are striking similarities.
Jon Gruden resigned after five games in 2021 after offensive emails were made public. The Raiders promoted special teams coordinator Rich Bisaccia, a players favorite, to interim coach. Las Vegas was one game under .500 late in the season before making an unlikely run to the playoffs by winning its final four games by a combined 12 points.
Other news
Seahawks have faltered with chances to prove they're among NFL's best
Cardinals hit rock bottom, but Kyler Murray's imminent return brings hope of a silver lining
The Baltimore Ravens are on a roll right now, but so is the rest of the AFC North
Last week, the Raiders fired coach Josh McDaniels and replaced him on an interim basis with linebackers coach and players favorite Antonio Pierce. After beating the New York Giants 30-6 on Sunday, the Raiders are a game under .500 at 4-5 and facing what remains an improbable path to the postseason.
But the Raiders got there two years ago in largely the same situation, and Pierce made it clear upon taking the job that he didn't see this as a lost season.
So what are the odds?
The Raiders are 2 1/2-point underdogs to the New York Jets this Sunday, according to FanDuel Sportsbook, and the rest of the schedule isn't favorable, either. Las Vegas probably will be an underdog or slight favorite in each remaining game.
So 2023 might not be a repeat of 2021 in the long run, but for now, the similarities are striking.
If the Raiders can engineer another unlikely postseason run, maybe there would be a different kind of ending. Even though Bisaccia was beloved by the locker room, it wasn't enough to convince owner Mark Davis to retain him. Davis instead went with the big name in McDaniels, who built his reputation as the New England Patriots offensive coordinator with Tom Brady.
Maybe Davis would stay with Pierce this time if he's able to get the job done.
The players are behind Pierce, as was evident by the way they talked about him since he got the promotion and by the smell of cigar smoke in the locker room after beating the Giants.
"I'm very appreciative of it," Pierce said. "When you're straightforward, it is what it is. You don't have to worry about anything."
WHAT'S WORKING
Cornerback Nate Hobbs sounded a little too excited after the victory over the Giants when he said the Raiders had a top-10 defense. When it comes to the pass defense, he's actually not wrong. Las Vegas is eighth in passing yards allowed per game (192.2) and play (6.16) as well as interception rate (2.85%). The Raiders are just outside the top 10, 11th to be exact, in sacks per pass attempts (8.54%).
WHAT NEEDS WORK
The run defense, though, is another story. Las Vegas is 30th in the NFL in allowing 138.7 yards per game and 27th in giving up 4.54 yards a play. Even the offensively challenged Giants made some headway on the ground, averaging 4.9 yards per carry while totaling 123 yards. To be fair, they have one of the best backs in Saquon Barkley, who rushed for 90 yards on a 5.6-yard average.
STOCK UP
Running back Josh Jacobs finally looked like his old self, rushing for 98 yards, including 86 in the first half when the Raiders took a 24-0 lead. Pierce said Monday that Jacobs is best when he runs angry, and that's what it looked like against New York when he repeatedly picked up yardage in traffic. If Jacobs continues to play like this, the Raiders could surprise some teams in the season's second half.
STOCK DOWN
Not taking out Jacobs when given the chance. Considering Jacobs was on a 13-game streak without a 100-yard performance, the moment he hit that mark late in the fourth quarter should've been the end to his game. The Raiders didn't need him anymore because the outcome wasn't in doubt, but Jacobs was given the ball once more - and lost 3 yards to drop below 100. It was one of the few questionable decisions on the day.
INJURIES
RT Thayer Munford (neck) and LBs Divine Deablo (ankle) and Luke Masterson (concussion) did not play. CB Marcus Peters left with a knee injury. There were no updates on those injuries.
KEY NUMBER
63.6 - The gross punting average in yards for AJ Cole, an NFL single-game record with at least four attempts.
NEXT STEPS
The tour of New York teams continues with the Jets visiting for the Sunday night game.
___
AP NFL: https://apnews.com/hub/nfl
"
Article Copyright © 2023 The Associated Press, All Rights Reserved.