The Steelers defense is banged up. Reinforcements will come from in-house, not on the open market
Tue, Nov 14, 2023
NFL News (AP)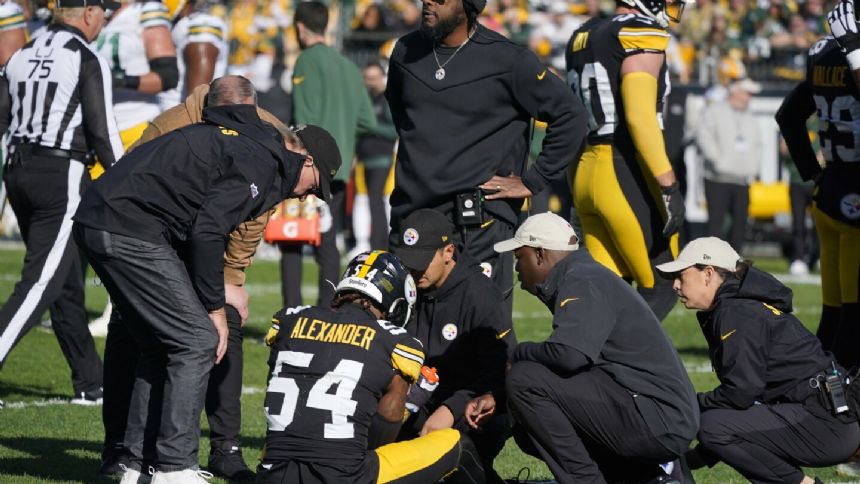 PITTSBURGH (AP) - Pittsburgh Steelers coach Mike Tomlin won't go looking on the open market to help out his banged-up defense.
Tomlin said Tuesday he believes the answers to Pittsburgh's depth issues - particularly at inside linebacker, where veterans Cole Holcomb (knee) and Kwon Alexander (Achilles tendon) have been lost for the season in consecutive weeks - are already on the roster.
"We've got guys we're comfortable with," Tomlin said. "We've been forward-thinking, to be quite honest with you, in the acquisition of some of our people."
Particularly on the practice squad, which the Steelers have used to not just add developmental players but experienced ones such as inside linebacker Mykal Walker, who had 107 tackles last season for Atlanta before bouncing from Las Vegas to Chicago to Pittsburgh, which signed the 26-year-old in late October.
Other news
Houston's Denzel Perryman has been suspended 3 games for repeatedly violating player safety rules
Bills fire offensive coordinator Ken Dorsey after sloppy loss to Denver drops team to 5-5
Broncos coach Sean Payton is the NFL's admittedly absent-minded perfectionist, sentimentalist
"He's on our practice squad to learn what to do at the position and to ready himself for a moment such as what is probably going to transpire this weekend," Tomlin said.
Alexander's exit in the first quarter of a 23-19 win over Green Bay on Sunday left Pittsburgh with just two inside linebackers - Elandon Roberts and Mark Robinson - available for the balance of the game. Roberts had eight tackles while Robinson played a career-high 41 snaps.
The Steelers made it work, winning after picking off two passes - one in the end zone, the other at the goal line - in the final minutes. Yet, as Tomlin noted, one of the reasons the Packers were able to put themselves in a position to win it late is because of the number of new(ish) faces on the field wearing black and gold.
The list included safety Trenton Thompson, a practice squad player who was promoted to the 53-man for the game and then found himself playing late in the fourth quarter after Keanu Neal left with a rib injury.
It's too early to tell if Neal will be available on Sunday when Pittsburgh (6-3) visits Cleveland (6-3). The same goes for All-Pro safety Minkah Fitzpatrick, who has missed the past two games with a hamstring injury.
While Tomlin declined to say who would wear the green dot on their helmet - sported by the player who receives the play call from the defensive coordinator and relays it to the other 10 guys on the field, a job typically given to an inside linebacker - Roberts figures to be the best bet.
"We're going to lean a lot on Elandon (in general), but that's why we brought him here," Tomlin said. "He's a defensive quarterback in mentality (and) a really good communicator."
Whoever is on the field will have to find a way to slow down a Cleveland running game that gashed the Steelers for 198 yards in their first meeting, a n improbable 26-22 Pittsburgh win on Sept. 18 in which the Steelers used two defensive touchdowns to beat their longtime rivals.
Pittsburgh's offense could receive a boost with the return of tight end Pat Freiermuth, who hasn't played since injuring his hamstring against Houston on Oct. 1. The Steelers' passing game has been a mixed bag of late, with quarterback Kenny Pickett throwing for just 126 yards against Green Bay, though part of that was the byproduct of a running game that rolled up 205 yards.
Tomlin allowed that Pickett, who has just six touchdowns, needs to take a step forward but also isn't particularly worried about how Pickett's performance looks on a stat sheet.
"We're going to need more (from Pickett), particularly as this road narrows," Tomlin said. "But guys like Kenny and myself, man, we're measured by wins and losses."
___
AP NFL: https://apnews.com/hub/nfl
"
Article Copyright © 2023 The Associated Press, All Rights Reserved.