This time, the Browns and Ravens should have both Watson and Jackson healthy when they meet
Thu, Nov 9, 2023
NFL News (AP)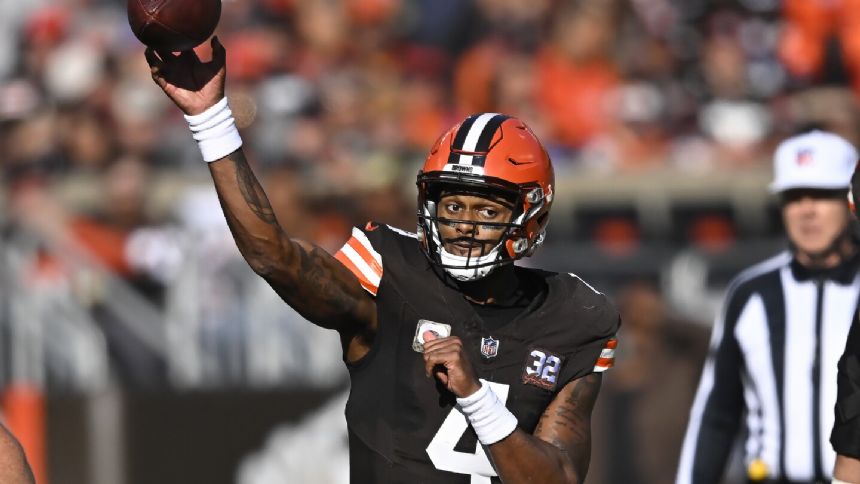 The Baltimore Ravens and Cleveland Browns have relied on a similar formula for success this season - a star quarterback paired with one of the league's top defenses.
Lamar Jackson has been healthy and played every game so far. Deshaun Watson hasn't - but he's expected to be on the field when the teams meet on Sunday.
"Deshaun is a playmaker," Ravens coach John Harbaugh said. "He's going to do it on time with the rhythm passing and the quick game. He can do it with play action - the boots and the play-action stuff off of their zone run game - and then he can do it as far as extending the play."
Baltimore beat Cleveland 28-3 earlier this season, but that was with Watson out and Dorian Thompson-Robinson making his first career start. When the teams meet again in Baltimore on Sunday, the two star quarterbacks should be ready. The matchup between them is actually pretty rare.
Other news
Slumping Bills seek a spark as they prepared to host the rested Broncos
Chicago Bears quarterback Justin Fields out again because of dislocated right thumb
Cardinals QB Kyler Murray expected to return vs. Falcons after being sidelined 11 months
Watson's injury kept him out of the Browns-Ravens matchup this October. Last season, the first meeting pitted Jackson against Jacoby Brissett with Watson suspended. The second matchup was between Watson and Tyler Huntley because of an injury to Jackson.
Jackson and Watson did face off twice when the latter was with Houston. The Ravens beat the Texans 41-7 in 2019 and 33-16 in 2020.
The quarterbacks shouldn't expect an easy game on Sunday. The Browns (5-3) are ranked No. 1 in the NFL in total defense, with the Ravens (7-2) at No. 2. Cleveland is coming off a 27-0 win over Arizona in which the Cardinals finished with only 58 net yards, the lowest total by any team in the NFL this season.
In fact, the Browns defense is responsible for the three lowest yardage totals of the season, with the Ravens defense at No. 5 on that list after holding Seattle to 151 yards in a 37-3 rout last week.
"They're very talented," Watson said. "I mean, they know exactly what they want to do. A lot of guys played a lot of football, a lot of depth in that defense, and they make you earn everything."
THREE OF A KIND
When star running back Nick Chubb was lost for the season in Week 2 with a knee injury, the Browns knew it would be nearly impossible to replace him with one player.
So, they're using three.
Cleveland has turned to the trio of Kareem Hunt, Jerome Ford and Pierre Strong Jr. to keep its rushing attack rolling. The committee approach has worked.
The Browns enter Sunday ranked third in the league with 144.1 yards rushing per game, and they've found a way to keep all three backs satisfied in supporting roles.
Each brings a different skill set to the position, and offensive coordinator Alex Van Pelt believes that variety gives him more options.
"Kareem, that's just a grinder, man," Van Pelt said. "He's a hard runner, makes good cuts, gets positive yards. Jerome, his ability to catch a ball out of the backfield, make guys miss, has that speed, the long speed as well.
"Then you get Pierre in the mix and he's a true speed guy."
BREAKOUT
Keaton Mitchell made quite an impression for Baltimore after he had no carries in his first two NFL games. He ran for 138 yards on nine attempts against Seattle, including a 40-yard touchdown.
Mitchell is an undrafted rookie from East Carolina.
ASSEMBLY LINE
The uncertainty in Cleveland has shifted from quarterback to the offensive line.
Starting left tackle Jedrick Wills Jr. will miss Sunday's game and at least three more with a knee sprain suffered last week. The loss of Wills, now on injured reserve, is complicated by rookie right tackle Dawand Jones being slowed by a knee and shoulder injury.
Jones missed practice time this week, forcing Cleveland's coaches to try other options in case the 6-foot-8, 375-pounder can't go. Another option is to slide All-Pro left guard Joel Bitonio to left tackle.
"It's one of those things where we're battling and we know it's football," Bitonio said. "Obviously, you'd rather have your first five out there for continuity sakes, but we're going to work this week and we're going to try and do our best."
PARTY TIME
Along with getting their first shutout since 2007 last week, the Browns pulled off something maybe not as historic but certainly important: zero turnovers.
It was the first time this season the Browns didn't have a fumble or interception. Cleveland entered last week leading the league with 17 giveaways.
"We had a small victory party on Monday as we got the team back together," Van Pelt said. "Literally, we shot off confetti, blew air horns. It was cool. Celebrating no turnovers."
DIVISIONAL GAUNTLET
All four teams in the AFC North are 5-3 or better. The Ravens host the Browns and Cincinnati Bengals in their next two games. After traveling to Baltimore, Cleveland hosts Pittsburgh.
The Ravens won't have much time between their next two games, because that matchup with the Bengals is on Thursday night.
"It's huge because obviously, you have a few days off after that, so I think the big key is just locking in on the task at hand, just not looking forward, just taking each day one at a time," Baltimore linebacker Patrick Queen said. "When a game presents itself, go out there and dominate. After that game, just whatever you have to do to recover, recover, and come into that next game on a short week and just get ready to dominate again."
___
AP Sports Writer Tom Withers in Cleveland contributed to this report.
___
AP NFL: https://apnews.com/hub/NFL
"
Article Copyright © 2023 The Associated Press, All Rights Reserved.