Tim Boyle's start for the Jets on Friday could spell the end for Zach Wilson in New York
Mon, Nov 20, 2023
NFL News (AP)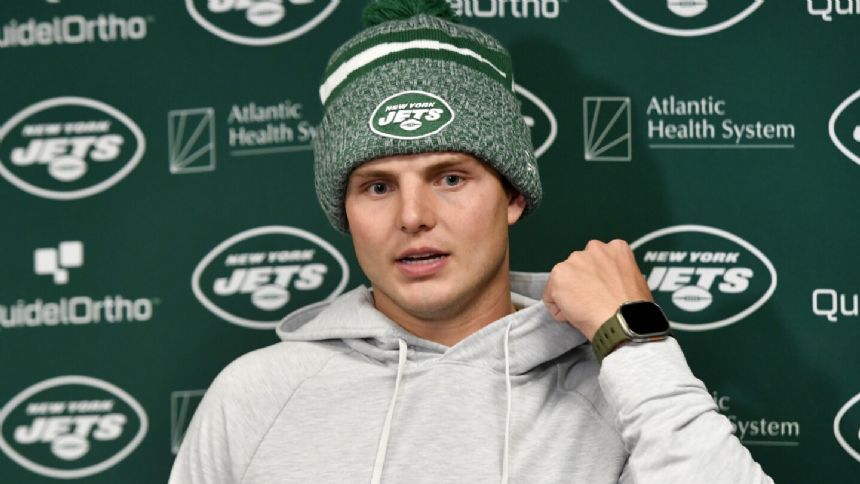 Tim Boyle's first start for the New York Jets might signal the end for Zach Wilson.
For this season and possibly his time with the team.
Wilson was benched Monday in favor of Boyle, who'll start Friday against Miami in hopes the shakeup could spark an offense that has lacked production all season.
It hasn't all been Wilson's fault. Plenty of blame is shared by offensive coordinator Nathaniel Hackett, a shaky and injury-riddled offensive line and skill players who have made mistakes.
Other news
Gannon-Murray partnership looks promising early, even as losses pile up for Cardinals
Vikings see their 5-game winning streak stop with a relapse of their early season turnover rash
Bears' coaching under scrutiny after blown lead vs. Lions
But coach Robert Saleh decided it was time for a change. And Wilson now heads to the sideline.
Again.
"He's come a long way from a year ago," Saleh said. "I think we all agree, we wish it was better. Obviously, we wish it was better for him. We wish we all could have been better for him. It's not a one-person thing, but just to see if we can get something going."
The No. 2 overall pick in the 2021 draft was benched twice last season, prompting the Jets to pursue and eventually acquire Aaron Rodgers. Super Bowl talk quickly followed.
Four snaps into his Big Apple debut, Rodgers tore his left Achilles tendon.
Gone went those lofty expectations, and Wilson was back - even though he was never supposed to take a snap this season.
The thought was Wilson would "reboot" in his third season while watching and learning from Rodgers. The four-time NFL MVP even said his goal would be to play a few years with the Jets and then hand things off to Wilson for the next 15.
But without any other true option at quarterback when Rodgers went down, the Jets were forced to play Wilson.
"You could always play the hindsight is 20/20 game, but we felt like we did what was best for the organization, best for the team," Saleh said. "It's been an unfortunate series of events when you look at all the injuries on the O-line and just the things that have transpired since the start of the year."
New York scored only nine touchdowns on offense in Wilson's 10 starts. The Jets are also among the NFL's worst in several offensive categories, including historically bad numbers in both third down and red zone efficiency.
Wilson failed to live up to his lofty draft status and there's a chance he never throws another pass for the Jets.
Rodgers has said his goal is to be back by the end of this season - as long as the Jets remain in the playoff hunt. That seems more unlikely as the losses pile up.
Wilson is signed through next season, but it's hard to imagine the Jets turning back to him. Saleh said there was no thought of releasing Wilson, whose fifth-year option for 2025 will likely not be picked up next spring.
"We'll deal with it in the offseason, guys," Saleh said. "Right now, it's just really about Miami."
With the team counting on Rodgers returning, the focus next season could be on making sure there's a veteran backup in place - and perhaps drafting an eventual replacement next April.
Meanwhile, Wilson and the Jets could be left pondering what could have been.
WHAT'S WORKING
This is a trick question. Actually, trickery has worked OK for the Jets. Punter Thomas Morstead completed an 18-yard pass to Brandin Echols on a fourth down fake, the Jets' league-leading second successful punt fake of the season.
Now if they can just do that on offense.
WHAT NEEDS HELP
It seems like a broken record, but third down and red zone efficiency. The Jets went 0 for 11 on third down at Buffalo, dropping them to a league-worst 23% in those situations. They scored their first touchdown in 12-plus quarters in their only trip into the red zone Sunday, but their overall percentages in each category are on pace to be among the worst in NFL history.
STOCK UP
Echols. The backup cornerback filled in nicely for the injured Michael Carter II as the Jets' primary nickelback and had five total tackles and a pass defensed. He also had more yards receiving on the fake punt (18) than all of the Jets' wide receivers combined (16).
STOCK DOWN
TE C.J. Uzomah. He's in this spot again after two costly penalties at Las Vegas landed him here last week. It was expected Uzomah's snaps would drop, but he played only six on offense.
INJURIES
LT Mekhi Becton has an ankle injury and Saleh said the Jets will know more Tuesday about his chances of playing. ... CB Michael Carter II is dealing with a hamstring injury that happened in practice Friday and caused him to miss the game. ... The Jets need to make a decision on OT Duane Brown (hip) by Thursday. If he's not activated, he'll be placed on IR for the rest of the season.
KEY NUMBER
16 - When Boyle takes his first snap Friday, he'll become the 16th player to start at quarterback for the Jets in the 15 years since Brett Favre's failed cameo in 2008. The list includes: Mark Sanchez, Kellen Clemens, Greg McElroy, Geno Smith, Michael Vick, Ryan Fitzpatrick, Bryce Petty, Josh McCown, Sam Darnold, Trevor Siemian, Luke Falk, Joe Flacco, Wilson, Mike White, Rodgers and soon, Boyle.
NEXT STEPS
The Jets have a short week to get Boyle ready to face the AFC East-rival Miami Dolphins in the NFL's first game played on Black Friday.
___
AP NFL: https://apnews.com/hub/NFL
DENNIS WASZAK Jr. Dennis is a pro football writer who covers the Jets and NFL
twitter
mailto
"
Article Copyright © 2023 The Associated Press, All Rights Reserved.