Tyreek Hill tells the Dolphins' defense to 'just find Kelce' to stop the Chiefs in Germany
Thu, Nov 2, 2023
NFL News (AP)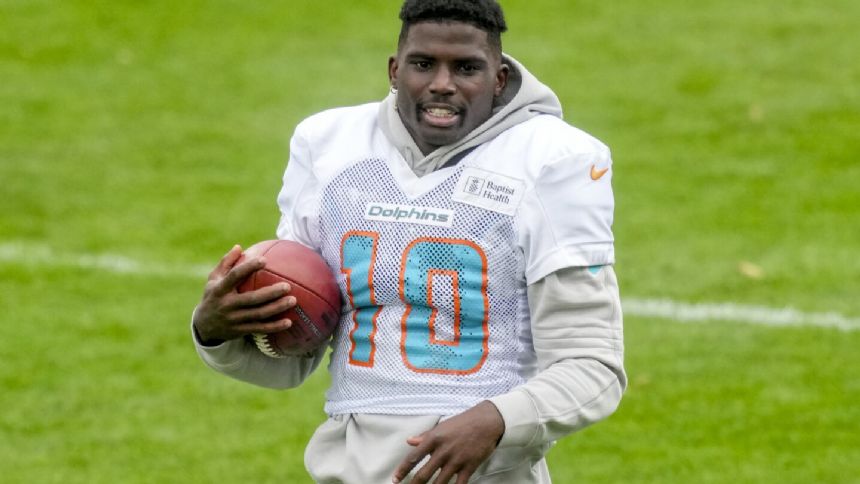 FRANKFURT, Germany (AP) - Dolphins wide receiver Tyreek Hill has offered advice to the Miami defense in preparation for Sunday's game against his former team: "Just find Kelce."
Hill described Chiefs tight end Travis Kelce as "the energy of that team" who has a knack of finding space when Kansas City quarterback Patrick Mahomes is scrambling.
"What I've been telling the guys to do is just find Kelce," Hill said Thursday after practice. "If you allow Kelce to get open, he's like the energy of that team, although Pat is like all-world. But if he finds Kelce and Kelce just catches a 2-yard pass, he just somehow finds energy in that and gets that team going."
In his six seasons in Kansas City, Hill said, the Chiefs' receivers were well-coached about what to do when Mahomes starts moving.
Other news
Jets look for 4th straight win as they square off against Chargers on Monday night
Texans look to bounce back after loss when they host Tampa Bay, losers of three straight
Eagles and Cowboys square off in NFC East showdown
"They got a whole PowerPoint on it and everything," said Hill, now in his second season in Miami. "It's crazy, it's ridiculous. It's like, 'When Pat goes this way, you guys need to be doing this, that, that.'"
Don't ask him about Kelce and Taylor Swift, though.
A day after fellow wide receiver Jaylen Waddle described himself as a "Swiftie," Hill wasn't going there.
"I'm not getting into that, bro. That's a dangerous crew," he joked when asked if he's also a fan.
With 1,014 yards receiving, Hill is the first player in 52 years to reach the 1,000-yard mark in the first eight games of the season.
Hill said he'd prefer to face his former team at Arrowhead Stadium - the Chiefs are the "home" team on Sunday at Deutsche Bank Park. But he also sees the Germany game as an opportunity.
"We get a chance to become global stars. This is a chance to grow our own personal brands, too," he said.
There will be some good-natured trash talk, of course.
"I'm excited to see Pat, Kelce, things like that," Hill said. "It's going to be one of those things like backyard football with your brothers."
___
AP NFL: https://apnews.com/hub/NFL
"
Article Copyright © 2023 The Associated Press, All Rights Reserved.