UCLA will start Ethan Garbers at QB, but Moore and Schlee will also see playing time
Mon, Aug 28, 2023
NCAAF News (AP)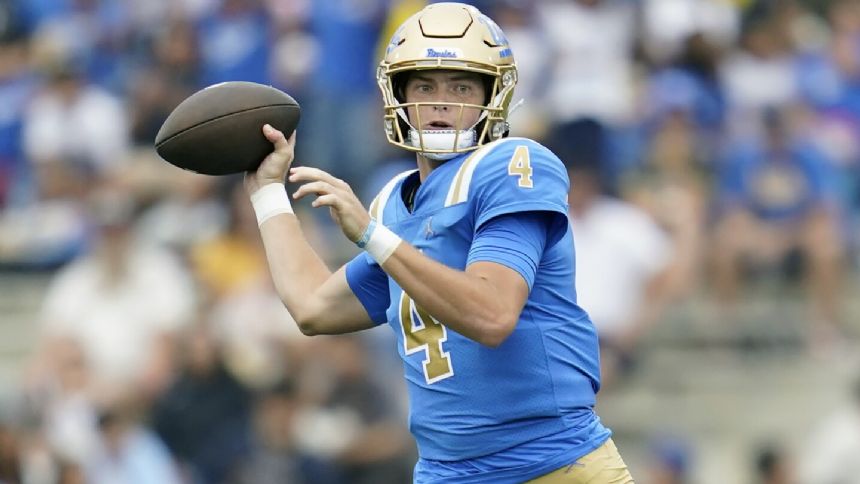 LOS ANGELES (AP) - There aren't many things Chip Kelly can say he is encountering for the first time in his 29 years of coaching in college.
Going into an opener with three talented quarterbacks and no clear starter is a new one, though.
The UCLA coach said Monday that Ethan Garbers will get the start on Saturday against Coastal Carolina but that Collin Schlee and Dante Moore will see playing time.
"It is a unique situation, but they deserve to play. It's the only fair way to do it," Kelly said. "They all competed at a high level. We said it was going to be authentic and organic, and this is what it is right now."
Other news
LSU's Brian Kelly names Alabama transfer Aaron Anderson the Tigers' top returner
Weigman named No. 23 Texas A&M's starting quarterback for opener against New Mexico
New tool will allow college athletes to report gambling suspicions to a sports wagering monitor
Other than Garbers taking the first snap, Kelly said the coaching staff will figure out how to divide the snaps later in the week.
Garbers, a redshirt junior, has seen action in 11 games over the past two years. His lone start came in a 2021 loss at Utah.
The Newport Beach, California, native started his career at Washington before transferring to UCLA in 2020.
Garbers said he found out from Kelly before Sunday's practice that he would take the first snap. While it is fulfilling to get the start, Garbers said his work is far from over.
"We have to have a great season," he said. "I have to get the ball to our receivers, protect myself and mix some good stuff in the run game."
Schlee made 11 starts for Kent State last season before transferring to the West Coast. He passed for 2,109 yards, 13 touchdowns and five interceptions last season.
"Not every organization has this many guys that can play for their team," he said. "I played in a two-QB system at Kent (earlier in his career), so this is nothing new for me."
Moore is the first five-star recruit Kelly has landed since coming to Westwood. He was an early enrollee and participated in spring drills.
Kelly said he has been pleased with Moore's accuracy and decision-making in practice but wants to see it during a game.
Moore said he is still getting up to speed with the offense but that everything started slowing down for him the second week of fall camp.
"Playing in the Rose Bowl is going to be insane," Moore said. "I understand I am in college football now. It's not like high school anymore."
___
AP college football: https://apnews.com/hub/college-football and https://apnews.com/hub/ap-top-25-college-football-poll
"
Article Copyright © 2023 The Associated Press, All Rights Reserved.