Villanova pulls away late in 1st half to down Le Moyne 83-57
Fri, Nov 10, 2023
NCAAB News (AP)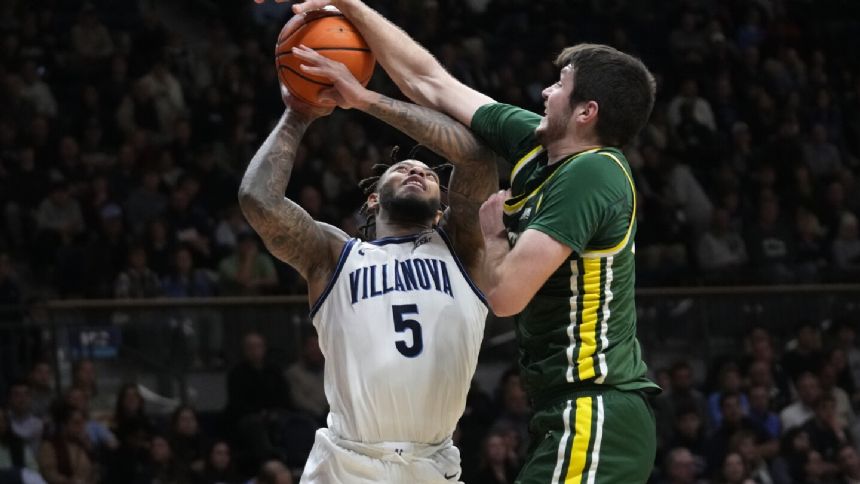 VILLANOVA, Pa. (AP) - Justin Moore had 21 points and Tyler Burton registered a double-double to lead No. 22 Villanova to an 83-57 win over Le Moyne on Friday night.
Moore scored 16 of his points in the first half on 6 for 10 shooting while Burton, one of four transfers for the Wildcats this season, finished with 10 points and a game-high 13 rebounds.
"We've got a lot of experience on this team, but we've got a lot of guys who are playing together for the first time," said Villanova coach Kyle Neptune. "So, every minute they are out there playing together, they are building trust."
Brendan Hausen had a career-high 18 points off the bench, including six 3-pointers, and another transfer, T.J. Bamba, finished with 15 points for Villanova (2-0), which led 48-34 at halftime.
"My main focus is going out there and playing hard and proving to ourselves that we are a tough team to play against," Bamba said. "My main focus has been having that mindset going into every game, and that will help us to remain confident."
Luke Sutherland, who was playing out of position because of injuries to two starters, still had 15 points and Isaiah Salter chipped in 10 points to lead the Dolphins (0-2), who never got closer than 10 points in the second half.
BIG PICTURE
Le Moyne: The Dolphins are going to experience little success in their first season of Division I play. They led Villanova 23-22 before giving up the lead with about eight minutes to go in the first half. It was a seesaw opening that saw 11 lead changes. This was a step in the right direction for Le Moyne, which never led in its season-opening loss to Georgetown.
"We showed some resilience," said Le Moyne coach Nate Champion. "With 10 minutes left it was a 14-point game and we had some opportunities to really cut into it. We made a drastic change to our overall mentality (after Georgetown) to be more mature and handle certain situations. We're starting to see some flashes of what exactly this team can be in the future."
Villanova: The Wildcats have a history of being a strong defensive team, and it was that defense that changed the course of the game in the first half. The Wildcats outscored Le Moyne 26-9 in the last eight minutes. They created two turnovers and forced Le Moyne into several difficult shots.
"We have to continue to try to be a team that gets stops," Neptune said. "We were able to do that in the back end of the first half and into the second. We want that to be our identity. ... There are going to be games when we aren't making shots and we're going to be able to stay in the game by making those stops."
UP NEXT
Le Moyne: Hosts SUNY Canton in its home opener Monday.
Villanova: Plays Monday at Penn.
___
AP college basketball: https://apnews.com/hub/ap-top-25-college-basketball-poll and https://apnews.com/hub/college-basketball
"
Article Copyright © 2023 The Associated Press, All Rights Reserved.