Walter, Nunn lead No. 20 Baylor over Gardner-Webb 77-62
Sun, Nov 12, 2023
NCAAB News (AP)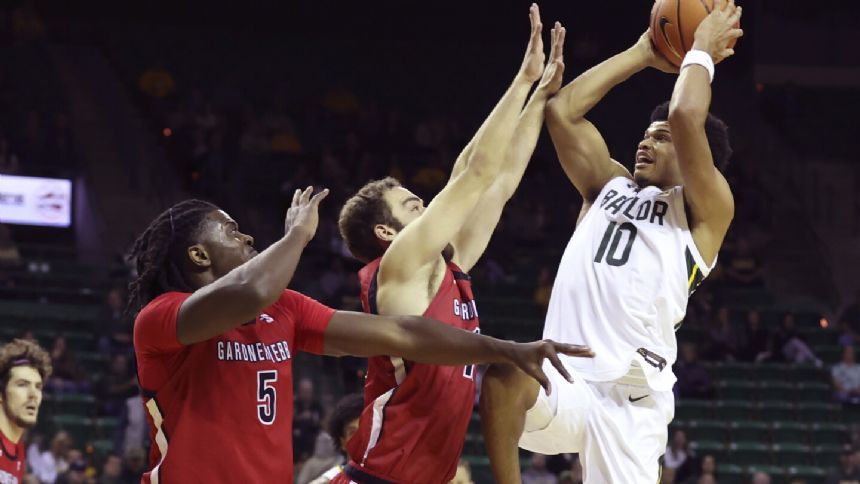 WACO, Texas (AP) - Baylor coach Scott Drew said he didn't hear the home fans screaming for his team to shoot a 3-pointer as his team dribbled out the win.
But the fans had reason for wanting to see the Bears take one more shot despite having the game in hand.
Baylor didn't make a 3-pointer (0-for-9) for the first time since a game against Texas Tech, ending a streak of 1,032 games with at least one, but Ja'Kobe Walter scored 14 points, Jayden Nunn added 12 and the 20th-ranked Bears ran away from Gardner-Webb 77-62 on Sunday.
"I try not to listen to what the crowd says," Drew said. "Too many times on the road you don't want to hear what people are saying, so you kind of just get used to tuning it out."
In a game that featured 16 lead changes over the first 27 minutes, Baylor (3-0) finally took charge in the second half with a 12-2 run that lasted nearly five minutes. That spurt was highlighted by a RayJ Dennis coast-to-coast layup off an Yves Missi block that gave Baylor a 50-48 lead with 13:07 remaining, and the Bears never trailed again.
"That big block, and then RayJ probably felt the energy and he got the layup," Walter said. "The whole gym was rocking, we're rocking, the bench is rocking. Yves has a lot of outstanding plays, and we just appreciate him."
Gardner-Webb (1-2) didn't fare much better from beyond the arc, hitting only two of its 17 tries.
"We needed to bury a couple big 3s, and we had some opportunities," Gardner-Webb coach Tim Craft said. "Their size wore us down. They really beat us up on the glass in the second half, and I'm sure that was an emphasis for them."
Missi, a 7-foot freshman making his first career start, dominated the paint defensively by blocking five shots. He finished with 11 points and eight rebounds.
Dennis finished with nine points, ending a 51-game streak of scoring in double figures.
Julien Soumaoro led the Runnin' Bulldogs with 16 points and DQ Nicholas had 10.
BEARS EXECUTE OFF OPENING TIP
Missi said Baylor practiced the play that got him a dunk three seconds into the game. All he had to do was execute it.
Drew wouldn't go so far as to say it was a designed play, joking that it's only a designed play when it works. But he praised Missi for the effort to get behind the Gardner-Webb defense and said the play worked because "not many people can go up and catch balls where he catches them."
BIG PICTURE
Gardner-Webb: The Bulldogs didn't show any weariness from playing two ranked foes on the road over a three-day span. They were often the quicker team to long rebounds and scored several easy baskets by beating the Bears down the floor even after made shots by Baylor. Their problem was they couldn't get the ball in the basket consistently enough, shooting 37.3% for the game.
Baylor: It took a while, but Baylor's size finally wore down the smaller Bulldogs. Baylor won thanks in large part to a 25-for-32 effort from the free-throw line and a 47-29 advantage on the boards. The Bears' offense was often stagnant in the half court, and they finished with only seven assists.
UP NEXT
Gardner-Webb will play three games in as many days in the Atlantic Slam tournament beginning Friday against Weber State.
Baylor will complete a three-game homestand against Kansas City on Tuesday.
___
Get poll alerts and updates on AP Top 25 basketball throughout the season. Sign up here ___
AP college basketball: https://apnews.com/hub/ap-top-25-college-basketball-poll and https://apnews.com/hub/college-basketball
"
Article Copyright © 2023 The Associated Press, All Rights Reserved.