Why can't unbeaten James Madison appear in the CFP rankings? It's not an option for the Dukes
Mon, Oct 30, 2023
NCAAF News (AP)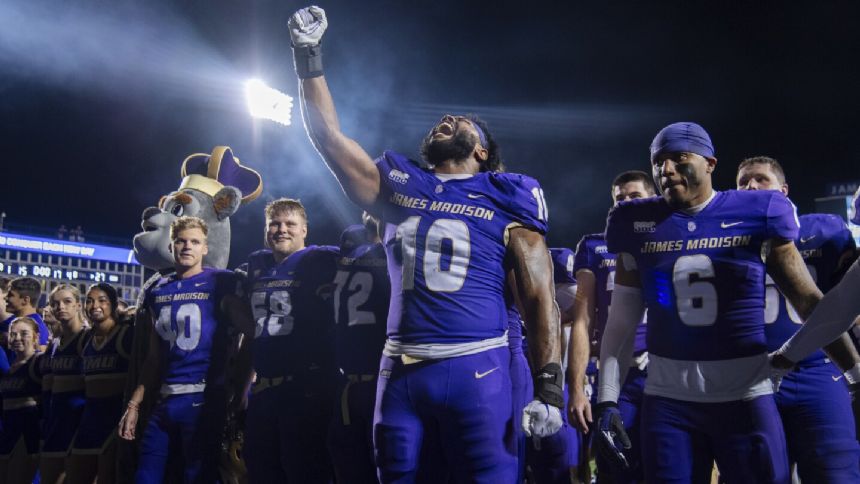 The College Football Playoff rankings will be released for the first time this season on Tuesday night and there is one unbeaten team guaranteed to be left out of the selection committee's top 25.
James Madison (8-0), ranked No. 23 in the AP Top 25, is ineligible for postseason play as it completes an NCAA-required transition period to the highest level of Division I football, the Bowl Subdivision. Since the CFP rankings are solely to determine postseason assignments for two playoff games and four marquee bowls, the Dukes are ineligible to be ranked.
James Madison officials are still hoping the NCAA will provide a waiver to allow the Dukes to play in the postseason, but they are not particularly optimistic. JMU's most likely road to a bowl will be as a replacement in a lower-level postseason game if there are not enough teams that meet the typical eligibility standard of six wins and a .500 record.
Still, the Dukes are good enough to at least be in the conversation for a bigger prize - a place in the New Year's Six Bowls that is reserved for the CFP's highest-ranked champion from a so-called Group of Five conference at the end of the regular season.
Other news
Early angst aside, Alabama-LSU game is once again a huge factor in SEC West
No. 12 Notre Dame loses tight end Mitchell Evans, its top receiver, to season-ending knee injury
No. 1 Georgia keeps rolling on offense even after losing standout Bowers
That spot will be in the Fiesta Bowl this season and comes with a $4 million payout to the conference of the team that earns it.
As it stands, the Dukes won't even be discussed by the committee.
The hurdle is not the CFP but an NCAA rule aimed at ensuring schools are ready - on the field and off - to move up to a higher level of competition and stay there.
"We expected this," James Madison athletic director Jeff Bourne said of the Dukes being ineligible for the postseason. "The difference for me is JMU is in such a unique scenario and such an anomaly compared to other institutions who have gone through this previously."
The Dukes are in their second season competing in Division I's Bowl Subdivision and the Sun Belt Conference after the school in Harrisonburg, Virginia, was a perennial playoff team for years in the Football Championship Subdivision.
The Dukes' transition could not have gone much better on the field. They went 8-3 last year and are sitting atop the Sun Belt East Division with four games left. But just like last year, they are ineligible to play in the conference championship game.
"We're supportive of JMU and their quest to become eligible for the postseason for this season," Commissioner Keith Gill said. "It's in the Sun Belt, and all of our members' best interests, to have all of our members eligible for everything."
James Madison contends its team has gone through the transition process differently tha nothers. JMU has played a full Sun Belt conference schedule each of the last two seasons, with 10 games against FBS competition last year and 11 this season.
The Dukes' first season in FBS was unique. They beat seven FBS opponents. No other school that has transitioned from FCS since 2000 had more than four FBS victories in Year 1.
A full slate of FBS opponents has become the norm for transitioning teams by Year 2. What separates the Dukes is the level of success and the level of competition.
Since 2000, only two teams have won as many as eight games in their second season in FBS. Georgia Southern went 9-3 in 2014 in the Sun Belt, which used to be regarded as the weakest among FBS leagues. These days, the Sun Belt can make a case for being the best among the Group of Five, comparable to the American Athletic and Mountain West.
The NCAA's rule is in place in part to prevent schools from moving up for short-term gains, perhaps to take advantage of a particularly talented team. It has not been inclined to make exceptions for quality.
Bellarmine, a small private school in Louisville, Kentucky, was shut out of the NCAA men's basketball tournament in 2022 after it won the Atlantic Sun Conference amid its four-year transition from Division II to D-I. The A-Sun pushed hard to both change the rule and get Bellarmine a waiver, to no avail. Bellarmine could not even compete in the NIT, which is owned by the NCAA.
James Madison's push for postseason eligibility also comes on the heels of the NCAA Division I Transformation Committee's attempt to re-establish what is expected from schools that want to compete at the highest levels. It's not just about wins and losses. Are schools able and willing to invest in opportunities and academic, mental-health and other support for athletes?
James Madison officials say they have those covered, too. JMU's athletic budget from 2022 was nearly $58 million, competitive with the wealthiest Group of Five schools.
"We planned for a decade (to move up)" said Kevin Warner, James Madison's associate AD for communications. "We were at the scholarship number in Year 1, almost. We have the support staff. We have the academic folks, the trainers and health folks."
In another recent move, the NCAA Division I Council recommended FBS schools be required to fund $6 million in athletic scholarships and raising the fee to move up from FCS from $5,000 to $5 million.
Bourne said he doesn't want JMU's followers to give up hope, but he is realistic. The school can keep appealing, but it is doing so to the same NCAA committees that have already turned it down.
We just don't have anybody willing to make an exception," he said. "That's what it boils down to."
No matter how exceptional Dukes might be.
___
Follow Ralph D. Russo at https://twitter.com/ralphDrussoAP and listen at http://www.appodcasts.com. Get alerts on the latest AP Top 25 polls throughout the season. Sign up here.
___
AP college football: https://apnews.com/hub/ap-top-25-college-football-poll and https://apnews.com/hub/college-football
"
Article Copyright © 2023 The Associated Press, All Rights Reserved.