Zach Edey and Braden Smith help No. 2 Purdue pass first real test with 83-71 win over Xavier
Mon, Nov 13, 2023
NCAAB News (AP)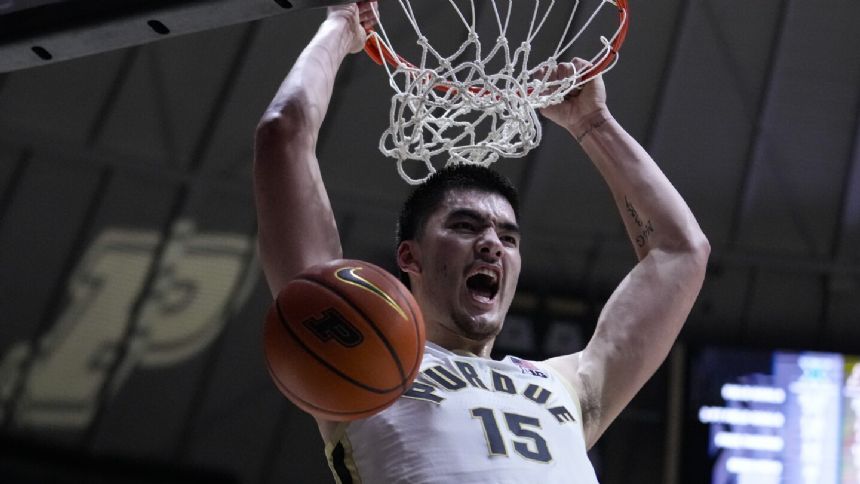 WEST LAFAYETTE, Ind. (AP) - Zach Edey's second-half presence Monday night put pressure on Xavier.
His Purdue teammates took advantage of the openings he created and, of course, having the contributions of the reigning national player of the year.
Edey scored 20 of his 28 points in the second half while grabbing 11 rebounds and Braden Smith added 12 points and seven assists as the second-ranked Boilermakers pulled away late for an 83-71 victory over the Musketeers in their final Gavitt Tipoff game.
"We tried to keep him between a body and the basket and limit his offensive rebounds, his deep catches," Xavier coach Sean Miller said. "We held him to 28 and 11 and fouled out the whole team."
Other news
Zach Edey scores 28 points to lead No. 2 Purdue over Xavier 83-71
Keshad Johnson helps No. 3 Arizona beat Southern 97-59 after slow start
Ellis has big 2nd half as No. 14 Arkansas holds off Old Dominion 86-77
The Boilermakers (3-0) extended their school record for consecutive regular season wins against non-conference opponents to 27. They also snapped a five-game losing streak in the series by beating the Musketeers for the first time since December 2001. The schools hadn't met since 2012.
Xavier (2-1) was led by Desmond Claude with 15 points and six assists. Three players had 10 points.
But, as most teams do, the Musketeers struggled to contend with the 7-foot-4 Edey, who drew 11 fouls and went 10 of 11 from the free-throw line. Abou Ousmane, a 6-10 forward, spent most of the night in foul trouble before picking up his fifth foul with 8:04 to play.
"If you watch him, you expect him to make every shot, but so does he," coach Matt Painter said of Edey. "His gauge isn't somebody else, his gauge is himself. But I know as long as we win, he's happy."
Xavier certainly made life more difficult for the Boilermakers than last week when they won two games by more than 30 points each.
Purdue scored the final four points of the first half to take a 37-29 lead and still couldn't pull away after extending the margin to 46-35 early in the second half. The Boilermakers finally used an 11-5 spurt to open up a 71-57 cushion with 6:28 to go and Xavier never seriously challenged again.
BIG PICTURE
Xavier: With six freshmen and four transfers, the Musketeers' ceiling remains a mystery. But if Monday's game is any indication, coach Sean Miller's squad could pose a real obstacle in the Big East.
Purdue: Instead of jumping out to a big, early lead and pulling away, the Boilermakers passed their first real test of the season - and just in time for next week's Maui Invitational.
POLL IMPLICATIONS
After moving up one spot in Monday's new Top 25, this result shouldn't affect Purdue in next week's poll, especially with no more contests this week.
GAVITT'S GAME This event has been played between Big Ten and Big East teams each November since 2015 with the exception of 2020 because of the COVID-19 pandemic. But the conferences have already announced the series named after the late Dave Gavitt, who helped found the Big East, would end this year. Fittingly, Gavitt's son, Dan, the NCAA's senior vice president of basketball, attended the game.
UP NEXT
Xavier: Plays Washington on Friday in Las Vegas.
Purdue: Faces No. 11 Gonzaga next Monday in Honolulu.
___
Get alerts and updates on the AP Top 25 basketball polls throughout the season. Sign up here. AP college basketball: https://apnews.com/hub/ap-top-25-college-basketball-poll and https://apnews.com/hub/college-basketball
"
Article Copyright © 2023 The Associated Press, All Rights Reserved.