Aaron Rodgers' Take On Odell Beckham Jr. Snubbing The Packers For The Rams
Tue, Nov 23, 2021
by CapperTek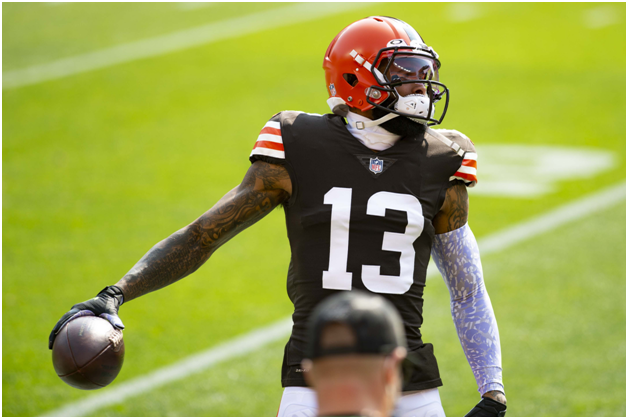 Photo via: Wikimedia Commons
Green Bay Packers quarterback Aaron Rodgers was hopeful of having friend Odell Beckham Jr. as a teammate after the wide receiver cleared waivers on the back of his release from the Cleveland Browns. However, the 29-year-old ended up signing with the Los Angeles Rams.
Beckham played his first game for his new team on Monday night, catching a pair of passes for 18 yards in a pretty warm start that saw L.A lose 31-10 to the San Francisco 49ers.
Rodgers, meanwhile, led the Packers to a 17-0 win over the Seattle Seahawks, having made a return after missing one game due to COVID-19. He made his weekly appearance on The Pat McAfee Show on Tuesday and confirmed he did make contact with Beckham, who he's close to, in hopes of getting him to sign for Green Bay but respects the player's decision to join the Rams instead.
"We've been friends for a long time and kept in touch and met him at some events and, just, you know, sent encouraging messages during the seasons over the years," the reigning MVP said. "When he became free, there was definitely conversations. And I was, you know, in the conversation with him directly. And then, obviously, I have been friends with him. So I didn't need to get put on the phone by anybody else. I could just get a hold of him directly."
While Rodgers has had issues with the Packers over what he perceives to be a lack of aggressiveness when it comes to trying to get players over the last few years, he appreciated their efforts in trying to land the two-time Pro Bowl star.
"But there were conversations with the organization as well and I appreciated the fact that we were in the mix," he remarked. It just comes down to fit, ultimately, and what the best fit is for him. We had some real good, honest conversations. I'm excited for him in L.A. I thought that there was definitely some things that lined up, you know, him coming to Green Bay. But ultimately, he took time to decide where he wanted to be and it turned out to be L.A."
As mentioned above, Beckham did not get off to a flying start. The Rams are now 7-3 behind the Arizona Cardinals in the NFC West and the experts have them as the fourth favorites to win the Super Bowl at the end of the season. Los Angeles is at 9/1 on that front, while the Packers are third at 17/2. The current holders, the Tampa Bay Buccaneers, are second favorites at 13/2 while the Buffalo Bills are the outrights at 6/1. So with that being said, make sure to check out the NFL picks every week to stay up to date on the latest odds of the games of the week.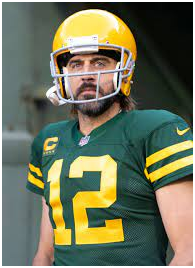 Photo via: Wikimedia Commons
Rodgers is refusing to judge the former Browns receiver on a single performance and defended Beckham's quiet debut.
"I wouldn't judge one performance," the Packers QB noted. "He obviously had some plays that he felt good about, but he wasn't playing, you know, most of the fourth quarter when they were in no huddle stuff. So obviously, he has some ways to go learning the offense. It's a similar offense that we run. It's not one that you can really jump in at certain positions and know it right away."
Beckham only played 15 snaps and caught two of the three passes Matthew Stafford attempted to throw his way. Coach Sean McVay has admitted it will take some time for his new player to adjust to the System in L.A.
"I think for Odell to even be able to get out there and line up is a real credit to him," McVay declared. "We didn't even have one full-speed practice with him. So, these next 12 days will be really important to get him implemented, get him up to speed, and figure out a plan of attack to maximize our offensive players, and to play better than the way that we have these last couple of weeks. That's where my focus and concentration will be over the next few days."
As it turns out, Beckham's next game will be against Rodgers' Packers following a bye week. The NFL powerhouses will meet up for a showdown on Sunday, November 28.
While Rodgers refused to criticize the move, Beckham's former teammate, Browns safety John Johnson III was not so approving and claims to have been surprised by the WR choosing to join such a stacked offense.
"I just feel like they had a good thing going like a complete offense," Johnson offered. "I don't know. I just feel like from being in L.A., I know for a fact the offense runs through Cooper Kupp. "Even in the run game, pass game, screen game, it kind of runs through Cooper Kupp."
Johnson added that he would have chosen to go somewhere else if he was in Beckham's place.
"Obviously, Odell [Beckham] is a big name. He's going to want that attention as well," he said. "So, it will be interesting. Coach [Sean] McVay is one of the best doing it. I know he will find a way to get it done. But just right off the bat, I wouldn't really want to go there if I were him. But we'll see how it goes, and I wish him the best.
"They are going to find a way to get him the ball. Matt Stafford is one of the best doing it right now. They have an electric offense. They are fun to watch. I'm going to be tuned in and see how it goes. But that's a good situation to go to if you're a wide receiver, I know that."