Is it possible to gamble in the Golden State?
Wed, May 25, 2022
by CapperTek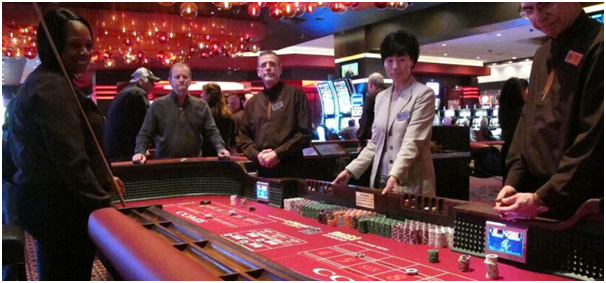 If you're looking for a casino vacation, you're not likely to think of California first. Las Vegas or the East Coast's posh casinos are the preferred destinations for most gamblers.
However, the casino sector is prospering in California. Traveling is a lot of fun because of all the amazing experiences you may have along the way. Snow skiing and surfing are also available in the state. Of course, the casinos are where most of our attention is directed.
Gambling in California is a mystery to many casino goers. We'll look at the state of gaming in California today.We'll learn what the state's casinos have to offer gamblers and why they retain their winnings in California.
Sports betting in California is widely anticipated because of the state's size and affection for professional sports. As a result of the Supreme Court's recent decision to allow regulated sports gambling, California is just a matter of time from passing legislation. Online, you can find many websites with more information about gambling in the Golden State and If you would like to know more about the legality of online gambling in CA, here is an informative source for those interested.
Gambling Laws in the State of California
You will only discover tribal casinos in California. Native American tribes hold all of these casinos.
The arrangement is part of the compacts between indigenous people and the government. Both state and federal authorities respect the sovereignty of the tribes.
That enables for well-regulated and legal gaming on their soil. However, there are limits on the games permitted.
For instance, dice and reel-spinning games are severely prohibited. This is a concession from the casinos, but they've discovered a solution. Craps and roulette in California will be the subject of a future article.
For the casinos, it's a significant win because they don't have to divulge slot payback information. To put it another way, players have little choice but to make educated guesses about how much the casinos are keeping for themselves.
That's unheard of in the casino business, and it's not something that gamblers would like.
Where Can I Find Gold?
Did you know that California has the second-highest number of casinos in the US, behind Nevada?
That's correct; there are more than 60 casinos operating in the Golden State. By the standards of Las Vegas, many of these establishments would be deemed little. Despite this, they are a wonderful match for the communities in which they live.
In California, you must be at least 18 years old to participate in legalized gambling. However, don't start packing just yet, child. To visit the casinos, you must be at least the legal drinking age of 21.
The California casino sector has numerous things going its way. The strange thing is that gaming in the state hasn't started to achieve its full potential. Here are some of the game options.
Roulette
As I indicated before, spinning wheels are no longer allowed in casinos in California. That should be the last of roulette games for the time being.
Casinos, on the other hand, are clever enterprises, and they can always come up with a new strategy. To replicate the results of dice, casinos have turned to a well-known casino fixture.
When a roulette wheel is being played, the numbers are represented by playing cards. The deck is usually whittled down to 38 cards and coded to coincide with the roulette numbers.
Lotteries
Other big lotteries, including those in California, have comparable lottery scenes. Scratch-off tickets and classic drawing games coexist here.
In California, many people play Powerball and Mega Millions. There are lower prices on average in SuperLotto Plus games.
The lottery returns roughly 62 cents for every dollar wagered. As a result, California falls somewhere in the center of the top and worst states for lottery participation.
Craps in CA
Craps, in comparison to roulette, are drab at best. There is less excitement in craps since there are no dice or a shooter.
Although this method of hosting keeps the math exactly the same, the fun factor is significantly reduced. You may want to avoid craps and roulette if you're playing at a casino in California.
Slot Machines in California
The bulk of casino income in California is generated by slot machines. That doesn't come as a surprise, given the prevalence of casinos in the United States.
In California, there are more than 75,300 electronic gambling machines. Only two states, Nevada (163,000+) and Oklahoma (75,100), can match that population. I'm concerned about slot machines since they provide a low return to the player and the game progresses swiftly.
Slot machine gambling in California, on the other hand, has a darker side. It's not necessary for the casinos to divulge their payback percentages.
Not only may casinos only return what they think suitable, but this does not allow them free rein. Any market has rules in place to safeguard the customer.
However, it makes it difficult for players to locate the casinos with the highest slot payouts.
When you go into a California casino, it's clear what the most popular game is. The casino floor is dominated by slot machines.
Californians Can Now Play Online Gambling Games
The state of California has a number of online casinos. When a player is unable to go to a physical casino, they may still participate in traditional casino games in the comfort of their own homes.
Although online gambling is gaining popularity, many locals still prefer to gamble at brick-and-mortar casinos. Online casinos provide a number of distinct benefits.
While this may be true for some, it is not the case for everyone. They want to relax in the spa, eat a delicious steak, then play at the casino till they drop.
Online casinos just can't compare to the thrill of a land-based casino for these players. As it turns out, California's casino sector has enough customers to go around.
Final thoughts
The gaming sector in California is no different from others in this respect. The route to greatness that the Golden State Warriors have taken has been paved by those before them.
Casinos in California should expect less restrictions in the future. Dice and spinning wheel games are also part of the mix.
Within a few years, sports betting will be legal in the United States. As a result, California's casino industry has a promising future.