Sports Betting Review Websites
Thu, Sep 3, 2020
by CapperTek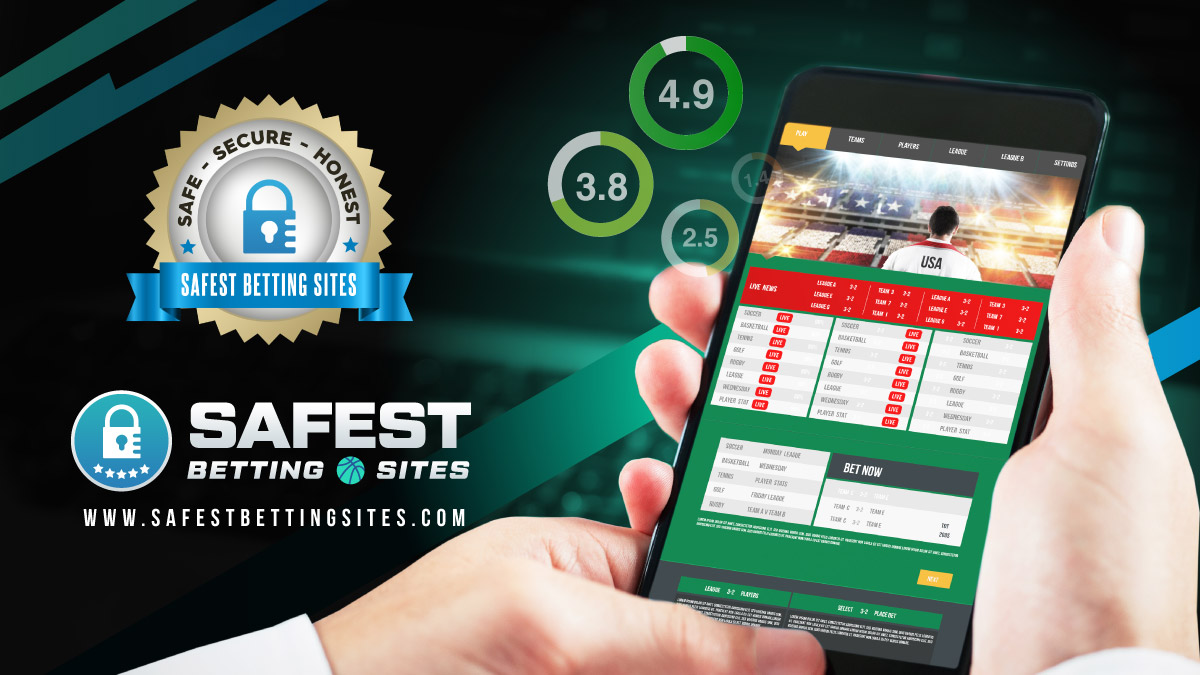 While placing a bet online is a simple process once you learn the basics of sports betting and online gambling, choosing a betting site or online sportsbook is not. There are thousands of sites available to bet online, but they are far from equal.
In fact, choosing the wrong online sportsbook may ruin your sports betting experience and has caused some bettors never to come back to sports betting or online wagering, period. Selecting the wrong operator may lead to canceled bets, predatory terms, and conditions, or the worst possible outcome, non-payment of winnings.
I am Joseph Falchetti, a gambling expert writer at SafestBettingSites.com. I personally engage in daily sports betting and have done it for well over 15 years. In this article, we will go over the factors you should consider when choosing an online sportsbook and what sites you should trust when reading online sportsbook reviews before you decide to make a deposit.
Factors To Consider When Choosing An Online Sportsbook
There are a variety of factors to consider when choosing an online sportsbook. It's always vital to analyze these factors to give you the overall general health of an online betting site before making a deposit.
Longevity
A site being in the industry longer doesn't make it a better option by default, but it certainly helps. The caveat is that they also have a strong reputation in the industry and pay their players quickly.
At SafestBettingSites.com, we always caution bettors against signing up at newer online sportsbooks, simply because there is a lot more risk involved with newer sportsbooks. Their history in the industry is a lot shorter than some sportsbooks that have been in the industry for 20 years.
There is a longer track record of trust that is already established with operators that have been around for a while. Bettors need to be especially careful at the start of football for predatory sportsbooks that seemingly pop out of nowhere to take deposits and disappear.
Payout Speeds
What is the use of betting online without the assurance that you will be getting paid? Bonuses, odds, and promotions are important to consider. Still, the number one factor that bettors need to consider before depositing at an online sportsbook is their payout speeds and reliability.
At Safest Betting Sites, we track payout speeds from the top online betting sites and even have a monthly report. Our reviews factor in payout methods, fees, and speeds heavily.
A reliable sports betting review website should never send bettors to an online betting site with payment issues. The safety and security of your funds should be your top priority as a sports bettor.
Odds and Markets
If you haven't noticed by now, all sportsbooks are not created equal. Another area where they differ heavily is odds and markets. Not only do many sportsbooks have much more competitive odds than others, but their odds and markets vary quite a bit, as well.
For instance, many sites will offer dime lines on sports like baseball and basketball or have reduced juice for major sports, such as the NFL and NBA. They may also have more competitive odds and less vigorish than other betting sites.
Markets are also vital to consider when choosing a sportsbook. If you're heavily interested in betting props, be sure that the sportsbook has many proposition bets. If you plan to do a lot of live betting, make sure their odds are competitive and that their live betting platform is top quality.
Bonuses And Promotions
One of the biggest positives of offshore sports betting is the deposit and reload bonuses. Bettors will add funds to their bankrolls by depositing and clearing bonuses at online betting sites.
Nearly every online betting site offers bettors a deposit bonus, but some can be far more lucrative than others. It's essential to read the terms and conditions when making a deposit bonus. Be sure to note the rollover on the bonus and do your best to get yourself the max bonus when making your first deposit.
Three Ways To Win At Online Sports Betting
Always Line Shop And Use Multiple Sportsbooks
It can be stated enough that those who win while betting sports are always using several online betting sites. Line shopping is vital to your success as a sports bettor. The difference between -115 and -110 may not seem like much to bettors, but it makes a massive difference to your bottom line as a sports bettor over the long run.
By using more sportsbooks, you will also have access to different markets and several different types of sportsbooks. Bettors can split their bankroll between different kinds of sports betting sites. For instance, one that is more geared towards professional bettors, a sportsbook that line shades towards recreational bettors, and one that offers reduced juice.
Utilize Bonuses And Promotions
With offshore betting and regulated sportsbooks both options for Americans, the number of bonuses and promotions they have to choose from are nearly limitless. Deposit bonuses are offered at just about every site online, and bettors can easily earn thousands of dollars in freeplay by depositing at just a few online sportsbooks.
Promotions such as freeplay or risk-free bets are available for major events, such as the NFL season, large UFC or boxing matches, or massive events, such as the NBA Finals or the Super Bowl.
Tail A Trusted Handicapper
Paying for picks isn't something that we always advise, but it can be an excellent strategy if you find a handicapper with documented, long-term profits. There is also the option of tailing capers that offer picks for free or discussing bets with other sports gamblers on Twitter or in sports betting forums.
We offer free picks for all major (and minor) sports at Safest Betting Sites, and we will never ask our readers for a penny for our picks.