Dejounte Murray leads balanced scoring attack as Hawks rout Wizards 130-121
Wed, Nov 1, 2023
NBA News (AP)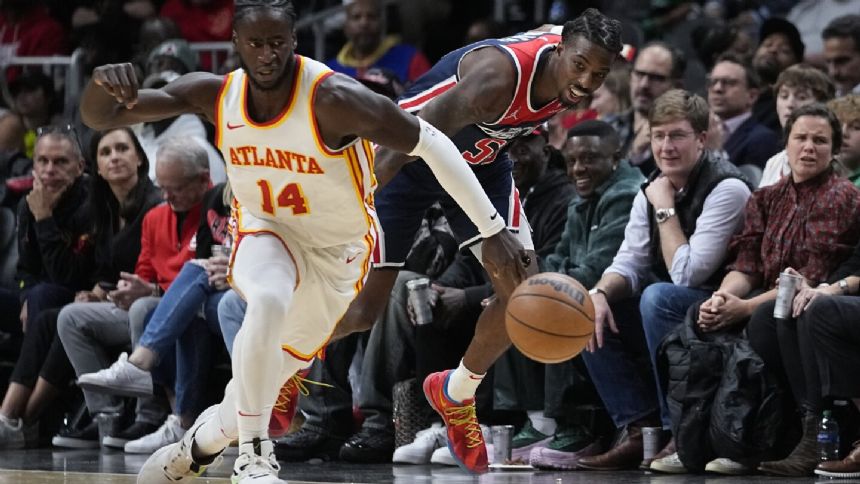 ATLANTA (AP) - Dejounte Murray had 24 points and the Atlanta Hawks buried the Washington Wizards 130-121 on Wednesday night for their third straight win.
Murray, who was coming off a career-high tying 41-point effort against the Timberwolves, shot 10-for-15 from the field, including 3-for-5 from 3-point range.
Six other Hawks scored in double figures. Trae Young finished with 23 points and 10 assists after connecting on 7 of 18 shots. He entered the game shooting just 31% from the field through four games. De'Andre Hunter had 23 points and seven rebounds, Onyeka Okongwu had 16 and 11 rebounds, Saddiq Bey 14, Bogdan Bogdanovic had 12 and Clint Capela had 10.
Kyle Kuzma led the Wizards (1-3) with 25 points and Deni Avdija had 22.
Other news
Nets rally in 2nd half, top Heat 109-105 to add to Miami's miserable 1-4 start
Tatum has 30 points and 12 rebounds, sits out the 4th as the Celtics rout the Pacers 155-104
Jayson Tatum has 30 points and 12 rebounds, Celtics rout Pacers 155-104 to remain unbeaten
The Hawks opened the game up with a decisive 14-2 run early in the third quarter that increased a 9-point lead to 21. Five different players scored during the blitz for the Hawks, who had all five starters in double figures by the middle of the third quarter.
Murray was part of two highlight-worthy plays on the night. In the third quarter, he picked off a Washington pass and went in for an uncontested roundhouse dunk. In the second quarter, Murray knocked down a 3 after a brilliant assist from Young, who drove into the lane and kicked a pass out while falling down. That hoop gave Atlanta a 57-48 lead.
The Wizards came into the game coming off a one-sided loss to the Celtics where they fell behind by 23 points in the first quarter. Against the Hawks, Washington showed the urgency coach Wes Unseld was hoping for early and built a 30-25 lead after one. Jordan Poole had 10 points and Kuzma 9 in the opening stanza.
Wizards starting center Daniel Gafford missed his second straight game with an ankle injury. He was replaced by Mike Muscala, who had seven points in 22 minutes.
Washington forward Corey Kispert sprained his left ankle after 14 minutes and did not return.
UP NEXT
Wizards: At Miami on Friday night for the second game of a four-game trip.
Hawks: At New Orleans on Saturday night.
------
AP NBA: https://apnews.com/hub/nba
"
Article Copyright © 2023 The Associated Press, All Rights Reserved.