DeRozan scores 29 points as Bulls beat Pistons 119-108
Sun, Nov 12, 2023
NBA News (AP)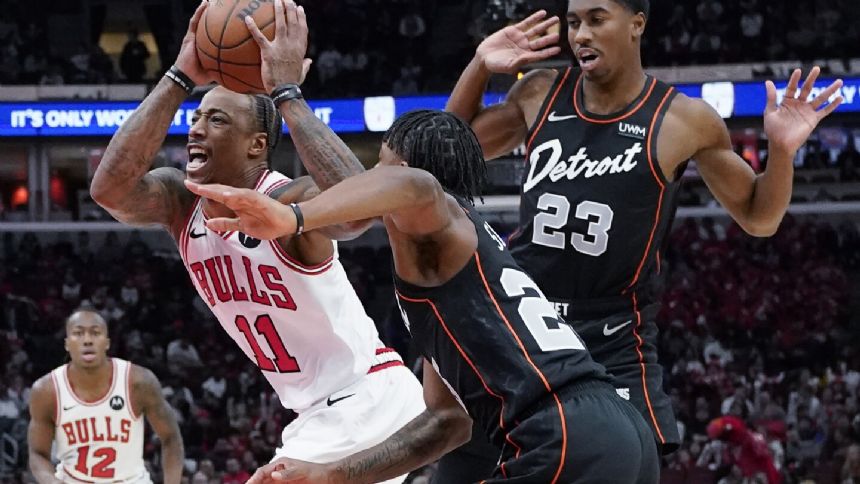 CHICAGO (AP) - DeMar DeRozan scored 29 points, Nikola Vucevic added 21 points and 12 rebounds and the Chicago Bulls beat the Detroit Pistons 119-108 on Sunday night.
Zach LaVine added 19 points and Coby White had 16 for Chicago.
Jaden Ivey stole a pass from Andre Drummond and went in for an uncontested layup to cut Chicago's lead to 94-91, but the Bulls responded with a free throw from Patrick Williams, a basket from Drummond and a jumper by DeRozan to put the Bulls up 99-91 with 7:34 left.
Kevin Knox II, who signed a contract with the Pistons on Wednesday, keyed the Detroit offense with 18 points on 7-for-8 shooting. Isaiah Stewart finished with 17 points and 10 rebounds as Detroit lost its eighth straight.
Other news
Fred VanVleet leads Rockets to sixth straight victory with 107-104 win over Nuggets
Irving hits 7 of 10 3-pointers, scores 35 points in Mavericks' 136-124 victory over Pelicans
Robinson, Adebayo key rally as Heat capture fifth straight with win over Spurs, 118-113
Knox made his fourth consecutive 3 of the game to get the Pistons to 99-94 with 7:02 left. Vucevic's 3 answered Knox's . Knox missed his first shot of the game, a 3 that would've cut the Chicago lead to one. Ayo Dosunmu followed with a basket and LaVine hit a 3 to put the Bulls up 107-98 with 4:13 left.
Marcus Sasser's 3 got Detroit within 82-81 late in the third after they trailed by 10 earlier in the quarter.
The Bulls showed rust early after a three-day layoff. They missed their first eight shots after losing to the Suns in overtime on Wednesday. They got behind 11 points in the first quarter, but outscored the Pistons 24-7 to start the second.
DeRozan scored 15 points in the first half on 6-for-13 shooting as the Bulls led 55-50 at the half.
Alec Burks was back after missing six games due to a left forearm contusion and scored 12 points on 3-for-5 shooting in the half, He finished with 16 points.
Rookie Ausar Thompson added four points and 11 rebounds in the half. He finished with 16 rebounds.
The Pistons played without Jalen Duren, but Detroit got back Jaden Ivey and Burks. Duren left Friday's loss to Philadelphia with a right ankle injury. He's been in and out of the lineup while dealing with the ankle injury.
The Bulls played without their best defensive player as Alex Caruso missed the game with an injured left toe.
UP NEXT
Pistons: Host Atlanta on Tuesday night.
Bulls: At Milwaukee on Monday night.
___ AP NBA: https://apnews.com/hub/nba
"
Article Copyright © 2023 The Associated Press, All Rights Reserved.