Fox's season-high 43 leads Kings past Wembanyama, Spurs 129-120 in in-season tourney
Sat, Nov 18, 2023
NBA News (AP)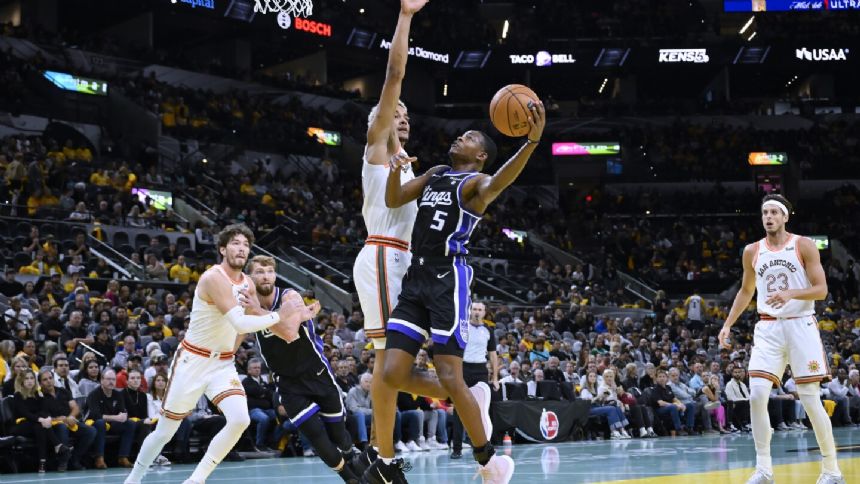 SAN ANTONIO (AP) - De'Aaron Fox scored a season-high 43 points, and the Sacramento Kings overcame 27 points from Victor Wembanyama to hold off the San Antonio Spurs 129-120 on Friday night to remain undefeated in the In-Season Tournament.
Domantas Sabonis had 27 points and 14 rebounds as Sacramento won its fifth straight. Malik Monk added 20 points in the Kings' fourth straight win in San Antonio.
Zach Collins had 28 points and Keldon Johnson added 21 points for the Spurs, who have lost seven straight.
Wembanyama was 12 for 26 from the field after scoring a season-low eight points in a 123-87 loss at Oklahoma City on Tuesday.
Other news
Joel Embiid goes for 32 as 76ers win NBA In-Season Tournament Game over Hawks
Darius Garland scores 28 points for the Cavaliers in a 108-100 win over Pistons in tournament play
White hits tiebreaking 3, Celtics hold on to beat Raptors 108-105 in tournament game
The 7-foot-3 rookie from France added nine rebounds and a series of highlight plays.
Despite being pushed to the baseline on a foul by Keegan Murray, Wembanyama stretched from behind the backboard to tip in a layup off an alley-oop pass from Collins.
But the veteran Kings withstood the highlights and the runs to beat the young Spurs.
Sacramento is 2-0 in the West Group C standings of the in-season tournament and the Spurs are 0-3.
The Kings went on a 7-0 run after the Spurs pulled to 112-111 with six minutes remaining to regain control of a back-and-forth contest.
Sacramento opened the third quarter on a 15-4 run for its largest lead to that point at 77-66. San Antonio shot 1 for 5 during the run.
The Spurs were without starting guard Devin Vassell and backup point guard Tre Jones. Vassell sat out with a strained groin and Jones missed his third straight game with a strained right hamstring.
San Antonio had 33 assists despite being without two of its primary ballhandlers.
The Spurs raced to a 9-0 lead with Wembanyama scoring six points. San Antonio opened the game going 4 for 6 on 3-pointers.
San Antonio stretched the lead to 18 points in the first quarter only to lose that lead 30 seconds into the second quarter.
UP NEXT
Kings: At Dallas on Sunday.
Spurs: Host Memphis on Saturday.
___
AP NBA: https://www.apnews.com/hub/nba
"
Article Copyright © 2023 The Associated Press, All Rights Reserved.