Joel Embiid has 48 points to help 76ers toll to 5th straight win, 146-128 over Wizards
Tue, Nov 7, 2023
NBA News (AP)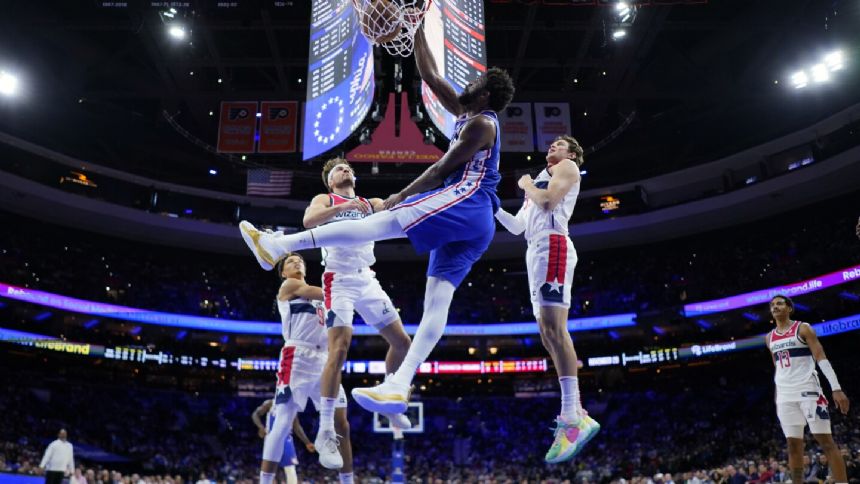 PHILADELPHIA (AP) - Joel Embiid scored 29 of his season-high 48 points in the third quarter and the Philadelphia 76ers rolled to their fifth straight victory, 146-128 over the Washington Wizards on Monday night.
Philadelphia is unbeaten after a one-point loss at Milwaukee in its opener.
In the third quarter, Embiid was 10 for 10 from the floor and 9 for 9 from the foul to help the 76ers extend their lead to 120-98. Embiid has scored 40 or more points 40 times in the regular season. He also had 11 rebounds and six assists.
Tyrese Maxey added 22 points and 11 assists, Tobias Harris had 18 and DeAnthony Melton a season-high 14 .
Other news
Haliburton, Pacers get Carlisle his 900th win with 152-111 rout of Spurs
Joel Embiid scores 48 points, 76ers beat Wizards 146-128 for 5th win in a row
Steph Curry scores 34 points, Warriors dominate offensive glass in 120-109 victory over Pistons
Nicolas Baton, who was picked up as one of the pieces in the trade that sent James Harden to the Los Angeles Clippers, scored 11 points on 4-for-5 shooting in his Sixers debut.
Kyle Kuzma scored 28 points for Washington, and Jordan Poole had 23. The Wizards have lost four straight to fall to 1-5.
PACERS 152, SPURS 111
INDIANAPOLIS (AP) - Tyrese Haliburton scored 23 points and Indiana routed San Antonio for coach Rick Carlisle's 900th career victory.
Carlisle, second among active coaches in wins, beat the leader, active or otherwise, in Hall of Fame coach Gregg Popovich, who has 1,369 victories, all with the Spurs. The Pacers won in style, tying a team record for most points in a game.
Spurs rookie sensation Victor Wembanyama had his worst shooting night in his first back-to-back, going 3 of 12 and finishing with 13 points and 10 rebounds. Reserve Doug McDermott scored 17 points to lead the Spurs, who lost at home to Toronto on Sunday.
WARRIORS 120, PISTONS 109
DETROIT (AP) - Steph Curry scored 34 points and Golden State dominated on the offensive glass against Detroit.
Golden State had 17 offensive rebounds to Detroit's seven and finished with a 26-10 advantage in second-chance points.
Klay Thompson and Chris Paul each added 17 points for the Warriors. Cade Cunningham and Killian Hayes each had 21 points for Detroit.
___
AP NBA: https://apnews.com/hub/nba
"
Article Copyright © 2023 The Associated Press, All Rights Reserved.