Joel Embiid, Kelly Oubre Jr. lead 76ers past Phoenix 112-100 for fourth straight win
Sat, Nov 4, 2023
NBA News (AP)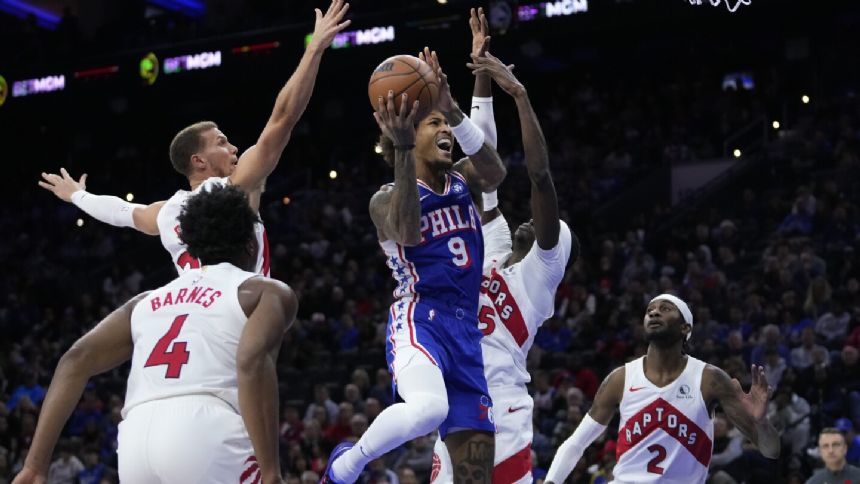 PHILADELPHIA (AP) - Joel Embiid had 26 points and 11 rebounds, Kelly Oubre Jr. scored 25 points and the Philadelphia 76ers beat the Phoenix Suns 112-100 on Saturday for their fourth straight win.
With Bradley Beal (back spasms) and Devin Booker (sprained left ankle) sitting out, the Suns faltered in the fourth and lost their third straight game. Kevin Durant kept the Suns within striking range until late with 31 points. He made 12 of 14 free throws.
Tyrese Maxey had 22 points and 10 assists and Tobias Harris added 18 points and 10 rebounds for the Sixers.
The Sixers will go as far as Embiid and Maxey, who turned 23 on Saturday, will take them and neither one could get going in the first half. They combined for just a 7 of 23 effort from the floor.
Other news
Trail Blazers open the new In-Season Tournament with a 115-113 win over the Grizzlies in overtime
Jokic scores 33 points, leads Nuggets to 125-114 win over Mavericks in NBA tournament opener
Curry makes last-second layup to give Warriors 141-139 win over Thunder in tourney opener
Embiid was also whistled for a flagrant foul when he socked Jusuf Nurkic in the face with an elbow. Maxey bounced one into double coverage that led to a Suns bucket.
The 76ers were instead steadied by another solid outing from Harris and Oubre.
Harris has both been lost in the shuffle behind former Sixers who dominated the ball and disparaged by fans for not always living up to his $180 million deal. Oubre has been an early steal on a $2.9 million, one-year deal. He dropped 27 points off the bench in the season opener and started his second straight game after PJ Tucker was included in the James Harden trade to the Clippers. Oubre scored 17 at the break, that included a late 3 and a drive before halftime for a 52-45 lead.
Oubre kept rolling in the third. He hit a 3 for a 63-51 lead and, after Durant scored late that pulled the Suns within five, Oubre stretched the lead on a three-point play. Oh, the other big man out of Kansas came through -- Embiid hit a 3 for an 80-75 lead through three.
The Suns could have used Beal and Booker down the stretch. Coach Frank Vogel said there was no change in Beal's status. He has yet to play this season. Booker has played only two games this season, including a 31-point game in a loss Thursday against San Antonio. Vogel said he hoped Booker could play in Detroit.
Maxey got untracked in the fourth and scored 11 points to put the game away.
UP NEXT
The Suns complete the back-to-back with another afternoon game Sunday in Detroit.
The 76ers host the Wizards on Monday.
___
AP NBA: https://apnews.com/hub/NBA
"
Article Copyright © 2023 The Associated Press, All Rights Reserved.