Jordan Clarkson scores 30 points as Jazz send Trail Blazers to their 4th straight loss 115-99
Wed, Nov 15, 2023
NBA News (AP)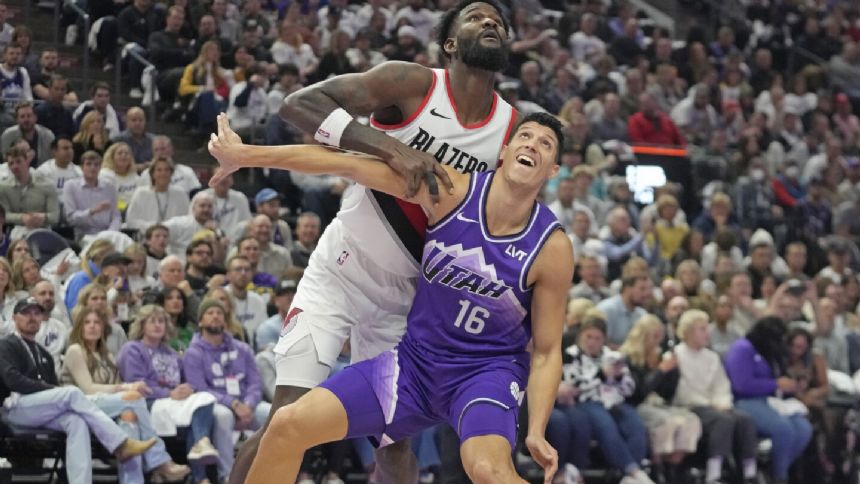 SALT LAKE CITY (AP) - Jordan Clarkson scored 30 points and Lauri Markkanen added 21 points and nine rebounds, leading the Utah Jazz to a 115-99 victory over the Portland Trail Blazers in an NBA In-Season Tournament game on Tuesday night.
John Collins had 14 points and 10 rebounds for the Jazz. Kelly Olynyk finished with 12 points and a season-high 12 rebounds. Keyonte George added 15 points and Collin Sexton 13. George and Sexton each had seven assists.
Utah won its second straight tournament game, while Portland, which dropped its fourth straight overall, slipped to 1-1 in West Group A play.
Jermani Grant led Portland with 26 points. Deandre Ayton added 22 points and 10 rebounds and Shaedon Sharpe finished with 17 points, eight rebounds and seven assists. Skylar Mays had a game-high 10 assists.
Other news
Green ejected for headlock, Thompson, McDaniel tossed after scuffle in Timberwolves-Warriors game
Brandon Ingram, rookie Jordan Hawkins each score 25 as Pelicans top Mavericks 131-110
Pacers beat 76ers 132-126 in an NBA In-Season Tournament game, end Philly's 8-game winning streak
Clarkson gave Utah an early spark with his shooting. He started 6 for 6 from the floor and scored 14 points in the first quarter. Clarkson capped a 10-2 run with a steal and dunk - his final basket in the opening period - to give the Jazz a 29-19 lead.
Utah did not commit a turnover in the game's first 15 minutes. Portland struggled to hold onto the ball, and its sloppiness was costly. The Jazz scored 16 points off 12 Portland turnovers in the first half.
Taking care of the ball gave Utah plenty of offensive momentum. The Jazz opened the second quarter by scoring baskets on four straight possessions, punctuated by a 3-pointer from Olynyk off a steal that extended Utah's lead to 45-31.
Portland chipped away at the deficit throughout the third quarter behind steady shooting from Grant and Ayton. The duo combined for nine baskets and cut Utah's lead to 87-84 late in the quarter. Each time the Blazers threatened to overtake the Jazz, Clarkson countered with timely baskets to keep Utah a step ahead.
The Jazz ended Portland's comeback hopes in the fourth quarter. Markkanen scored three baskets to fuel a decisive 13-0 run that put Utah ahead 108-93 with 5:40 remaining.
UP NEXT
Trail Blazers: Host the Cleveland Cavaliers on Wednesday night.
Jazz: Host the Phoenix Suns on Friday in another tournament game.
___
AP NBA: https://apnews.com/hub/NBA
"
Article Copyright © 2023 The Associated Press, All Rights Reserved.