LeBron James, back in Miami with the Lakers, reflects on his 4 Heat seasons
Mon, Nov 6, 2023
NBA News (AP)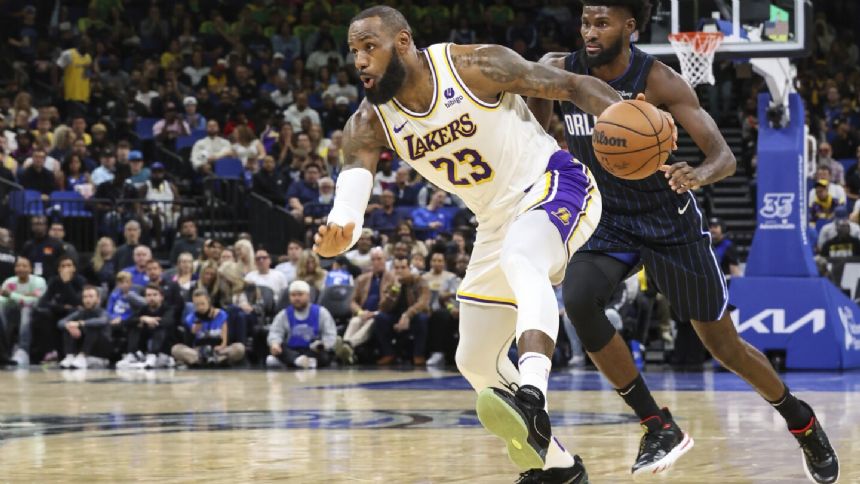 MIAMI (AP) - LeBron James couldn't help but notice the new floor in Miami on Monday, the one with the word "Culture" splashed across midcourt and with team president Pat Riley's long mantra painted in each of the lanes.
James and the Los Angeles Lakers were the first opponent to hit the new court, with them making their annual visit to Miami for a Monday night contest. The court is part of the team's primary marketing scheme for 2023-24, with plans calling for the Heat to use the new floor and the uniforms with 'Culture' across the front several times throughout the season.
James took a trip down memory lane Monday, when asked about the court and reflecting on his four seasons with Miami - a span that led to four NBA Finals trips, along with the first two of his four NBA titles. Back then, 'culture' was a Heat philosophy and buzzword; it wasn't splashed on shirts until years later.
"We didn't really talk about it too much," James said. "It was just, you come in, and you work, and the product of how much you put in the work was going to pay off on the floor."
Other news
James Harden set to make his Clippers debut against the Knicks at Madison Square Garden
Memphis beats Portland 112-100 for first win of the season
Luka Doncic, Mavs overcome LaMelo Ball's 30-point triple-double in 124-118 win over Hornets
The mantra - "hardest working, best conditioned, most professional, unselfish, toughest, meanest, nastiest team in the NBA" - has been the core of what Riley has spent nearly 30 years building and nurturing in Miami.
"You know, I think everybody on the outside, they probably hear it so much, they're probably tired of hearing about it," Heat coach Erik Spoelstra said of the 'culture' credo. "But we don't care. You have to stand for something and we stand for that."
It was in the summer of 2010 when the Heat found a way to bring James and Chris Bosh to Miami to play alongside Dwyane Wade. Spoelstra - one of the league's newest coaches at that time - is still coaching the Heat, his current tenure now the second-longest with one team in the NBA behind only San Antonio's Gregg Popovich.
To James, that's the culture - how Riley, Spoelstra, managing general partner Micky Arison, general manager Andy Elisburg and many other top executives - were in Miami long before he arrived, and remain there.
"Besides San Antonio, the Pittsburgh Steelers and the New England Patriots, I think those are the only franchises that you can say have the same stability as the Miami Heat," James said.
And James still sees parallels between the way he thinks and the way Riley thinks.
"Riles always talked keeping the main thing the main thing," James said. "And that's what it's always been for me."
James spent his first seven NBA seasons in Cleveland. He left Miami in 2014 to return to Cleveland, won a title there in 2016, and is in his sixth season with the Lakers. He's won a title there - against Miami in 2020 in the bubble - plus passed Kareem Abdul-Jabbar last season as the NBA's all-time leading scorer and is now the league's oldest active player.
"I was 25 years old when I came here. Still a kid, even though I was seven years in. Still a kid," James said after shootaround Monday in the Heat arena where his number will one day be retired. "I came here for one reason and one reason only - to win championships. That was my only goal. That's the only reason why I teamed up with D-Wade and Bosh, because I felt like I couldn't do it in Cleveland. I tried to recruit guys to come to Cleveland, tried to go and help upstairs, and it wasn't happening. So, I had an opportunity to be a free agent and did what I thought was best for my career."
___
AP NBA: https://apnews.com/hub/nba
"
Article Copyright © 2023 The Associated Press, All Rights Reserved.