Luka Doncic, Mavericks bounce back from 1st loss with 124-118 win over Hornets
Sun, Nov 5, 2023
NBA News (AP)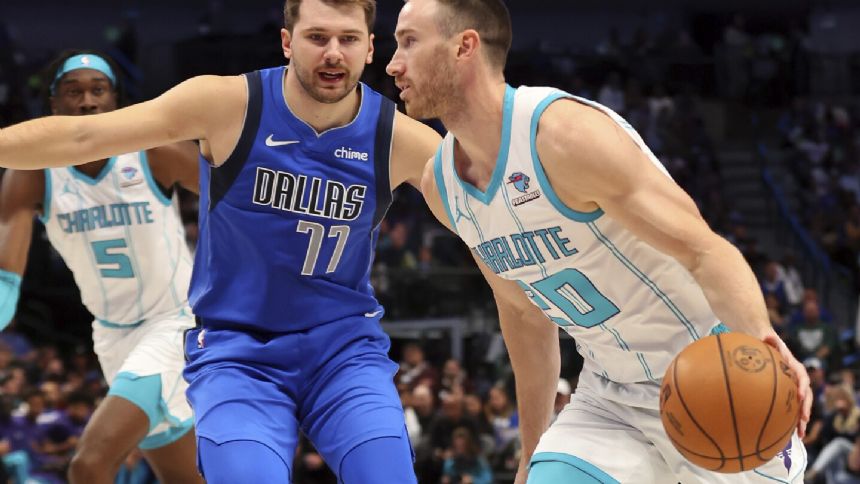 DALLAS (AP) - Luka Doncic scored 23 points after a rare scoreless first quarter point and the Dallas Mavericks bounced back from their first loss with a 124-118 victory over the Charlotte Hornets on Sunday night.
Grant Williams added 18 points, including a trio of 3-pointers in the fourth quarter, and rookie Dereck Lively II had 15 points, 14 rebounds and a big fourth-quarter block.
LaMelo Ball scored 23 of his 30 points in the fourth quarter to go with 13 assists, but the Hornets couldn't hold a 15-point first-half lead a night after rallying in the fourth for a one-point victory at Indiana.
The Hornets had a chance to tie after Dallas was called for a shot-clock violation with 8.4 seconds left. But rookie Brandon Miller couldn't get the ball in before a 5-second call, and Ball fouled Kyrie Irving before Dallas inbounded.
Other news
Donovan Mitchell scores 31 points, Cavaliers beat Warriors to end 16-game series skid
Pelicans' McCollum diagnosed with partially collapsed lung
Mavericks bounce back from 1st loss to beat Hornets 124-118
Irving's free throw gave the Mavs a 120-116 lead and they kept the ball, then he two more free throws with 7.7 seconds to all but seal Dallas' fifth victory in six games this season.
Doncic, who had just one scoreless first quarter last season, went 8 of 15 after his 0-for-4 start - but was just 1 of 9 from long range - while finishing with 12 rebounds and nine assists.
Irving had 18 points and 10 assists.
Gordon Hayward and P.J. Washington scored 20 apiece for the Hornets, and Mark Williams had 19 points and 10 rebounds.
Ball had 11 assists before getting his first points on a layup late in the first half, when Charlotte shot 57% and led by as many as 15 points. Hayward scored 15 points before the break.
The Mavs were down 60-45 when the defense finally picked up in the final minute of the first half, forcing three missed shots before Doncic's missed 3 in the final seconds left Dallas to settle for a 12-point deficit.
Dallas kept up the defensive effort, holding Charlotte to 42% shooting after the break.
UP NEXT
Hornets: Washington on Wednesday night for the only home game in a five-game stretch.
Mavericks: At Orlando on Monday night as Dallas alternates road and home games for the first eight.
___
AP NBA: https://apnews.com/hub/nba
"
Article Copyright © 2023 The Associated Press, All Rights Reserved.