Monk delivers in OT as Kings beat Lakers 132-127 on 20th anniversary of James' NBA debut
Mon, Oct 30, 2023
NBA News (AP)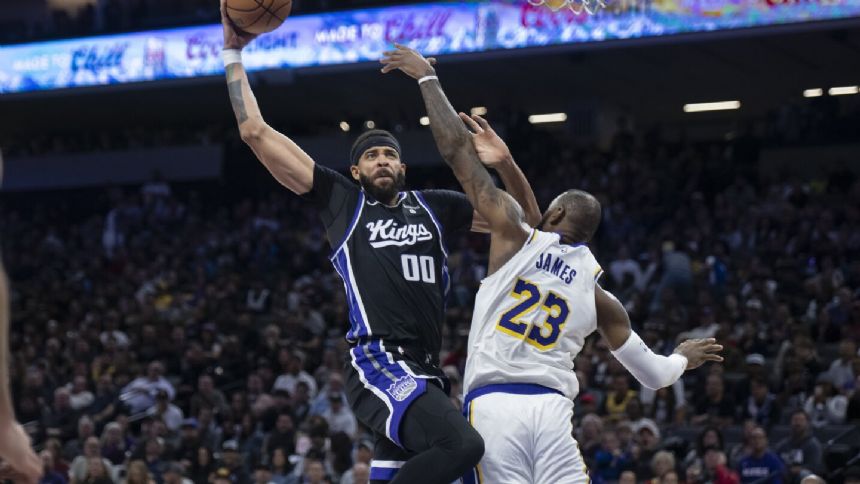 SACRAMENTO, Calif. (AP) - Malik Monk scored 11 of his 22 points in overtime and fed Kevin Huerter for a key 3-pointer with 32 seconds left, and the Sacramento Kings spoiled the 20th anniversary of LeBron James' NBA debut in the same city with a 132-127 win over the Los Angeles Lakers on Sunday night.
De'Aaron Fox had 37 points and eight assists for the Kings, scoring eight points in the final six minutes of regulation after returning from an ankle injury earlier in the fourth quarter. Domantas Sabonis added 12 points and 15 rebounds.
James, the No. 1 overall pick in 2003 by the Cleveland Cavaliers, finished with 27 points, 15 rebounds and eight assists. Derek Richardson, who was one of the three referees for James' debut game on Oct. 29, 2003, was part of the three-ref crew on Sunday night as well.
Anthony Davis added 30 points and 16 rebounds for the Lakers (1-2), who trailed by 15 before closing the fourth quarter on a 9-2 run to force overtime.
Other news
Leonard and George school Wembanyama in rookie's 1st road game, lead Clippers over Spurs 123-83
Joel Embiid, Tyrese Maxey drop double-doubles as Harden watches the 76ers beat winless Portland
Monk delivers in OT as Kings spoil 20th anniversary of James' NBA debut with win over Lakers
Monk, who missed nine of his first 13 shots, was perfect on all four attempts he took in overtime. He made two 3-pointers, assisted on Huerter's 3-pointer that gave the Kings a 130-125 lead, then sealed the win with a pair of free throws with 15 seconds remaining.
The Lakers, who have lost four of the last five games between the two teams, never found a consistent rhythm to their offense despite six players in double figures. They shot 39.5% in the first half and committed 12 turnovers.
Fox, who had 39 points in a season-opening loss to the Warriors on Friday, was 14 of 24 but was still walking with a limp in overtime. Fox rolled his ankle in the fourth quarter and was helped off the court and into the Kings locker room. He returned after missing only 44 seconds of game time and immediately gave Sacramento a lift with his third 3-pointer.
Huerter had 12 points after going into the game in an 0-for-9 shooting slump.
The Kings limited Los Angeles to 37.5% shooting (9 of 24) and scored 41 points in the first quarter.
UP NEXT
Lakers: Return to Los Angeles to host the Magic on Monday.
Kings: Travel 60 minutes south to play the Warriors on Wednesday. Golden State beat Sacramento 122-114 last Friday.
___
AP NBA: https:.//apnews.com/hub/nba
"
Article Copyright © 2023 The Associated Press, All Rights Reserved.