DocSports.com Profile - Doc Sports - Sports Betting Picks
| | |
| --- | --- |
| | Pro Featured Verified Service |
Documented Record for Doc Sports
* Return on Investment (ROI) figures above represent potential returns based on a $100 per unit risk amount. Please note that past results do not guarantee or imply future performance.
Website Screenshot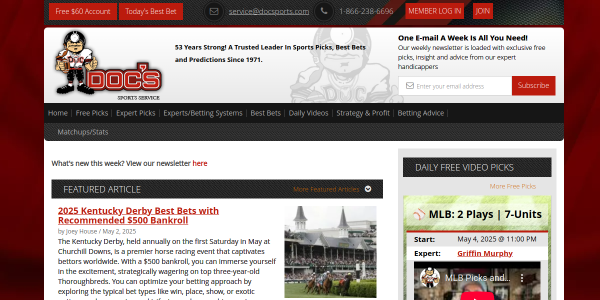 Handicapper Bio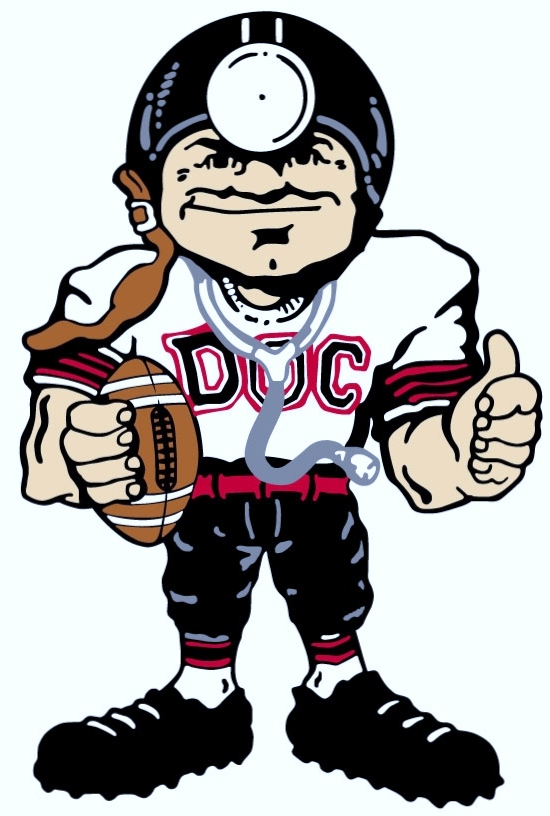 Doc's Sports Service has been in the sports handicapping business since 1971, and we are recognized as one of the leaders and most trusted names in the industry. Most handicapping services are one-man operations, but here at Doc's Sports we are among the most progressive thinkers in the industry, and we have assembled some of the finest experts in the country for our service. We are one of the few handicapping companies that have withstood the test of time because of hard work, honesty and consistently of providing winners to our valued clients.

Since 1971 Doc's Sports became famous for our College Football Big Ten Game of the Year that won and covered the point spread 19 years in a row during the 1970s, 1980s, & 1990s. Doc's Sports is one of the only handicapping services whose powerful influence has historically moved the official Las Vegas line more than seven points. At Doc's Sports, we often focus on lesser-known teams and less-popular games as oftentimes less information is available on those teams and games and certain trends tend to stick out and offer value that the average person may not catch.

Oddsmakers set lines to balance the action, so we're often handicapping against the public perception, and the public rarely ever wins long term. When you think of it that way our job is not that difficult since we have more than four decades of experience and know what to look for when handicapping a game. The sportsbooks and oddsmakers must handicap and set lines for every game -- we simply find a few of their mistakes. Doc's Sports uses a combination of technical and fundamental handicapping along with exclusive information that we gather from a vast network of contacts that we have developed over the past 44+ years. At Doc's Sports, we built our name in the 1970s by becoming one of the best in handicapping college sports. That still holds true today as our best results still come from college football and college basketball.

We also have individual full-time handicappers for NBA, NFL, MLB, NHL, College Basketball, College Football, and major horse races, and we feel we have some of the top experts in the country in these designated fields. We are always in search of the best talent for our team.

Winning is still what it's all about. With hard work, discipline, money management, and a network of insiders, sports betting can be an exciting and profitable form of entertainment. Using these principles is how we make a living.

And speaking of winning, that's just what Doc's Sports has done the past 46 years. College Basketball has won five of the last six years, picking up over +$29,150 in profit for $100 bettors during this span. We were the No. 1-rated college basketball handicapper in 2012 and won numerous titles since. Our football service finished out with a bang to the 2016-2017 playoffs going 6-1 with our Magnificent 7 Bowl Package and 3-1 with our NFL Playoff Top Plays. This included an easy Playoff Game of the Year winner with Green Bay+5 beating Dallas straight up in the divisional playoffs. This football season will prove to be one of our best with all our new advisors and sources for information.
Handicapper Blog
DocSports.com has not posted any blogs yet.
Claim Profile
Do you own or operate DocSports.com? Click here to claim this handicapper profile and setup your account for free. Once your account is setup, you have the ability to document, track, and sell your sports picks as well as access many more free tools and features.

Can this profile be removed from the directory?