PrivatePlays.com Profile - Private Plays - Sports Betting Picks
| | |
| --- | --- |
| | Pro Verified Service |
Documented Record for Private Plays
* Return on Investment (ROI) figures above represent potential returns based on a $100 per unit risk amount. Please note that past results do not guarantee or imply future performance.
Website Screenshot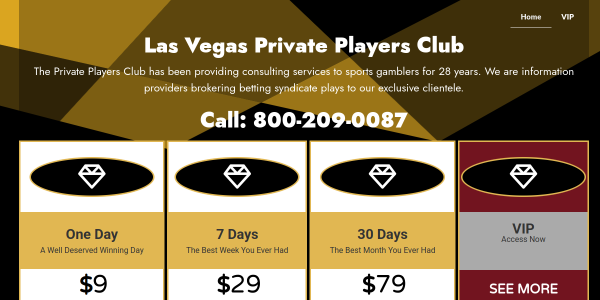 Handicapper Bio
Mr. Diangelo is a professional sports analyst who will be glad to take your wagering to the next level. If you desire is to earn a significant return on your sports investing treating your wagering as a business privateplays is for you!!.
Ask yourself these 5 important questions's
Do I want to invest my money with a company that makes money handicapping games for others or Do I want to hire a firm that actually makes money playing the games themselves?

Are you tired of sports gambling,playing games because their on TV, playing parlays, teasers & other bad odds exotic wagers?

Do you want to earn a significant return on your playing (6 figures or more annually) following the same techniques as the professional betting groups?

Are you willing to treat your wagering as a business, just like financial traders?

Do you have the desire to followed a disciplined strategy by following the coattails of one of the most influential groups in Vegas?
IF YOU ANSWERED YES TO THESE QUESTIONS GIVE
MR. DIANGELO A CALL.
1-800-209-0087
Handicapper Blog
PrivatePlays.com has not posted any blogs yet.