PlatinumPlaysWin.com Review - Platinum Plays Win - Sports Handicapper
PlatinumPlaysWin

.com

Pro Featured Verified Service
You must be logged in a customer account to access contact info. Click here to login or register for free.
Reviews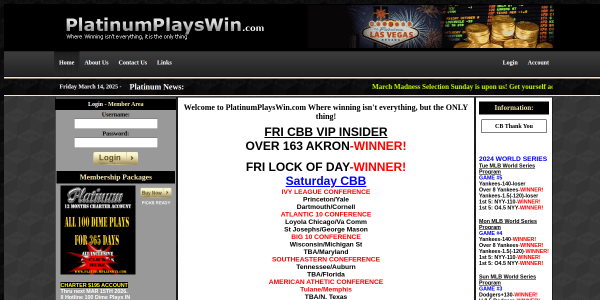 Stay away from them! They are scammers, period. I bought their 100 Dime Plays Report for 3 days (which they now call the Charter Account). They promised 4-6 picks each day while winning 85% of them. The first day they went 6-0. Great start, so now they pressured me into buying the one-year access for $195. They said it was only available for this day, which was a lie, since you still can buy it for this price today. And then they started losing. Not only that, they are lying about their record. The winning picks that are posted on their website are different from they ones they sent out. In their promotional email they sent out a couple hours ago, they claim they went 6-0 last night. That is not true! The picks the sent out went 2-4. I've been with them for over a month now, their winrate during this time is about 48% with a lot of -120s, -130s. You do the math. They are SCAMMERS!
Submitted by "Mereti" on 7/27/2021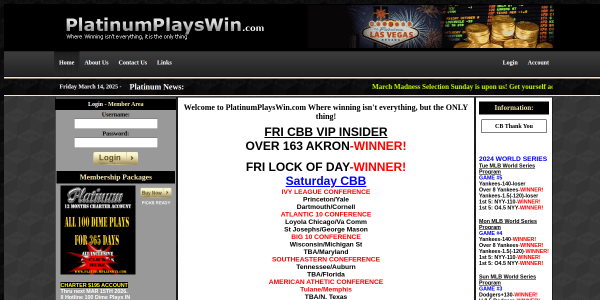 I bought the 3 day package with the guarentee that if they don't win all the plays I would get their plays for the next 28 days. Well they did not win and I did not get their plays and I have sent an email about it thru their website and have not received any infomation back. Also, there was not any way to subscribe. They have an email and password section but no section to create the password. Maybe this was supposed to be sent to me but when I put my email in and try to reset my password it says this email is not a member. It's too bad I had hear some good things about this handicapper.
Submitted by "SportsNut" on 8/5/2015