TomBartonSports.com Review - Tom Barton Sports - Sports Handicapper
TomBartonSports

.com

Pro Featured Verified Service
You must be logged in a customer account to access contact info. Click here to login or register for free.
Reviews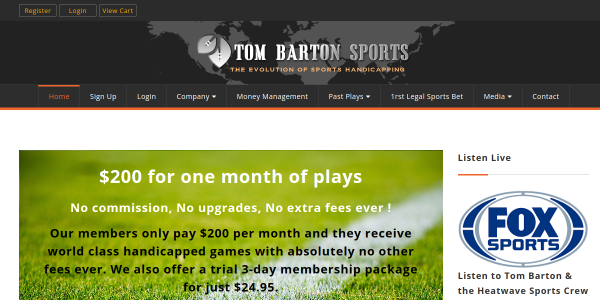 Tom Barton does not know what he is talking about. I lost $600.00 using his information. I bet levels 3 and levels 4 and he was wrong. With Tom Barton I got 2 wins and 7 losses.
I will never use his services again. My mother will predict better than him.
Submitted by "jorgeduran1" on 3/20/2015
Response from TomBartonSports.com
This is the email I received from the client. You can see he "picks and chooses" which games he wishes to play and does not play all the games. Thus HE is picking his plays not the service. Even by his own admission on the plays he picks to play he was still only 2-4, somehow missed 7 wins in a 3 day span and admits further that we won 7 level 2 plays for him. He sent this in a week into a 30 day membership. His final record was 31-21 for 30 days. We later found out he is a competing handicapper who tries to soil people's names that aren't upselling touts. Here is our correspondence below:

Dear Jorge,
Your email of losing 7 games in a row is false. You claim we gave you 2 wins and 7 losses yet just Sunday alone Tom went 3-0. Hit Vermont yesterday, also hit Montana over, Baylor and Notre Dame. Just in the past 3 days Tom is 7-4 for you.

Dear Tom
I'm not a liar. It's true that I won two in row and I lost 2 level two's. After that I did decide to only play level 3 or level 4 so if you read what I said you have lost the last 2 level 3 and level 4's. Because that is all I play level 3 and level 4 not level 2's because I want to make sure I win.

Thank you.
Jorge D.