MonmouthPark.cappertek.com Profile - Monmouth Park Sports Betting Advice - Sports Betting Picks
| | |
| --- | --- |
| | Verified Service |
Documented Record for Monmouth Park Sports Betting Advice
* Return on Investment (ROI) figures above represent potential returns based on a $100 per unit risk amount. Please note that past results do not guarantee or imply future performance.
Handicapper Bio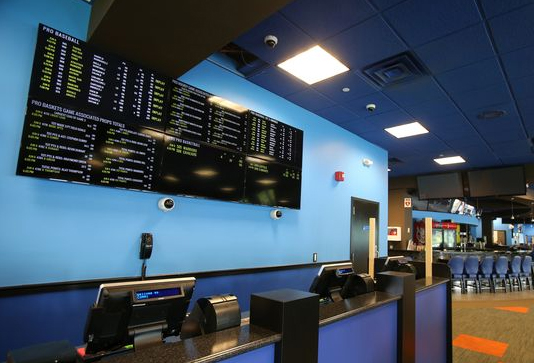 SPORTS BETTING RULES TO LIVE BY
1. Having Access to Multiple Sportsbooks

Ideally bettors should have access to at least three sportsbooks: one sharp, one square and one reduced juice.

Square sportsbooks refer to oddsmakers that cater to the casual bettor. These books typically have fairly low limits and, because novice bettors are prone to betting favorites and overs, usually offer excellent lines for underdogs and unders. Examples include Bovada, BetOnline, Sportsbook.com and Sports Interaction (SIA). These sportsbooks are often times 1/2-point or more off the market average.

Sharp sportsbooks typically take the highest limits on games, and books like CRIS will often take 6-figure bets during the NFL season. These books usually have the best lines on favorites and overs.

While most sportsbooks will typically charge a -110 vig on each side, reduced juice books are far superior for everyday bettors since they typically have lines of -105 or -106. While bettors need to win 52.38% of their bets to break even with standard (-110) juice, that percentage drops to 51.22% when the juice is -105.

By having access to multiple sportsbooks and always shopping for the best line, bettors can increase their long-term profits by 1-2%. That may not sound like a lot to newer bettors, but that small difference can often times be the difference between a winning and a losing season.
2. Which sportsbooks should I choose?

Bettors should check out SportsbookReview.com for user feedback and expert analysis on every offshore book. Find out which books are reliable, offer valuable sign-up bonuses or have convenient cash out policies.
3. Consistent Unit Size

Make sure not to overreact to a recent streak. Good systems will win in the long haul, so make sure to maintain a consistent unit size when betting. Most experts will advise betting between 2-5% of your bankroll on each game, depending on how aggressive you are. We've spoken in the past about the dangers of chase systems, which allow touts to advertise unrealistic winning percentages. Resist the urge to increase your bankroll during a winning streak, employ a flat betting strategy, and you will be one step closer to long term gains.
4. Buy on Bad News, Sell on Good

Take advantage of artificially shaded lines based on recent trends. Ignore small sample size statistics like Team A is 6-1 in their past 7 night games against divisional foes. Our contrarian philosophy recommends bettors always go against the grain.
6. Be Wary of Handicappers that are Not 3rd Party Documented

Many handicappers will promote unrealistic winning percentages without any documentation about their past performance. We pride ourselves on our transparency. Bettors can also view our most recent picks (along with the line used and the result) by visiting our results below.

Another common issue with handicappers is that they don't consider the cost of their picks relative to bet size. If you're betting $50/game, can you still make money after paying off the subscription cost? Our research showed that by purchasing a long-term membership, users would only need to bet $16.86/game to justify the cost of our Pro subscription.

Some handicappers will send one side to half of their list and the opposing side to the other half. This ensures that 50% of their subscribers will receive a winning pick which they can boast about.
7. Cover Team Names

Your bets should be based on solid data and analysis, not gut feel. Taken to an extreme, you can actually place your hand over the name of each team before placing your bet to eliminate any existing biases. Don't be like this guy.
8. How to Track Sharp Money

In the past we have published a number of articles which help identify sharp money, typically by looking for reverse line movement. This refers to line movement that contradicts our public betting trends, and perfectly represents the "Pros vs. Joes" concept.

Another excellent way to identify sharp money are steam moves. A Steam Move as sudden, drastic and uniform line movement across the entire sports betting marketplace. Steam is the result of a sudden overload of money placed at multiple sportsbooks and, in most cases, occurs due to betting groups, betting syndicates and a few key players with the resources to "get down heavily" at multiple locations, all at once.

Following every steam move triggered would take a tremendous amount of time and requires a massive bankroll; however, this can be very useful in determining how and why the line has moved for a certain game.
9. Dealing with contradicting moves

One of the most common mistakes made by new bettors is placing too many bets. Selectivity is a virtue, and it's important to know that there isn't necessarily a sharp side in every game. It's also important to know how to manage contradicting moves. You may have a steam move on one side and a reverse line move on the other. Instead of trying to decipher which side is stronger, sometimes laying off and not placing a bet is the real sharp move.
10. Betting Against the Public

Betting Against the Public is one of the most popular and simplest methods. The logic is simple: always bet against the public. Whichever team the public is loading up on, simply bet the other team.

Although oddsmakers don't necessarily always want to have 50% of the money on each side, they are interested in minimizing risk. If 80% of public bettors are taking Team A (-7), sportsbooks will likely adjust Team B to +7.5 to +8 to encourage more action. This line movement is completely artificial, allowing opportunistic bettors to get an additional 1/2-1 point purely based on uneducated or "square" bettors. This is particularly true in more popular sports like football and basketball.
11. Bet Favorites Early, Dogs Late

The public loves to bet favorites and "overs". It's human nature to root for winners and scoring. The media, which over-hypes winning teams that score a lot of points, further inflates this human tendency. Sportsbooks understand this and shade their lines accordingly.

Although not as true as it was years ago, it's still advantageous to bet on favorites early and underdogs late. Since a majority of public bets will take the favorite in most games, bettors looking to take the underdog can simply wait until the line has been artificially inflated and place their wager at a more favorable number.
12. Be careful when cashing out

After you have utilized these strategies and hopefully built your bankroll, the time will come when you're ready to cash out. When this happens, there are a few things to look out for, including:

Many sportsbooks will charge a service fee when you're cashing out or will only offer free cash outs once a month. For this reason, you need to double check the terms of use at your sportsbook before making a withdrawal.
13. Basic High Level Trends

Be aware of various basic edges. For example, home teams are undervalued in baseball but overvalued in every other sport. Underdogs benefit from high totals in baseball, but favorites benefit from high totals in football and basketball. Teams are undervalued following a loss — particularly if the loss was a blowout.
Handicapper Blog
MonmouthPark.cappertek.com has not posted any blogs yet.
Check Out Some Other Pro Sports Handicappers in the Directory